GHOne fired producer for porn gaffe – Nana Aba
It has emerged that the producer responsible for the broadcast of a pornographic video on an Accra-based television channel lost his job over the much-publicised gaffe.
GHOne was criticised by many including the Ghana Journalist Association (GJA) after it broadcast pornographic material on its late-night adult show, Duvet, on Thursday, April 9, 2020.
The GJA in a statement described the incident as "ethically reprehensible, culturally repulsive and morally repugnant."
The General Manager (GM) of GHOne TV, Nana Aba Anamoah has in a Tweet revealed that the producer was no longer an employee of the channel.
Read Also:  Counsellor Lutterodt Sacked from GHOne TV By Nana Aba Anamoah
The revelation was in response to a comment under a Twitter post by her criticising popular media "counsellor" George Lutterodt over utterances he made about rape on another television channel.
Mr Lutterodt in a submission on the show said "every rape victim enjoys the act", a comment that has seen him being reprimanded by many social media users.
Nana Aba stated that she has banned all producers from featuring him on GHOne TV shows.
However, a Twitter user sought to accuse her of double-standards: "but you were able to show porn on your tv station," and in reply, the State of Affairs host said the producer responsible for the act had been fired.
See the tweets below: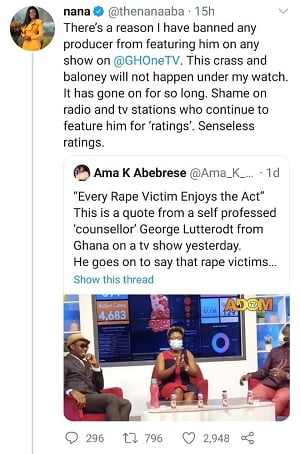 There's a reason I have banned any producer from featuring him on any show on @GHOneTV. This crass and baloney will not happen under my watch. It has gone on for so long. Shame on radio and tv stations who continue to feature him for 'ratings'. Senseless ratings. https://t.co/RLAe86VdEa

— happy birthday, KING SARK (@thenanaaba) July 9, 2020
And the producer who showed that porn has been fired. https://t.co/AiXh1DntrS

— happy birthday, KING SARK (@thenanaaba) July 9, 2020
Background
The television station on Thursday, April 9, 2020, aired pornographic material on the same time-slot as President Akufo-Addo's sixth address on C0VID-19.
The address scheduled for 10:30 pm clashed with the station's flagship late-night adult programme, Duvet which also airs between 10 pm and 12 midnight.
The tv station later apologised: "GHOne TV wishes to sincerely apologise to its cherished viewers on the unfortunate turn of events regarding your favourite late-night programme, DUVET, a few hours ago. Even though the show is X-rated, we concede that the nature of the content tonight was inappropriate".
Source: graphic.com.gh