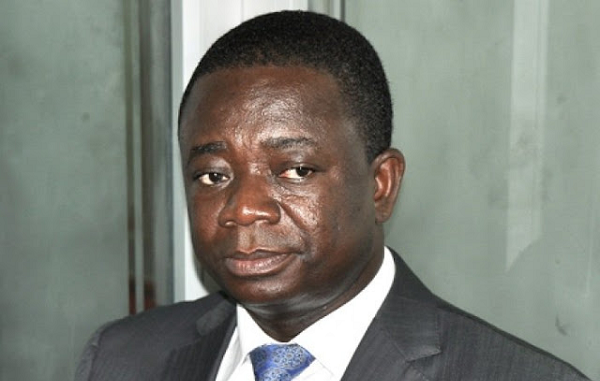 Former COCOBOD CEO, Dr. Stephen Opuni
The prosecution's witnesses are reluctant to give testimony in the retrial of the former Chief Executive of COCOBOD, Stephen Kwabena Opuni, and businessman Seidu Agongo.
Deputy Attorney-General, Alfred Tuah-Yeboah, stated that one witness had already spent two years in the witness box and was not eager to do so again.
He told the Accra High Court on Tuesday, April 25 that another witness said he was retired and not willing to spend their retirement in court.
To give the prosecution more time to convince the witnesses, the Deputy A-G requested an extension of time to file witness statements.
The attorneys for Opuni and Agongo, Samuel Cudjoe and Benson Nutsukpui, respectively, did not oppose the motion.
The court, presided over by Justice Kwasi Anokye Gyimah, consequently granted the application and adjourned the case to Wednesday, June 7.
On April 4, it came to light that the trial of Dr Opuni is expected to be re-started from scratch.
This includes that of businessman Seidu Agongo after a new judge was assigned to preside over the case.
That was the ruling of Justice Kwasi Anokye Gyimah explaining that it would be unfair for him to adopt a proceeding that has seen this many allegations.
"It would be unfair for the court to ignore the allegations and adopt the previous proceedings as it is," the judge said that Tuesday.
The case was originally before retired Justice Clemence Jackson Honyenuga.
The former COCOBOD CEO has been on trial since 2017 been facing 27 charges of various offences, including stealing.
Dr Opuni's charges include willfully causing financial loss to the state to the tune of ¢2.1 billion in three separate contracts for the supply of fertilisers.
DISCLAIMER: The Views, Comments, Opinions, Contributions and Statements made by Readers and Contributors on this platform do not necessarily represent the views or policies of Homebase Television Ltd.
Visit Our Social Media for More
About Author