On February 23, 2022, Fuseini Zakaria passed away in his home at Nantong Zua in the Tamale South Municipality of the Northern Region.
Per Islamic law, he was buried the same day at a local graveyard. Mr. Zakaria left behind a wife and four children.
Yakubu Zakaria, his son, and Salifu Fuseini, his brother, were at the cemetery today, to pray for Allah's intercession, four months after their father and brother's passing.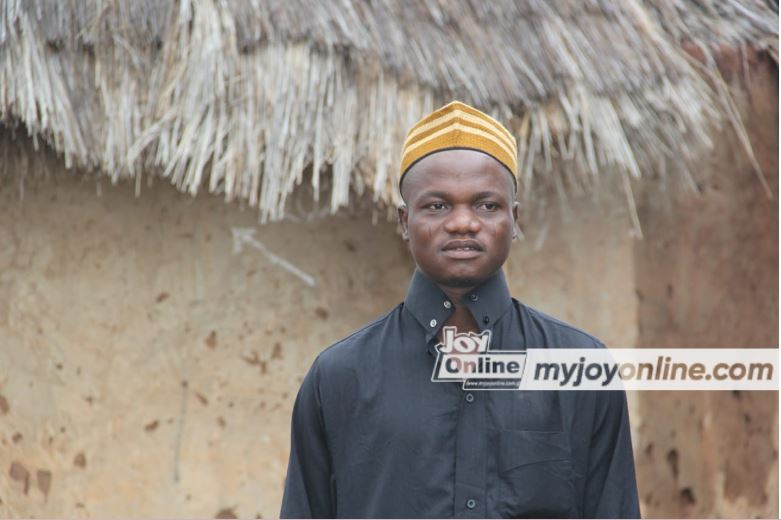 At the Tamale Teaching Hospital, the 75-year-old man had been diagnosed with kidney failure.
Doctors told the late Zakaria to stop drinking from the primary source of water in the community.
Many residents were alarmed by the doctor's advice, as they assumed the dam water was to blame for Zakaria's kidney failure.
At the family home where the late Zakaria passed away, we met Yakubu, the deceased's eldest son, who was caring for his father both at home and at the hospital.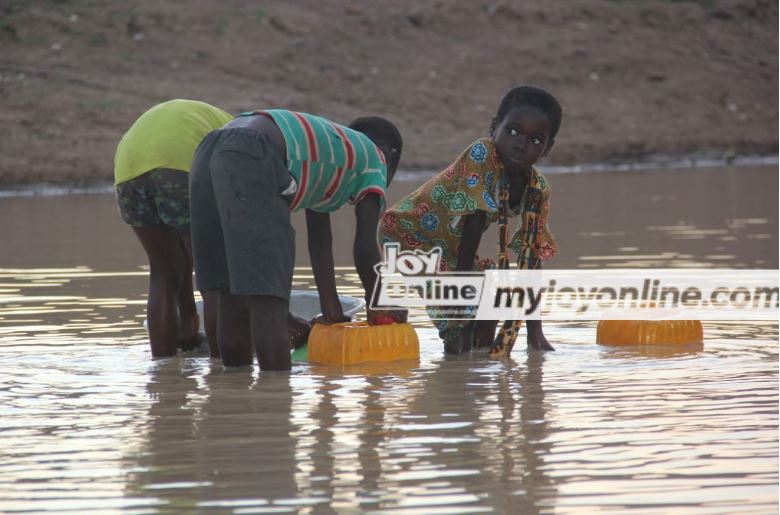 Though Yakubu cannot find any hospital records, he asserts the physicians told him his father's advanced kidney disease was caused by his continuing drinking of the dam water.
"They carried on tests upon tests. So, they carried on several tests before they conclude (sic), it was water-borne disease that leads (sic) to the kidney failure," Yakubu said.
I asked more questions to confirm Yakubu's assertion. He said, "that was through their tests and the examinations or the experience they already have. So, that's how come they told us, it was unsafe water he's using. They didn't actually told (sic) us before the thing got worse, it was just the beginning, that they told us not to give him dam water again. All of us were using it. So, what we've seen or what we saw make us so scared. So, we don't like to use the dam water for drinking again, unless using to wash and then bath, because we've seen what it has caused to us, yes."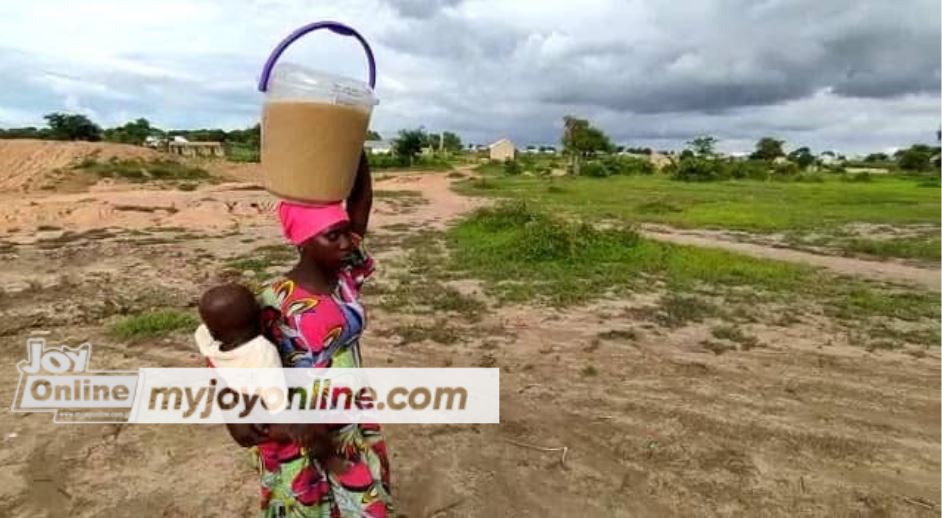 The family then decided to buy bottled water for the late Zakaria, but the cost was expensive for them.
"Just during the sickness, they even told us not to give him dam water. So, they emphasized us to be using Voltic and then, which is a little bit cost for us, because as the community we are living, is not all that this thing. So, we struggled, but we manage our best, throughout the sickness we were no more giving him dam water. We try (sic) to give him sachet water or Voltic. That was what we were using," Yakubu said.
The agony and suffering from a kidney disease, which is probably becoming more widespread among Ghanaians, were too much for Yakubu's father to bear.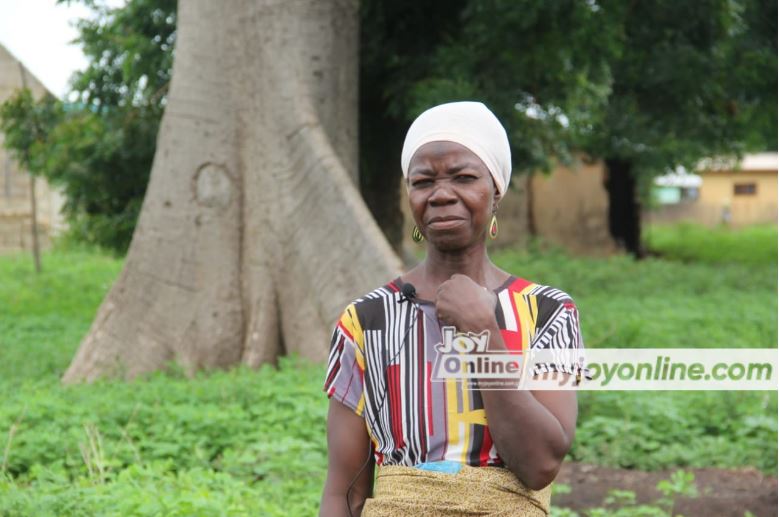 Yakubu's claims needed further interrogation by JoyNews.
At first sight, the water appears to be chocolate drink. But make no mistake, it is water meant for the consumption of residents of Nantong-Zuo. The lack of potable water is driving residents to drink from the heavily polluted pond.
A sample of the dam water was taken on June 15, 2022, and delivered the same day to the Ghana Water Company Limited's water quality assurance department in the Northern Region.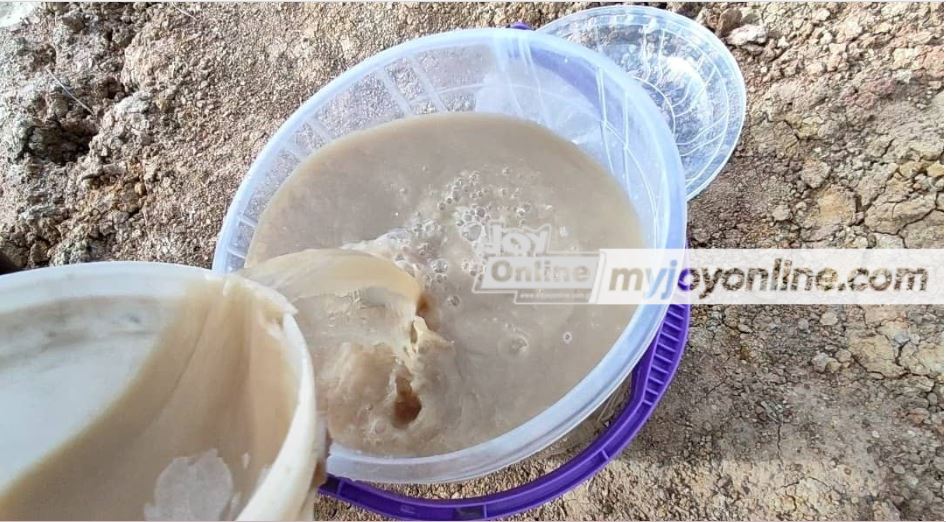 Analysis established, the water source is unsafe for drinking.
"With this, instinctively when you see it, you know that it's not potable. But then, you cannot be carrying this sample round showing people that this is the way the water look (sic) like. The best thing is to analyse, turn this water into a data form and that is exactly what you have done. So, this now represents this.
"The results now represent the water and if you look at the results, the results clearly shows (sic) that, the water is not suitable for human consumption. Because, the physical and chemical parameters doesn't (sic) support or doesn't (sic) obey the regulatory requirements. And if you look at it, we have Ghana standards, whatever sample you analyze the results must conform to regulatory requirements.
"That means that, the results should show that when human beings use this water for domestic purposes, the water will not be injurious to their health," Manager, Regional Water Quality Assurance, Sulemana Alhassan.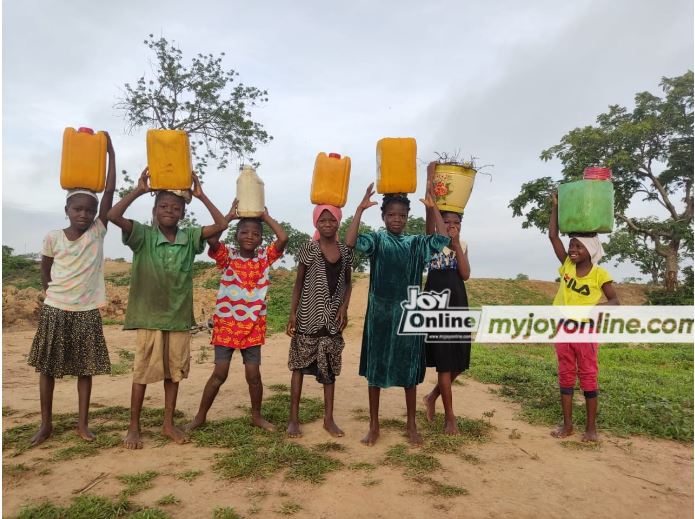 Mr. Alhassan further explains the findings of the physio-chemical and bacteriological analysis performed by his team.
"In terms of physical appearance it is not good, chemical composition is not also good and the worse is even the microbiology aspect."
According to the analysis, it is impossible to count the microorganisms in the water.
"When we did the analysis, we realized that, ideally, you count the number of microorganisms in the water to tell you the level of contamination. Even for purposes of human consumption, you don't even bother to count the number of microorganisms, because, ideally, the water shouldn't contain microorganisms.
"So, once we see it, if you go ahead to even count, you want to determine the level of contamination, but once you see microorganisms it means you cannot use it. But what is the extent of pollution? That is why you now go ahead to determine the numbers. Unfortunately, when we did your analysis, we realized that we can't even count. That is why we put 'TNT' Too Numerous To count."
I questioned Mr. Alhassan about the fundamentals of water quality assessment and the consequences of consuming contaminated water.
"Of course, the reason for doing water quality analysis, is to be able to tell whether the water can cause injury to human life? And when we're talking about injury, we're not talking about instant injury. Some come as a result of long-term usage. Are you getting me? So, if you're using this water over a long period of time, they are some who may even begin to show symptoms of consequences within a very short period based on their immunity," he said.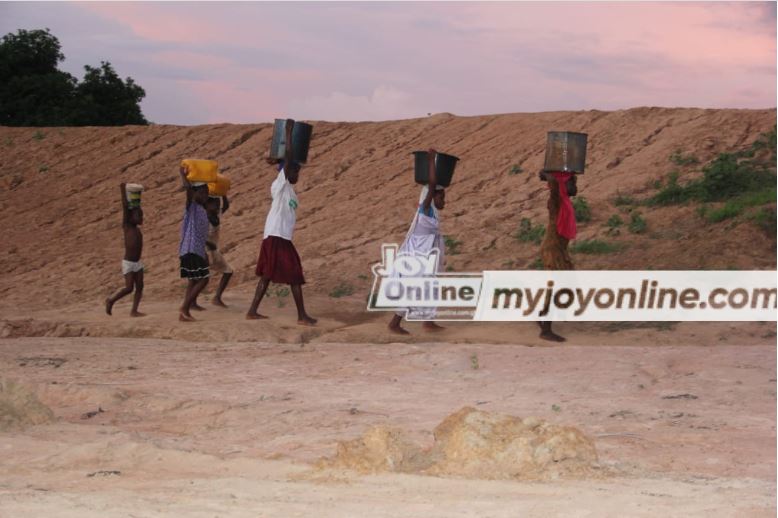 The findings indicate that anyone who continues to drink the water would have health issues.
"Because, the water that you're treating should be friendly to people of different immune systems. We call some people immune-compromised people – those whose immune system is compromised. Example is an infant, a baby, a tiny baby, an elderly person, a pregnant woman, sick people. These people, their immune systems has (sic) already been compromised.
"So, when they are using this (referring to the water), the consequences is (sic) dire and quicker than somebody like, who appears to be healthy. That one, it will take time. So, once the person takes this (referring to the water) continuously, and it's not treated, you will get varied degree of injuries," he said.
But because Mr. Alhassan was unable to precisely connect the findings to Yakubu's claims, we were compelled to go to the Tamale Urology and Modern Surgical Center, which is located in the centre of Nantong Zuo.
The facility constructed by Le Mete Ghana, a Tamale-based Non-Governmental Organization trains urologist.
It is unique to the nation and offers specialized medical services in urology as well as surgical support.
Our team first presented the analysis to Dr. Akis Afoko, a consultant urologist, who is also in charge.
"The report shows that, the water contains a heavy load of salmonella which often causes typhoid fever, and I can say a third of children are admitted to hospital from the community, for this reason. It also contains E. coli. The impact or the significance of this finding is that, these bacteria are actually transmitted through human excreta.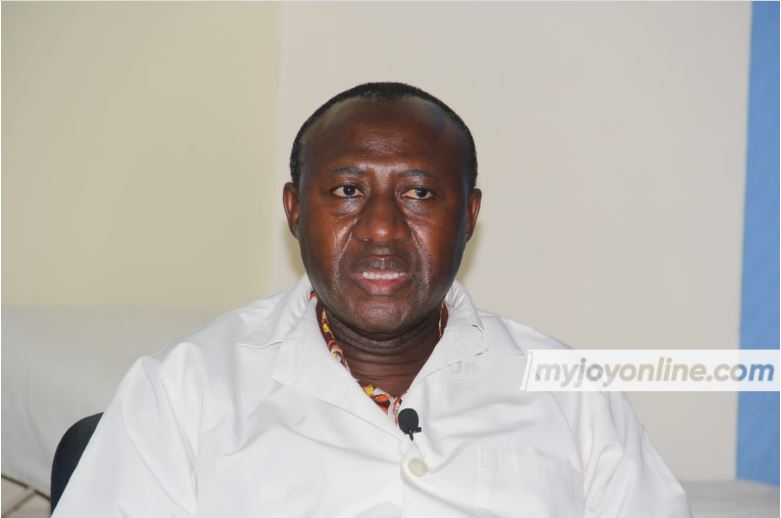 "So, it means human excreta gets its way directly in this water. It's a faeco-oral mechanism of transmission, and if we have this heavy load of bacteria, to the extent that the report says, they are too numerous to be counted you know. It's just such a heavy load. The colony forming unit can't even be counted, and indeed such water, is very very unsafe for the whole community."
Dr. Afoko says many residents report at the facility with severe cases of diarrhea.
"So, basically even if you take a school child for instance…if in a couple of days, they have to be off school because they have diarrhea. And many of the community members are coming with, you know, sometimes severe diarrhea, sometimes bloody diarrhea and indeed typhoid fever can cause perforation of the bowel, that necessitates surgery.
"It's a very common cause of peritonitis which is having a high serious morbidity and high mortality rate. Salmonella in the water means that even if you use it to wash vegetables, you gonna have problems, you know. And if you're drinking this water you gonna have serious problems."
I put Yakubu's claim to Dr. Afoko.
"I guess you're talking about Afa Zakaria who's our father, our late father and brother. You know, revered member of the community. Yeah indeed, erhnm, he had a serious infection and it resulted in renal failure. You know, what usually happens is that, sometimes, when you have these infections, you may have your body producing some antibodies. And these antibodies, even though, they're trying to fight the disease they also fight the body. You know, and eventually, they damage organs. Sometimes it could be the heart, but often it could be the kidneys.
"The substance of the kidney is similar to the antigens of the bacteria. So, the body now starts attacking, you know. So, he actually had a kidney problem for some time and went into terminal renal failure and then we lost him. You can imagine if you have kidney failure and then you're having diarrhea. You're dehydrated. You're losing electrolyte. The electrolytes are already in a state of imbalance when you have kidney failure. And once you have a diarrhea again, then the electrolytes levels are even drained and sometimes, most often, you can't recover from that.
Sure, as I said in the case of Afa Zakaria, It was the case that, he actually had, he ended up with chronic kidney failure. You know, erhm, the thing is that, there are also all kinds of other pollutants. Because if you see the bed from where the water runs into the pond, you know, like there's no control over what…so, even pesticides which are sprayed upstream are all running to the water body. Weedicides are all running into the water body."
Dr. Afoko says bladder and kidney cancers are common. The ages of the victims worry him.
"Actually, the bladder cancers and kidney cancers are quite common. And as I said, they think that it is ringing an alarm bell, is the fact that the age of incidence and the age at which people are having terminal cancer, is so strikingly low. In the places where these cancers are common they see it when you are about 60 to 70 years. And we are seeing it even in people who are not 20 years and by 25, 26 years, they are already in a terminal stage and the cancer cannot be operated.
Apart from that, actually, kidney stones are so common, just have a whole collection of kidney stones. The kidney stones, indeed, last week we had a child of 7 months with kidney stone, I mean, not to talk about the older ones. So, kidney stones are another problems apart from the cancers.
Also, renal failure, as said it is, something that is common and can be attributed to many conditions. But the age we are seeing this, is also another problem because the younger people are having these things. As I said, also the congenital malformations that we are seeing, like children are coming without the testis descending into the scrotum or the penis didn't form properly, you know. These are really issues that, we've been documenting."
He says data from the community due to the drinking of the dam water is overwhelming.
"Because I'm research oriented I'm sitting here with a lot of data and it's frightening. Because apart from the direct impact of getting them ill, having diarrhea, going to hospital, dying from it. Also, the younger people in the community, but certainly in this community, people are having drain semen analysis you know.
"Younger people are having smaller testis than older people you know. And what is the future of any community, any town or any country if out of pollution from plastics, from pesticides, you know, you now not able to reproduce you know. Nobody is going to shoot a gun and take your country. They just wait until you can't reproduce. The plastic pollution which is affecting our water body and also the pesticides are all disrupting hormones and the endocrine system."
Dr. Afoko also spoke about the testicular sizes of residents due to continued drinking of the water.
So, for instance errrh just by using the ultrasound machine which we have mmmm, we can measure the testicular size of people who are, adults who are below 35 years. And we also measure the testicular size of those who are above 60 years. Indeed, we do community screening. So, yearly we have a plan for Nantong-Zuo and surrounding communities where people come errh, we have their records and then we just check, we check their kidneys, we check their testis, we can when we find something, you know, unusual. And actually, we found that you know, if you just look at the testicular size of those who are 35, adults who are 35 years or below and you compare to adults who are older than 60.
"The older folks have larger testicular volumes. Actually, when you are an adult, once you are a grown adult 20 years and above, the testis doesn't grow again you know. Indeed, above it may even shrink a bit. So, if the volumes of the older people are bigger, higher, you know than that of the lower, then something is going on. And we match this with semen analysis and you can see the difference for yourself, and it's amazing that the younger people are having smaller numbers of the semen, the spermatozoon. They are having smaller volumes, and the motility is drained in the younger people, and the morphology is also abnormal, more abnormal form."
Dr. Afoko took our team around the hospital to look at some of the kidney stones collected.
"This came from a two-year-old. This stone and we are able to do some surgery without cutting the body. so this stone was broken with a piece of laser and extracted, you know without cutting the vision out and I think Afa Salifu will tell his story.
This stone actually because this is a stake home calculus, this is a real stone. It was taken out from a patient, a 32-year-old patient who lost the kidney anyway. Because it was a none functioning kidney so we didn't need to break it, we just took it out like that. It was from contaminated water and all that and these patients are in pain. They are losing their kidneys because this kidney was lost to severe infection."
Fuseini Salifu, the younger brother of the late Fuseini Zakaria, is horrified by the revelations.
"I was saddened by what the doctor said about contaminated water and the diseases it can spread."
Back at the dam, our camera captured children drinking water at the source.
Residents say they are aware of the negative health impacts, but have no choice.
Yakubu Habiba, for instance, has visited the hospital for complications. She has paid huge hospital bills in recent times.
A few weeks ago, she paid about 600 cedis.
"I spent about 600 cedis at the hospital. They gave me infusions and medications."
I enquired further as to what the doctor had told her.
"The doctor asked me about what I eat, and I told him, truly it is this water I use. Then he said that it was the cause of my sickness."
Zubaidu Hazifa, a student at Anbariya SHS says they use the water for drinking and cooking.
"We use it for every purpose. As you can see, this is water. This is used by my parents, siblings, and everyone else for drinking, and cooking."
Women and children spend at least 4 hours collecting a basic commodity that actually does more harm than good.
Some residents have drunk the water for more than 30 years. An opinion leader, Zubeiru Musah, says, "I have been consuming this dam water for over 40 years, hence I am afflicted.
So, you'll keep drinking the water until you see a doctor, who will then determine that you are sick. You will then require significant medical attention."
What might be the long-term solution for residents of Nantong Zuo? That's a question I asked Mr. Alhassan, Manager of Water Quality Assurance.
"This method or the superior method that can be used to treat this water is conventional water treatment. Which has to do with you having a facility that can first of all, you know, clean this water. So that you would now separate the suspended matter, the colour, the turbidity, all and get clean water, go ahead to now kill the microorganisms through what we call disinfection.
"If possible, we do PH adjustments and then, after that you now test the water to see, if the treatment process is, you know, optimum, is good such that the finish water would not contain harmful microorganisms – chemicals that can be injurious to human life.
"When that is achieved, you can now declare the water wholesome. So, with this we would recommend conventional methods for treatment. But if there are other options like borehole drilling or yes underground water, you can drill the borehole and then maybe that one may not require so much treatment, if you are lucky and the water table is good."
Dr. Afoko further says, "for the community, you know, or several boreholes for the community. There is some underground water, I know is quite deep, you know, but I am sure if we are able to get a borehole or two and able to get a mechanism for pumping it out, that would greatly reduce the burden on the community and definitely reduce burden of disease, you know, on the children, elderly and everyone in the community."
An Immediate solution is what residents of this community need.
"Yes, if I won't stop drinking the water, then it is because I have no option. But if I have a way, I will stop because I know the water is not good for my health," one of the residents, Yakubu Habiba, said.
Another resident, Fuseini Salifu, says, "I saw that, given the current course of events explained by the doctor, the Zuo community is in danger. But how do we get out of this danger? We as a community have nothing if the wealthy people who can assist us do not anything."
DISCLAIMER: The Views, Comments, Opinions, Contributions and Statements made by Readers and Contributors on this platform do not necessarily represent the views or policies of Homebase Television Ltd.
Visit Our Social Media for More
About Author