Former US president Donald Trump appears in court at the Manhattan Criminal Court in New York on April 4, 2023. – Former US president Donald Trump arrived for a historic court appearance in New York on Tuesday, facing criminal charges that threaten to upend the 2024 White House race. (Photo by Steven HIRSCH / POOL / AFP) (Photo by STEVEN HIRSCH/POOL/AFP via Getty Images)
Donald Trump's day in court was dramatic and historic – but what we learned about the criminal charges he faces seems unlikely to change minds.
Just over two weeks ago, the former US president predicted he was soon to be charged by prosecutors in New York City. Speculation abounded, as everyone, including Mr Trump, waited to find out what was in the indictment.
It turned out, however, that the outlines of the case against him had already been widely discussed.
The 34-count indictment targeted the hush-money payment to adult film star Stormy Daniels. There were no charges of criminal conspiracy. There were no new crimes unearthed by the grand jury that remained hidden until the indictment was concealed. There was no expansive case.
The cards were already on the table when Mr Trump woke up in Manhattan on Tuesday. The case is what we thought it was, even if some of the evidence – of what prosecutors allege was a pattern of election influence – was new.
This suggests that the battle lines that had been forming over the past few days will only harden as the case proceeds toward trial. Republicans, who had been fairly united in their defence of Mr Trump since he posted on social media that an indictment was looming, will stay unified.
Even Utah Senator Mitt Romney, who voted to convict Mr Trump in his two impeachment trials, released a statement saying that Mr Bragg "stretched to reach felony criminal charges in order to fit a political agenda".
"The prosecutor's overreach sets a dangerous precedent for criminalising political opponents and damages the public's faith in our justice system," he said.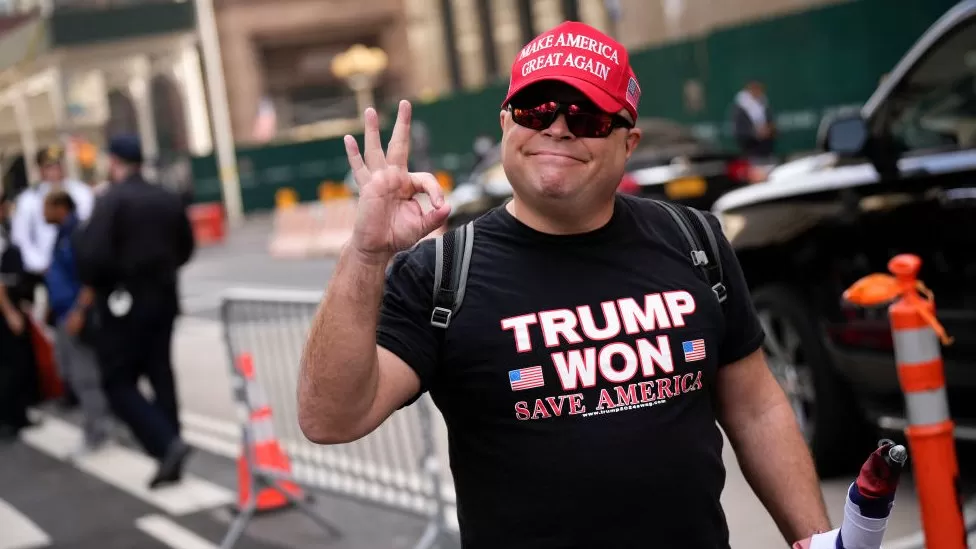 Democrats, at this point, may follow President Joe Biden's lead and keep silent about the case. They may prefer to avoid entanglement in a prosecution that at the moment could do more to rally the Republican base than damage the former president's political standing.
Mr Trump appeared stone-faced during his brief on-camera appearances at the courthouse, where he pleaded not guilty to the charges brought against him. But on his social media website, and in a slew of fund-raising emails throughout the day, he seemed willing to press what he may perceive as his advantage.
It follows his repeated attacks on Mr Bragg and the New York City prosecution team – actions that prompted a warning from presiding judge Juan Merchan against further inflammatory rhetoric.
Mr Trump has also questioned Mr Merchan's impartiality and called for the case to be moved out of Manhattan to Staten Island, where the jury pool could have more Trump supporters. His lawyers are also expected to file motions to get the charges dismissed before the case reaches trial.
While Mr Trump may be already be dismissing the case as terminally weak, his legal jeopardy, however, does not begin and end in New York. A federal special counsel and a Georgia district attorney are pursuing their own investigations into the former president, and they can now bring charges without the history-making burden Mr Bragg confronted.
The US has had high-profile national legal dramas. It's had high-stakes political campaigns. Now the American public has both at the same time – with the prospect of more to come. The months ahead promise to be a jarring mix of legal manoeuvrings, court appearances and campaign events, as the former president navigates these most unusual waters.
Perhaps, as America's first reality-show president, who has made a habit of upending political tradition and decorum for eight years and counting, such a spectacle should come as no surprise.
Judge Merchan prohibited television cameras from filming Mr Trump's arraignment in order to prevent what he feared would be a circus environment. But outside the courthouse, as the former president's supporters and critics traded shouts and waved signs in front of a crush of media, the circus was in full swing.
DISCLAIMER: The Views, Comments, Opinions, Contributions and Statements made by Readers and Contributors on this platform do not necessarily represent the views or policies of Homebase Television Ltd.
Visit Our Social Media for More
About Author