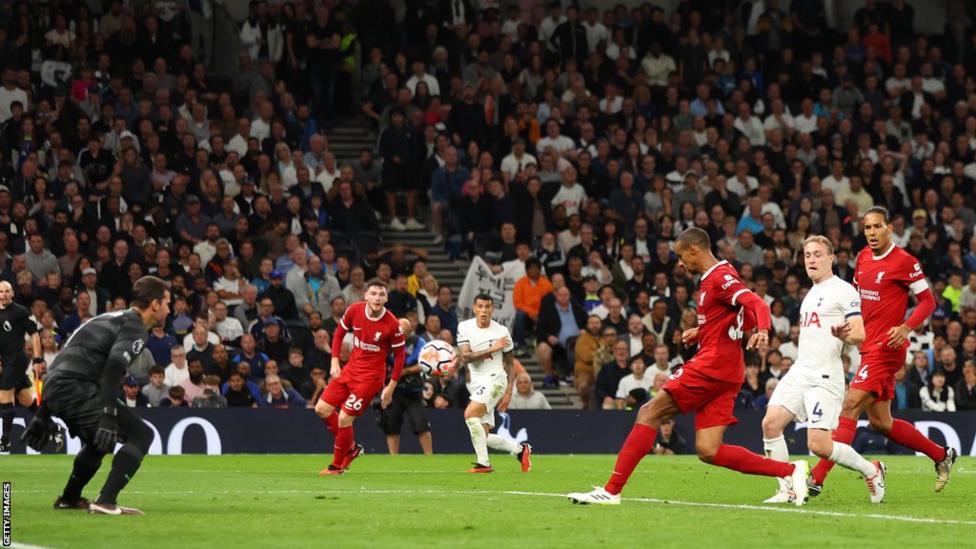 Referees' body PGMOL has admitted the decision to disallow Luis Diaz's goal in nine-man Liverpool's 2-1 loss to Tottenham Hotspur was "a significant human error".
At 0-0 and with the Reds a man down, Diaz's goal was ruled out following an unusually quick VAR check by Darren England, in which the customary offside line graphic was not shown.
"PGMOL acknowledge a significant human error occurred," the statement read.
"PGMOL will conduct a full review."
"The goal by Luiz Diaz was disallowed for offside by the on-field team of match officials. This was a clear and obvious factual error and should have resulted in the goal being awarded through VAR intervention, however, the VAR failed to intervene.
The Reds also had Curtis Jones and Diogo Jota sent off, and lost to a stoppage-time Joel Matip own goal after resolutely keeping Spurs out.
Speaking after the match, Jurgen Klopp said his side's defeat came in "the most unfair circumstances" with "crazy decisions".
"That is not offside when you see it," he told Sky Sports.
"The ball is between Mo [Salah]'s legs, they drew the line wrong and didn't judge the moment when Mo passed the ball right."
'Everyone will agree' on 'horrendous' VAR decision
Klopp said the statement "doesn't help" and referenced the apology Wolves received for the decision not to award a penalty at Manchester United earlier in the season.
"I don't think we should talk too much about that because it doesn't help at all," said Klopp.
"Wolves got a similar statement, or apology. They didn't get a point out of United and we won't get a point today so it doesn't help.
"I am pretty sure no one is making mistakes on purpose but it still happened and at this moment I don't know why. [We] scored a fantastic goal – would it have changed the game? I don't know. But probably, because goals help."
Liverpool captain Virgil van Dijk said he is "losing faith" in VAR after the referees' incorrect decision to disallow Diaz's goal without any intervention from Stockley Park.
"I'm losing faith, [which] is difficult to say," he said.
"The VAR should be absolutely clear and obvious with everything they're deciding on. I've seen the still back – on live TV there were no lines being shown. It's all a bit strange, I don't know who was in the VAR room and making that decision. It's not a good thing, it doesn't look well either. It is what it is, we lost."
Gary Neville told Sky Sports the decision was "horrendous" and said it was "clear for everyone" to see that Diaz was onside.
"That is unbelievable! It is very significant. I have defended VAR and offsides being a matter of fact, but there have been a few which I thought were wrong in recent weeks," the former Manchester United defender said.
"It was all too quick. That is a horrendous one. It is clearly onside, clear for everyone. Something hasn't been right the last few weeks. They are picking the wrong cameras to draw the lines on. It is weird."
Jamie Redknapp added: "Everyone will agree, this is onside and makes you wonder how many other decisions they got wrong. It looks like they got that wrong by a yard. It is not a good look. For me they got that so badly wrong. We are making things so complicated."
Jones' early red card also proves controversial
The Diaz decision wasn't the first controversy of the match – that came when Jones was sent off with just over a quarter of the game played.
The midfielder was originally given a yellow card by referee Simon Hooper for his challenge on Spurs' Yves Bissouma, but after checking the on-field monitor it was changed to a red, another decision Klopp disagreed with.
Hooper was originally shown a still image of the end of the challenge by the VAR for several seconds when he first looked at the monitor, before the clip was replayed in slow motion.
"Curtis steps on the ball and goes over. Not a bad tackle. It looks different in slow motion. He steps full throttle on the ball and goes over the ball. That is unlucky," Klopp said.
Neville added: "It looks bad but his foot just slips off the top of the ball – that is not a red card for me. He has gone in genuinely. My initial reaction as an ex-player is that isn't a player looking to do the opposition player. If you see the end part in slow motion, you will think red card, but you have to look at the whole thing."
Former Liverpool and England defender Stephen Warnock agreed, telling BBC Radio 5 Live: "I think it is very harsh. The big thing is that VAR are slowing the incident down as opposed to the initial challenge.
"He gets the top of the ball and then his foot goes over the ball into the ankle of Bissouma. You can see both sides to the argument, though. I understand why the Spurs fans are disappointed with the tackle but everything looks worse slowed down."
Fellow Liverpool midfielder Alexis Mac Allister's red card against Bournemouth earlier this season was later rescinded on appeal after the referee's on-field decision was allowed to stand by VAR.
PGMOL admits another mistake
This isn't the first time VAR has made the wrong decision or failed to intervene when necessary.
Referee Lee Mason left the PGMOL in February after failing to draw VAR's offside lines and rule out a Brentford goal against Arsenal.
The same month, an offside line was incorrectly drawn during Brighton's 1-1 draw with Crystal Palace, meaning Pervis Estupinan's goal was wrongly disallowed. The line was wrongly drawn parallel to Palace defender James Tomkins rather than team-mate Marc Guehi, who was standing behind him.
PGMOL also admitted that Brighton should have been awarded a penalty in their April defeat away at Tottenham, but after referee Stuart Attwell rejected the initial appeals, he was not asked to reverse the decision or go to the TV monitor for a second look despite VAR reviewing the footage.
The VAR official Michael Salisbury was dropped for the next round of Premier League fixtures.
In December last year, an independent panel found that video assistant referees had made six incorrect interventions by that stage of the 2022-23 season, and had missed another six where they should have stepped in.
DISCLAIMER: The Views, Comments, Opinions, Contributions and Statements made by Readers and Contributors on this platform do not necessarily represent the views or policy of Multimedia Group Limited.
DISCLAIMER: The Views, Comments, Opinions, Contributions and Statements made by Readers and Contributors on this platform do not necessarily represent the views or policy of Multimedia Group Limited.
Visit Our Social Media for More
About Author