Watch Video: Okada Rider And Passenger Fall From Mallam-Junction Overhead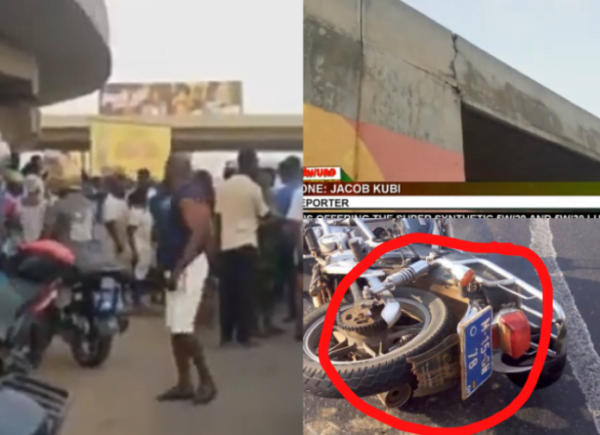 An Okada rider(motorcyclist) has died after he fell from Mallam Junction Overhead together with his passenger.
The reports have it that the Okada rider picked a passenger from Lapaz and was heading towards Kasoa.
The reporter disclosed that the motorcyclist was in a haste in stagnant traffic so he decided to overtake the cars in front of him to escape the traffic.
Read also: The EC Time Of The Exbihition Exercise Is Limited- Elvis Afriyie Ankorah
The motorcyclist lost control after he hit the side concrete of the overhead leading him and the passenger to fall off from the overhead straight to the ground.
The report added that the Okada Rider was not wearing a helmet so his head hit the road leading him to bleed profusely and helplessly to dead. But fortunately, the passenger was on a helmet so he was able to survive but was paralyzed and in pain
Watch video: