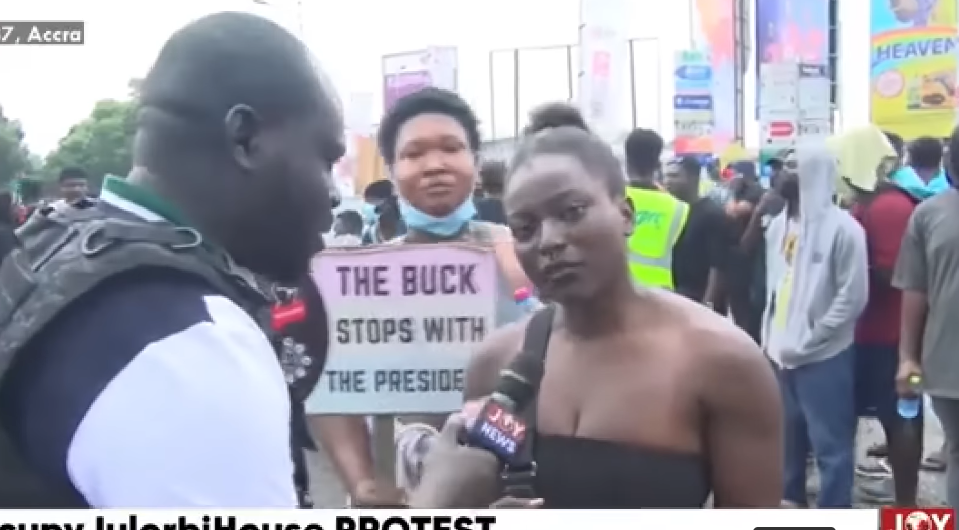 Ghanaian social media influencer, Ama Governor, has spoken up for the first time since being reconsidered for admission to the Bar.
The aspiring lawyer, who joined the #OccupyJulorbiHouse protestors on Saturday, September 23, believes that the youth have had enough of what she describes as the hardship endured under the government.
"I struggle to even take trotro sometimes. I am telling you facts that happen to me as someone who has four sources of income," she cried.
"I have been working for seven years, give me a break. I should have something to my name that shows that I have been working in this country. Instead what happens? The one that I have worked the hardest for, my law career, gets blocked by an anonymous petition," she explained.
Ama has faced an almost year-long battle with the General Legal Council (GLC) after a complaint was filed by a concerned citizen in November 2022.
This complaint alleged that she had engaged in conduct that was deemed "unbecoming of a bar applicant."
As a result of this complaint, the GLC paused the process of calling Ama to the bar.
She vehemently rejected the allegations of misconduct, asserting that she had been treated unfairly throughout the ordeal.
In a recent turn of events, the Ghana Bar Association (GBA) representative's report to the General Legal Council at the 2022/2023 bar conference held in Cape Coast has disclosed that Ama Governor has been granted the opportunity to complete the application process for her bar call, scheduled for the October/November 2023 sessions.
Reacting to the accusations against her by the anonymous petitioner, Ama Governer indicated that "the person is clearly homophobic and has issues with a bold liberated woman like me."
"But they weren't. They should have come prepared," she told JoyNews.
Watch her reaction below:
DISCLAIMER: The Views, Comments, Opinions, Contributions and Statements made by Readers and Contributors on this platform do not necessarily represent the views or policy of Multimedia Group Limited.
Visit Our Social Media for More
About Author