The New Patriotic New Party (NPP), Member of Parliament for Dormaa West Constituency, has been connected to a violent incident in the Constituency, which has led to the burning of a pickup vehicle meant for COVID-19 operations, a motorbike and the death of one of his supporters, Kofi Labet.
Heavily-armed supporters of Ali Maiga Halidu, are reported to have engaged in sporadic shooting in the Constituency, intimidating people who wanted to register in the Electoral Commission's mop-up registration exercise started yesterday, Saturday, August 8.
Read also: I Married A Virgin – Rev. Charlotte Oduro
The security team made up of soldiers and police officers on the ground maintaining law and order, were said to have been overpowered by Kofi Labet and his armed gang under the instruction of the MP.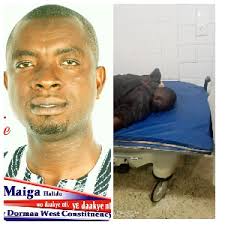 The MP's, driver, "Bugi", was also seen in the Constituency, "shooting aimlessly". Independent checks are that the MP fled the town when things got out of hand and reinforcement was called in to restore calm.
One other supporter of Ali Maiga Halidu is said to be in a critical condition having also suffered a severe injury in one of his legs.
A statement from the National Democratic Congress (NDC) stated that
"the NPP rebel group besieged the office of the Electoral Commission where the mop-up exercise of the voter registration was taking place at dawn, ostensibly to manage the security of the place".
The statement was signed by Stephen Azorba and Stephen Sarfo, Secretary and Communications Officer of NDC in the Dormaa West Constituency, respectively.
It said
"the Military and other state security lost control of the situation and were prevented from maintaining law and order from the early hours of 8th August by these hoodlums, adding that "the violent activities of Hon. Ali Maiga Halidu and his rebels in once peaceful and serene political environment has led to a state of anarchy and pandemonium" in the Constituency.
There have been similar violent incidents in the Banda Constituency resulting in the murder of a teacher trainee.
The Ajumako-Enyan-Esiam Constituency in the Central Region, led By Cassiel Ato Forson has also recorded violence between the opposition NDC and the ruling NPP which is hoping to dislodge the incumbent the NDC MP, a former Deputy Minister of Finance in the John Mahama administration.