Newmont Ahafo mine presents PPEs to Hwidiem St Elizabeth Hospital
Newmont Ghana Gold, Ahafo mine, has presented Personal Protection Equipment (PPEs) to the Hwidiem St.
Elizabeth Hospital to support the management of the Coronavirus Disease (COVID-19) in the Ahafo Region.

So far, the Region has eight confirmed cases.

The PPEs comprise 100 pieces of N95/N35 masks, 500 disposal gowns, 300 pieces of examination gloves, 100 bottles of hand sanitizers, eight Veronica Buckets, five thermometer guns, 100 disposal plastic aprons, 10 gum boots, 1000 hair caps, and 300 gynaecological gloves.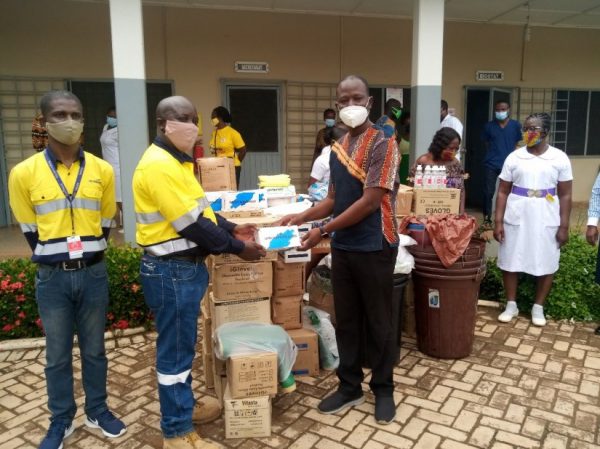 Mr Okyere Yaw Ntrama, the Acting General Manager, Newmont Ahafo mine and other key staff of the multinational mining company, made the presentation at short ceremony held at Hwidiem in the Asutifi South District of the Region on Friday.

"The donation builds on other contributions and efforts already implemented, such as our efforts to the national and district fight against the virus disease," he explained.

As the company prioritizes health and safety, Mr Ntrama emphasised Newmont's commitment to help strengthen the capabilities of public institutions to enable them to minimize the risks and impacts associated with COVID-19.

"We recognise that we cannot defeat COVID-19 in isolation and we need each other to win this fight. This is why we are partnering our local governments and medical institutions towards addressing the greatest needs within our communities and nation," he explained.
"As a company that exists to create value and improve lives through our operations, it is our hope these items will be put to good use and that our contribution will go a long way to facilitate the work for our frontline workers in fighting COVID-19 in our District and Region".

Dr Ivan Muanah, the Medical Director of the Hospital, thanked Newmont for the gesture, saying as a treatment center, the PPEs would help protect health workers and clients from contracting the virus.

He said one patient had no travel history, an indication that the virus disease was in the communities, and advised the people to adhere to health safety protocols – observe social distancing, frequently wash their hands under running water and use hand sanitizers.

Dr Boakye Boateng, the Ahafo Regional Director of Health, urged the health workers to use the items appropriately to protect themselves and their immediate families from infection.