Goldstar Air, E-Station Donates PPE's To Ghana Forestry Commission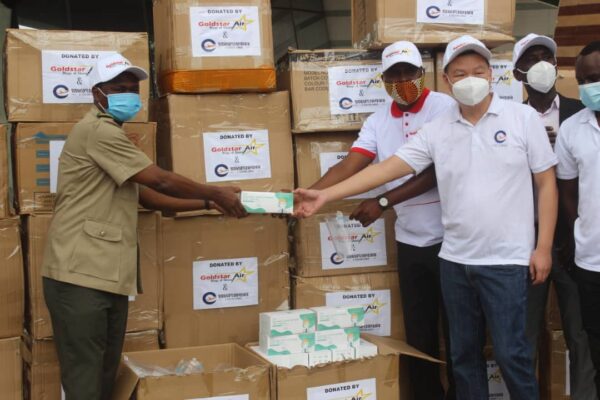 Goldstar Air, a wholly-owned Ghanaian Airline in conjunction with E-Station, a Chinese logistics international Limited, has presented an assortment of personal protective equipment to the Ghana Forestry Commission to boast their tourism activities, especially to enhance their fight against the ravaging menace of the Coronavirus.
The items which consist of boxes of nose masks and face shields are also to help and promote the activities, operations, and running of the Accra Zoo.
The manager of the Cargo service department of the airline, Mr. John Ashong–Mettle told this reporter that the gesture is to boost the morale of the officers to enable them to give off their best and stay out of harm's way.
He said that the presentation is Goldstar Air's corporate social responsibility to assist the management of the forestry commission as they go about with their obligation in the face of the Coronavirus storm.
Read also: Audio: We Are Disappointed In The NPP Government- 3 Northern Region Of NPP Supporters
The items presented on behalf of both companies by Mr. John Ashong–Mettle of Goldstar Air and Jibiao YE of E-stations Logistics International Limited and were received by Dr. Richard Gyimah, Acting Director – Stakeholders and Ecotourism of the Ghana Forestry Commission.
Dr Gyimah who was elated and full of praise for Goldstar Air thanked the organization for the priceless gesture and admonished that other corporate bodies take a cue from Goldstar Air to make similar donations.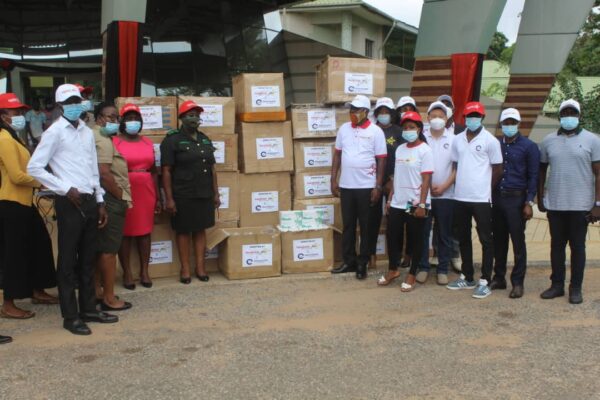 Mr. John Ashong–Mettle asserted that the airline is positioned to work in harness with the Ghana Forestry Commission to ensure that the outside world would keep their gaze continually focused on Ghana by unearthing and harnessing the potentials of Ecotourism in the country.
Present to grace the occasion were officials from Goldstar Air included the Executive Chairman of Goldstar Air, Mr. Eric Bannerman, Mr. Charles Nettey(Airport Manager), Mr Edmund Lamptey(Cabin Crew), Ms Emelia Yeboah Boateng(Cabin Crew), Ms Rachael Quaynor (Cabin Crew), Mr Edwin Lamptey (Cabin Crew), Excel Norman (Cabin Crew), Nana Ankam Kwabeng (Cabin Crew) and Mr Maxwell Anafo (Staff of E-station Logistics Limited).
Accompanying the Acting Director to receive the personal protective equipment was Ms. Cornelia Danso (Manger, Commercial Development Unit), Ms Ernestina Anie (Manager Of Public Relations, Wildlife), Mrs. Sandra Frempong (Assistant Manager Commercial Development Unit). The others included Mr Fred Yabiri (Assistant Public relation Officer Wildlife of the Forestry Commission), Mr Martin Ofei, Ms Alice De-Graft, Ms Karen Kpelle, Ms Nana Yaa (Assistant Public relation Officer, Forestry Service Division) and Mr Mills Heward.
Goldstar Air has signed an agreement for a strategic partnership with E-station International Logistic Limited to use their office and cargo warehouses in Guangzhou initially for our operations in China to make Ghana the cargo Hub in West Africa by ensuring direct Cargo flights to and from China, and also creating more jobs for the Youths.
The Chinese Logistics Company has been moving volumes of Cargo around the world and is certified in China to operate globally. Therefore Goldstar Air sees the association as a strategic partnership that will give the two companies the competitive advantage. The Airline will coordinate all efforts to maintain a cost-effective inbound and outbound flow of Cargo and third party logistic service provider with a dedicated Transportation Chain that will implement and control the efficient flow and storage of goods and services that will meet customers' requirements.
Goldstar Air will be coming up with an integrated platform that will give leverage to exporters of Ghanaian goods who have registered with the Ghana Export Promotion Authority (GEPA). The airline will put at the disposal of all the companies who have signed on to our integrated platform for free advertising space, on our in-flight magazine, integrated platforms and aircrafts screens during takeoff and landing to promote, publicize and make their merchandise or products tick and also sell their made-in Ghana products as duty-free on board, adding that the exporters should be willing to sign an agreement with the airline to be the sole transporter.
The airline will also sign an agreement with Courier service companies who have the skill-set for security, tracking service and can also provide fast and reliable services throughout Ghana to and from the airport for shorter delivery time.
The management of the airline will ensure that the right goods, in the right quantities and in the right condition are delivered to the right places at the right time for the right cost, taking into account that our primary focus as a trending-setting airline will be to focus on top quality short turnaround time and promoting highly competitive prices and ensuring excellent customer service.
The airline will initially be flying to twelve namely, London, Baltimore Washington International Airport, Dubai, Providence International Airport, Guangzhou, Dakar, Lagos, Monrovia, Abidjan, Freetown, Banjul, Conakry, and pending cities, Atlanta-Georgia, Chicago-Illinois and Houston-Texas. Goldstar Air is also projecting a fleet of more than one hundred (100) modern aircraft to a network of more than ninety (90) key business and leisure destinations across Europe, the Middle East, Africa, Asia Pacific, Caribbean, and North America.
Our Intentions as Ghanaians is to build a state-of-the-art and trend-setting aviation industry able to compete within the intentional market in terms of safety, quality, reliability, punctuality, efficiency, and costs effectiveness.
Written by: Beauty Agama(Reporter Hbtv.com)