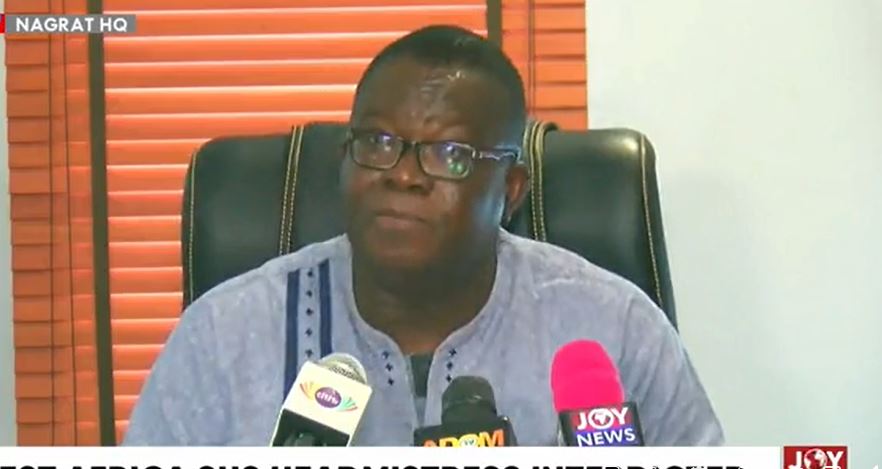 The National Association of Graduate Teachers (NAGRAT) is demanding the immediate reset of the academic calendar for basic and junior high schools in the country.
NAGRAT is also asking the Ministry of Education and the Ghana Education Service to cancel the double track system at the senior high school level.
Addressing the press, President of NAGRAT, Angel Cabonu said the increase in student enrollment, and the limited time allocated for breaks and vacation is putting pressure on teachers and management.
"It's been some seven years since the government instituted and initiated the Free Senior High School. Associated with the Free SHS is the introduction of the double track. The reason the double track was introduced according to President Nana Addo Dankwa Akufo-Addo, was for the track system to take care of the growing numbers of students because the facilities in the schools at that time, couldn't contain the numbers.
"The government promised us at that time that within five years, the double-track system would be a thing of the past. It said it would ask the Ghana Education Trust Fund (GETFund) to put up facilities and structures in the schools to cater for the increase in number."
"Unfortunately, the five-year period elapsed two years ago and yet 40% of the SHSs are still running the double-track. The double track is coming up with attendant problems and challenges," he stressed.
Currenty, some teacher unions are in discussions with the Ghana Education Service (GES) to realign the senior high school (SHS) calendar with that of the basic school.
This follows the reversal of the basic school academic calendar to the pre-COVID-19 era, starting from the 2023/2024 academic year.
Per the revised calendar, the new academic year for basic schools will begin on Tuesday, October 3, 2023, and end on July 25, 2024.
However, SHSs are still running the transitional calendar which spans January to December every year.
Many have blamed the situation on the double-track system and the limited vacation days given to teachers.
But touching on this, Mr. Carbonu insisted that the double track system would have been cancelled if GETFund had gone ahead to furnish the schools with the infrastructural support they were promised.
"GETFund should tell Ghanaians why it has not been able to put up the infrastructure that will accommodate students," he added.
DISCLAIMER: The Views, Comments, Opinions, Contributions and Statements made by Readers and Contributors on this platform do not necessarily represent the views or policy of Multimedia Group Limited.
Visit Our Social Media for More
About Author