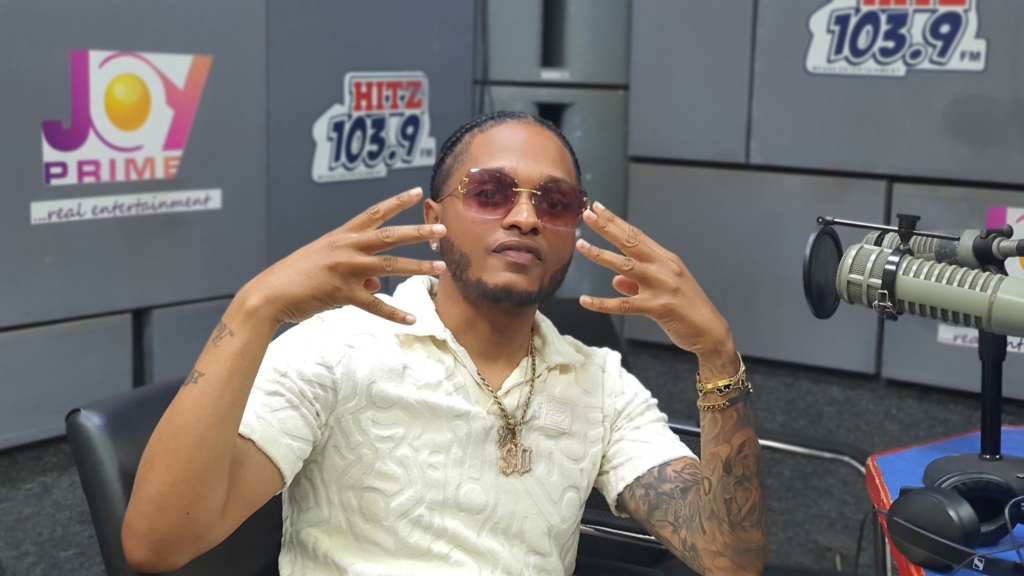 Atlanta-based rapper, Call Me Veto at Hitz FM. Image: @flynimaboy — Twitter
American rapper, 'Just Call Me Veto', said his brother was his inspiration to do rap music.
Speaking in an interview with DJ Slim on Hitz FM, the 'Goodie Mobb' rapper mentioned that rap music was something he had always wanted to do.
He also revealed that he grew up listening to rappers like Master P and loved the lifestyle that came with the craft.
He also mentioned that his brother wanted him to pursue another career and forget about rap. That, according to the Atlanta-based rapper fueled his urge to prove him wrong.
"My biggest inspiration to do music was my brother. The reason why I would say he is my biggest inspiration is that he did not want me to rap.
"It was something I always loved, and my brother was like 'why do you want to rap? There are so many other things that you can do.' I was good in school and very good with basketball as well," he said on Daybreak Hitz.
The Been Through rapper also stated that his parents rather supported his decision to pursue music, therefore, they always supported him and gave him room to be himself
"My parents were all for it. They didn't tell us what to do – allowing us the opportunity to be free and do the things that we loved. My dad just sent me a text before we came here."
Just Call Me Veto, who is in Ghana for a promotional journey to promote his music said he recently started listening to African music.
He mentioned a couple of musicians he is currently listening to.
"I just started listening to Wizkid, Stonebwoy, Burna Boy and Lyrical Joe. Lyrical Joe just has the swag of an American artist. I am looking forward to meeting him and possibly creating some good music."
New Orleans-born Levon Mckee, better known as Just Call Me Veto is an Atlanta-based rapper signed to his independent label, Self-Driven LLC.
Formerly known as Fly Guy Veto, he later decided to go by a new name, Just Call Me VETO (Victory Ends Those Opinions).
In 2007, Call Me Veto decided to pursue rap professionally and began creating a buzz in Atlanta's underground rap scene for his creative lyrics and undeniable sense of fashion.
In 2012, he dropped 'No Handouts', a mixtape that instantly became an Atlanta street classic.
Over the next few years, he went on to release several more projects and collaborated with other Atlanta upstarts like Rich Homie Quan, Bankroll Fresh, K Camp, Jose Guapo, and OG Maco.
Under his label, Call Me Veto released his debut album of the same name to represent his own ideas and work ethic.
Self-Driven bolstered street anthems such as "Kake", and "Wrist" featuring Atlanta's OG Maco.
In 2018, he released his project, 'Santobello', with Kap G. One of the songs on the project, "My Brotha", reached over 100,000 streams on various outlets.
When Covid-19 hit in 2020, Veto found a way to keep his fans engaged – he launched a clothing line, Stay Safe Chasing Money. He also created a platform, Veto Show, for other indie artists to exhibit their talents.
Just Call Me Veto's recent release 'Goodie Mobb' is available in music stores.
DISCLAIMER: The Views, Comments, Opinions, Contributions and Statements made by Readers and Contributors on this platform do not necessarily represent the views or policies of Homebase Television Ltd.
Visit Our Social Media for More
About Author