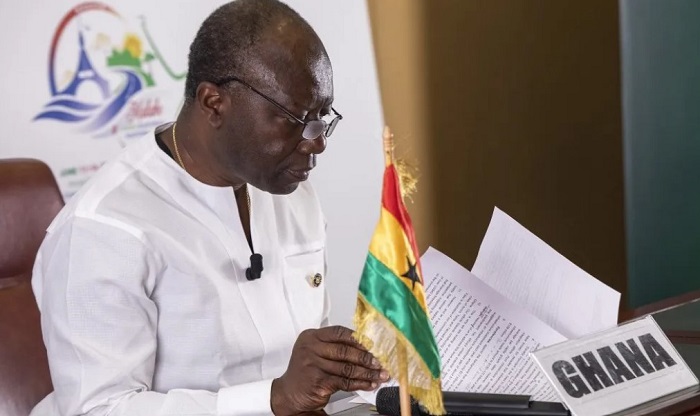 Finance Minister, Ken-Ofori Atta has described Ghana's International Monetary Fund (IMF) programme approval as a first step towards placing the economy on recovery path.
"This is the crucial first step on the necessary journey of strong reforms, inclusive growth, and relentless pursuit of a growth agenda geared towards restoring Ghana's economy to a place of strength, prosperity, and resilience", Mr. Ofori-Atta said
The Finance Minister spoke to Joy Business from Washington DC after Ghana's programme was approved by the IMF in a Board meeting that was chaired by the Managing Director of the IMF Kristalina Georgieva.
Finance Minister on role played by other stakeholders
Mr. Ofori-Atta expressed gratitude to Ghanaians for supporting government to get the Board approval.
"I believe it is also right to first thank the people of Ghana, our bilateral and development partners, all our investors, and the IMF, for their commitment and the sacrifices that have made it possible for us to achieve an IMF Programme in record time," he said.
Mr. Ofori-Atta recounted that it has not been an easy path for government to take in turning around the economy for good.
"It has not been an easy 10 month- journey, but with sheer grit and determination to place Ghana firmly back onto strong economic footing, the impossible has been made possible".
Support for Ghana's programme
Mr. Ofori-Atta also appealed to all Ghanaians, investors, bilateral and development partners, to take up the to support the government in the implementation of the PC-PEG backed IMF ECF Programme.
Background
The Executive Board of the IMF on May 18 2023 approved Ghana's programme request aimed at stabilizing the economy.
According to the IMF, the programme will be based on government's Post COVID-19 Programme for Economic Growth (PC-PEG), which aims to restore macroeconomic stability and debt sustainability and includes wide-ranging reforms to build resilience and lay the foundation for stronger and more inclusive growth.
According to the IMF "the Executive Board's decision will enable an immediate disbursement to Ghana equivalent to SDR 451.4 million (about US$600 million)".
Programme Focus
According to the IMF, the programme will help Ghana overcome immediate policy and financing challenges, including its catalytic effect in mobilizing external financing from development partners and providing a framework for the successful completion of the ongoing debt restructuring.
It also added that "Key policies under the authorities' programme include large and frontloaded fiscal consolidation to bring public finances back on a sustainable path, complemented by efforts to protect the vulnerable".
On Monetary Policy, the IMF indicated that "appropriately tight monetary and flexible exchange rate policies will help bring inflation back to single digits and rebuild international reserves."
Adding that "Monetary and exchange rate policies under the program will focus on reining in inflation and rebuilding foreign reserve buffers."
The programme also has a strong focus on preserving financial stability and encouraging private investment and growth.
The IMF disclosed this in a statement after the approving Ghana's programme
DISCLAIMER: The Views, Comments, Opinions, Contributions and Statements made by Readers and Contributors on this platform do not necessarily represent the views or policies of Homebase Television Ltd.
Visit Our Social Media for More