Who would shoot a 10-part TV series in a city emerging from a 30-year conflict with a cast of teenagers who have never acted before?
The answer is Ahmed Farah.
He is the director of Arday or "Student", which was filmed in the Somali capital, Mogadishu, and launches on Thursday on the country's Bile TV channel.
It grapples with some of the country's most controversial issues, including pornography, rape, drugs and girl gangsters – all taboo topics in Somalia.
Each 25-minute episode focuses on a group of high-school students and how they deal with the challenging world they are growing up in.
Farah was inspired to write the script after watching young Somalis on TikTok.
"These are the things they are talking about," he says. "This is their reality and I wanted to give them a voice.
"The youth are unseen in Somalia. Seventy-five per cent of the population is under 30 but they are invisible," he says. "Our celebrities are the politicians. They monopolise everything."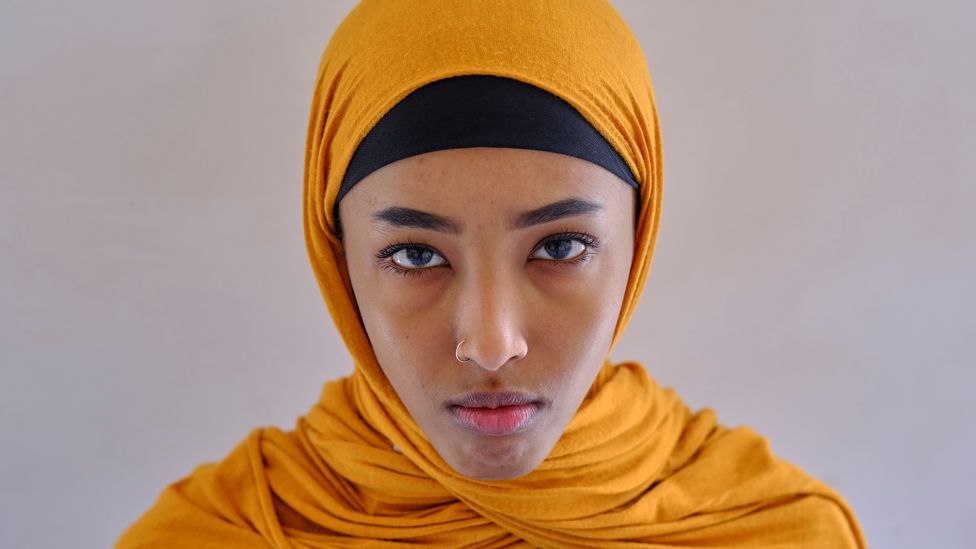 One star of Arday, 21-year-old Shukri Abdikadir, was plucked out of nowhere to be thrust into the limelight.
She had been working as a waitress in Mogadishu, before she landed the acting job.
"I didn't even audition," she says.
"I was accompanying friends who were auditioning for roles when the director spotted me. He said he saw something in me, asked me to have a go and gave me one of the main, and most controversial roles, a female vigilante."
Farah, who directed the successful Somali-language feature film Ayaanle, took a massive leap of faith in shooting the entire film in Mogadishu with novices aged between 16 and 21.
The cast of 60 were paid for the three months it took to complete the filming, as were the 18 young Somalis Farah trained as crew.
The series is at the heart of a revival of Somalia's once-thriving film industry, which was shattered by the years of conflict – Mogadishu's famous cinemas blown to smithereens by the endless shooting and shelling.
Confronting abuse porn
One of the show's main storylines is the drugging and rape of a girl at a party.
The incident is filmed by some of her classmates who try to blackmail her with threats that they will post the video online if she does not pay up.
Like elsewhere in the world, the sharing of videos of women being sexually abused is a growing problem in Somalia.
Men pay to watch the films which are posted on Telegram channels. Victims' lives are ruined. They cannot get married. Some are pushed into drug addiction.
"Our parents and our community don't like us talking about these things," says Badria Yahya, another star of Arday.
"But we are doing it to make them wake them up to reality."
Twenty-one-year-old Yahya had always wanted to act. "I used to make up plays with my siblings," she says. "I got so addicted to Bollywood movies that I can now speak Hindi."
Both her and Abdikadir faced fierce opposition from their parents for accepting parts in the series.
Some families forbade their children from having anything more to do with it once they saw the results of the early filming.
"We had to kill their characters off," says Farah. "Some hate me for making this series. They call me a traitor, paid by the West to challenge our culture."
Arday's not insubstantial budget was entirely funded by Somalis.
While members of the older generation were appalled by the themes, some young people in Mogadishu said it was important the series addressed tricky topics.
But it is not just the subject matter that caused problems, it was also the nature of the filming.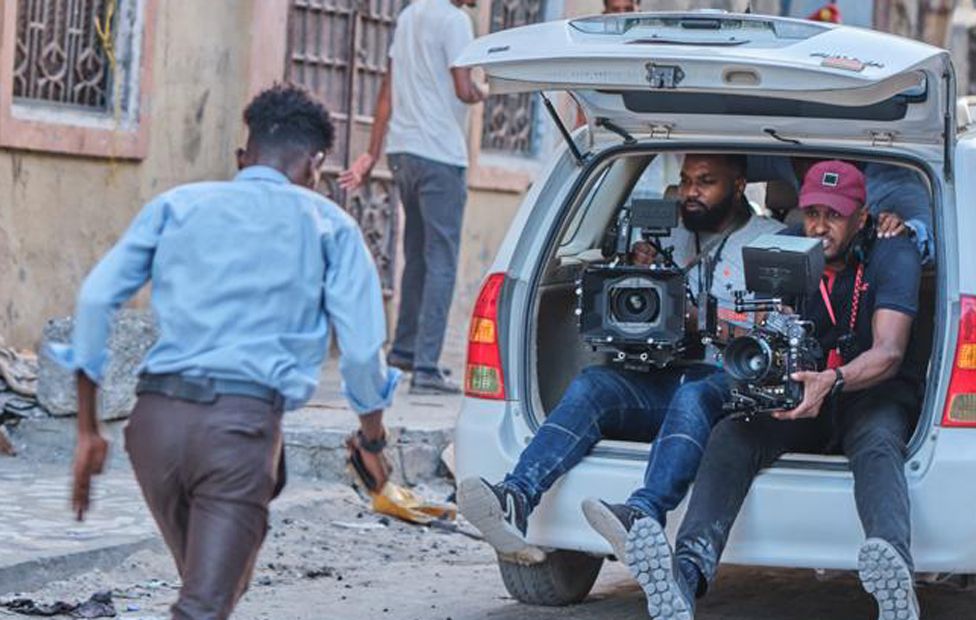 This was the first time a major Somali series had been filmed on the streets of Mogadishu.
"It was total chaos," says Farah.
"People had never seen anything like it. Filming was incredibly challenging. Somalis talk very loudly so passers-by were a constant disruption, as were the calls to prayer from the mosques and sometimes the real gunshots."
Mogadishu's population is so used to hearing gunfire in the background that a crowd of extras did not duck when fake guns were used during filming.
"We had to get a real gun and fire it over people's heads to get them to duck," says Farah.
Another problem was fighting among the cast, especially the teenage girls.
"They would sometimes start hitting each other and pulling each other's hair," says Farah. "I threatened to kill their characters off if they carried on fighting. That was enough to stop most of them but I had to kill off a few of them because they wouldn't stop.
"If I made a movie about making this movie it would be a bestseller."
'Better to live like a lion'
In a city where people do not know whether they will come back home alive in the evening, where they might be caught up in an al-Shabab attack or shot at a checkpoint, filming sometimes triggered troubled emotions.
While shooting a scene where a girl comes across boys watching porn in the school café, she kept crying well after the filming stopped.
"The boys sobbed too," says Farah. "They cried for about 30 minutes after we turned off the cameras. It was a form of therapy for them."
The actors also found it difficult to film a suicide blast scene.
It was too close to home.
Last October, some of the actors narrowly missed being blown up in a massive double car-bomb attack. It occurred minutes after they had collected their costumes from a building in the vicinity of the blasts that killed at least 100 people.
Arday also addresses the issue of mental health, another taboo subject in Somalia.
One of the characters in the series is a psychologist who works at the school. The students open up to her. Some of the actors kept on talking to her long after the cameras stopped rolling.
Now she has a taste for it, one-time waitress Abdikadir will stop at nothing to pursue her acting career even though filming brought up painful emotions and family opposition.
"If the only way I could act was to act in the sky, I would do it," she says, her eyes glistening as she looks up at the stars. "It's better to live like a lion for a day than to live 1,000 days as a cat."
"See you in Hollywood," I say as she walks off into the Mogadishu night. She turns and gives me a fierce glare.
"Not Hollywood, Sollywood," she says.
You can watch a trailer for the series here.
DISCLAIMER: The Views, Comments, Opinions, Contributions and Statements made by Readers and Contributors on this platform do not necessarily represent the views or policies of Homebase Television Ltd.
Visit Our Social Media for More
About Author