A French government minister has sparked outrage after she posed for the cover of Playboy magazine.
Marlene Schiappa, the minister for the social economy, was fully clothed for the shoot. It will appear on the cover of the April edition in France.
But the move has drawn the ire of both her political opponents and colleagues.
Prime Minister Elisabeth Borne told Ms Schiappa that her decision "was not at all appropriate, especially in the current period."
In recent weeks France has seen a series of violent clashes between police and striking workers, who are angry at President Emmanuel Macron's planned pension changes.
His proposals would raise the retirement age by two years to 64.
Prime Minister Borne's criticism was echoed by Green MP and fellow women's rights activist Sandrine Rousseau, who questioned the timing of the move.
She told the BFM TV channel: "Women's bodies should be able to be exposed anywhere, I don't have a problem with that, but there's a social context."
The pictures will be accompanied by an interview on women's and gay rights, as well as abortion.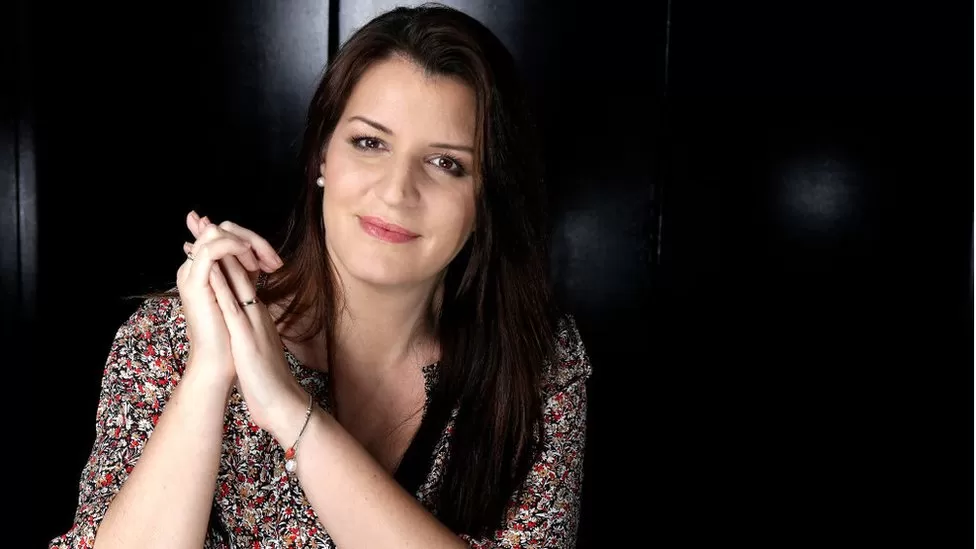 On Saturday, Ms Schiappa defended her decision to appear in the magazine, writing on Twitter: "Defending the right of women to do what they want with their bodies: everywhere and all the time. In France, women are free. Whether it annoys the retrogrades and hypocrites or not."
Ms Schiappa, 40, is regular guest on French TV talk shows and was a feminist author before embarking upon a career in politics. She has written about the challenges of motherhood, women's health and pregnancy.
Whilst serving as equalities minister in 2018, Ms Schiappa brought in legislation outlawing catcalling and street harassment.
But this is not the first time she's been involved in controversy.
Back in 2010 she authored a book which provided sex tips for overweight people, perceived by some critics to be reinforcing harmful clichés.
And in 2017 she was accused of staging a visit to a so-called "no-go area for women" in Paris.
The editor of the French-language edition of Playboy backed Ms Schiappa's decision to appear in the magazine, describing her as the most "Playboy compatible" of ministers in Mr Macron's cabinet, due to her strong and vocal support of women's rights.
He also defended the magazine itself, which has long angered feminists for what some see as its objectification of women's bodies.
"Playboy is not a soft porn magazine but a 300-page quarterly 'mook' (a mix of a book and a magazine) that is intellectual and on trend," he said.
According to Mr Florentin, although the magazine still contains "a few undressed women… they're not the majority of the pages".
DISCLAIMER: The Views, Comments, Opinions, Contributions and Statements made by Readers and Contributors on this platform do not necessarily represent the views or policies of Homebase Television Ltd.
Visit Our Social Media for More
About Author