Fidelity Bank Ghana, the country's largest privately-owned indigenous bank, recently organised a beach clean-up event to commemorate this year's World Clean-Up Day.
The exercise, which unfolded against the backdrop of the bank's month-long Sustainability Month celebration launched this September, took place at the Sakumono Mighty Beach in Accra.
The enthusiastic participation of the bank's employees yielded impressive results, including the removal of 5 kilograms of plastic waste, 200 kilograms of footwear, and a staggering 700 kilograms of dead fabric waste.
World Clean-Up Day, observed on the third Saturday of September annually, serves as a global call to action to combat the mounting issue of solid waste, including the menacing problem of marine debris.
The exercise also reiterated our commitment to contributing to the Sustainable Development Goals by reducing waste promoting sustainable practices (SDG 12) and contributing to the preservation of marine ecosystems and the reduction of ocean pollution (SDG 14).
Mrs Nana Yaa Ofori-Koree, Head of Partnerships, Sustainability, and Corporate Social Responsibility at Fidelity Bank, articulated the institution's unwavering commitment to fostering a culture of sustainability and corporate responsibility through a multifaceted strategy grounded in three key pillars: sustainable finance, sustainable operations, and charitable activities.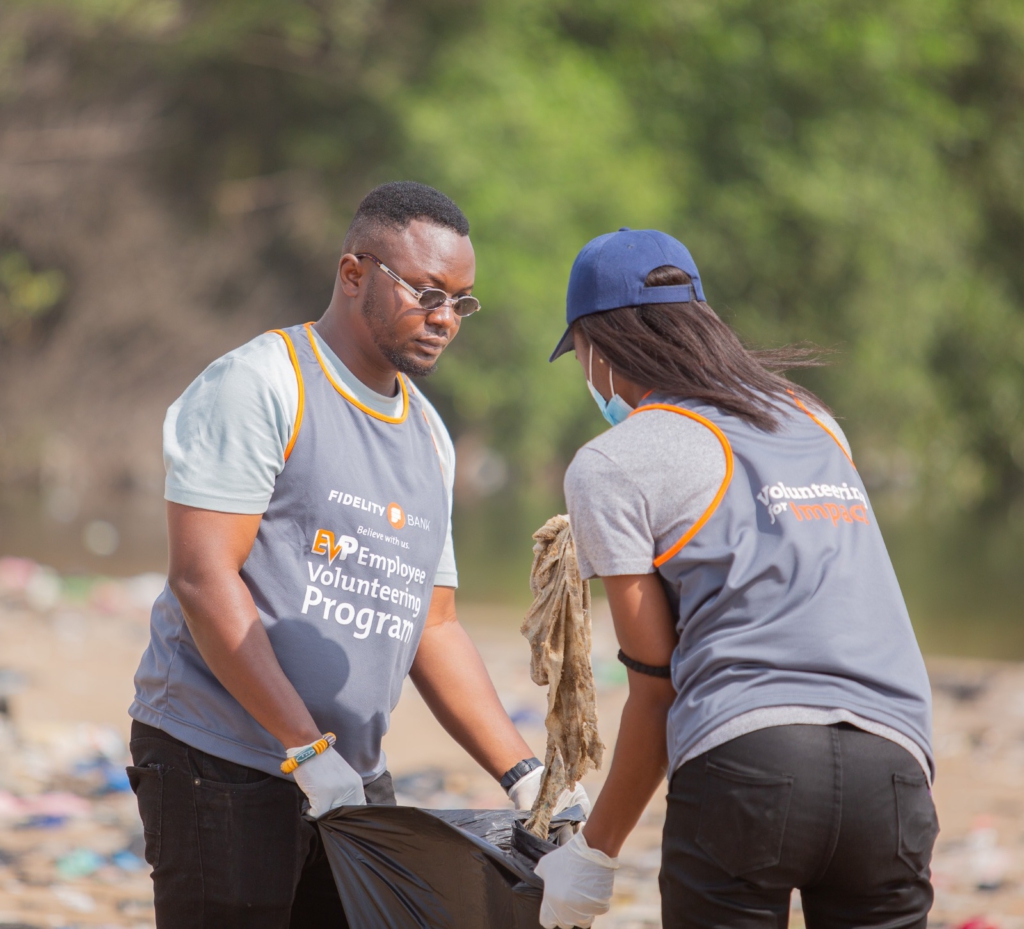 "Beyond the realm of financial services, we believe that as a bank, our footprint should extend to making a meaningful and positive impact on the environment through sustainable practices," Mrs Ofori-Koree emphasized.
"It is in this spirit of forging a sustainable future that we have rallied our staff and extended an invitation to the wider community to join us in this momentous beach clean-up."
She further underscored, "We take immense pride in championing sustainability as a way of life, and we continually encourage our employees to step up and volunteer for noble causes such as this through the bank's Employee Volunteer Programme (EVP)."
This exceptional initiative by Fidelity Bank Ghana not only exemplifies a noteworthy commitment to environmental stewardship but also underscores the profound influence and responsibility that financial institutions can wield in shaping a more sustainable future.
With a clear dedication to sustainability and a demonstrated willingness to act on it, Fidelity Bank Ghana has set a remarkable example for the banking industry and beyond.
As World Clean-Up Day reinforces, the fight against global waste challenges is a collective effort, and Fidelity Bank Ghana's actions serve as a beacon of hope and an inspiration for others to follow suit.
In a world increasingly cognisant of its environmental responsibilities, Fidelity Bank Ghana has taken a bold step forward, demonstrating that corporations can play a pivotal role in preserving our planet for future generations.
Fidelity Sustainability Month
As part of its effort to promote sustainable practices and cultivate a culture of environmental responsibility, Fidelity Bank Ghana has designated September as its 'Sustainability Month.'
Launched on September 1, 2023, the long-month celebration encompasses a wide range of activities and initiatives aimed at fostering sustainable behaviours among staff and customers while highlighting the bank's unwavering commitment to sustainability.
DISCLAIMER: The Views, Comments, Opinions, Contributions and Statements made by Readers and Contributors on this platform do not necessarily represent the views or policy of Multimedia Group Limited.
Visit Our Social Media for More
About Author