Dr Denis Mukwege has often used his position on the world stage to advocate for peace in DR Congo
In 2012, Nobel Prize-winner Dr Denis Mukwege was attacked by gunmen – a consequence, he believes, of criticising the Democratic Republic of Congo government's policies on gender-based violence.
A decade later, living under the protection of UN peacekeepers, Dr Mukwege has launched another challenge against the nation's leadership. He will be running for president in elections due in December, he announced on Monday.
Warning: This article contains details some readers may find upsetting
Known as "Dr Miracle", the 68-year-old rose to global fame for performing reconstructive surgery on women who had been raped in the country's war-torn east. His hospital has so far treated more than 50,000 survivors of sexual violence, while he has cemented himself as one of the world's foremost experts in his field.
Dr Mukwege was born in 1955 in Bukavu, a city in eastern DR Congo. After numerous visits to see sick members of the community with his preacher father, he decided he wanted to become a doctor.
He began his training at a medical school across the border in Burundi, later studying gynaecology and obstetrics at the University of Angers in France.
In 1998, he set up a clinic in his home city. The doctor intended Panzi hospital to be for maternal health, with his team treating new or expecting mothers. However, when war broke out, more and more women came to the clinic with gruesome injuries from sexual violence committed by various armed groups.
In 2013, Dr Mukwege told the BBC that rape in eastern DR Congo was part of a "strategy" to force communities away from their land and resources.
For three decades the region has been wracked by conflict, with numerous armed groups battling for gold and other valuable resources.
Different militias have been accused of carrying out indiscriminate rape – tens of thousands of women are thought to have been attacked over the course of the conflict, Amnesty International has reported.
Mr Mukwege told the BBC about his first experience of treating a woman who had been raped and mutilated by armed men.
"After being raped, bullets had been fired into her genitals and thighs," Dr Mukwege said of the first rape survivor that came to his clinic. "The real shock came three months later. Forty-five women came to us with the same story."
Along with his colleagues, Dr Mukwege has since treated tens of thousands of victims and become "the world's leading specialist in the treatment of wartime sexual violence", according to the Nobel Prize.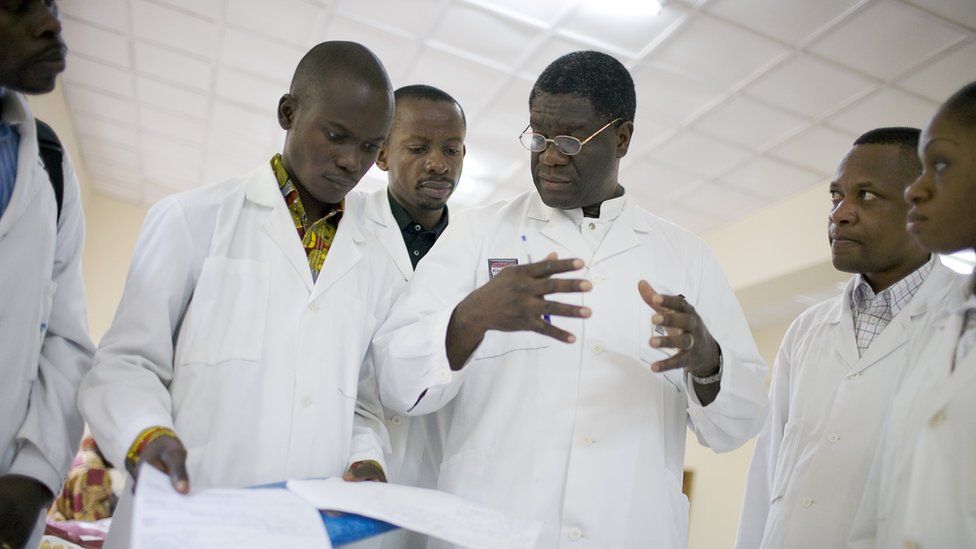 Panzi hospital now cares for more than 3,500 women a year. Along with medical treatment, survivors of sexual violence can also access psychological and legal help.
In 2012, in a speech at the UN, Dr Mukwege criticised then-President Joseph Kabila's government and other countries for not doing enough to stop what he called "an unjust war that has used violence against women and rape as a strategy of war".
The following month he was targeted by gunmen who broke into his home and briefly held his daughters hostage.
According to his organisation's website, his trusted friend and security guard was killed during the attack.
He later fled with his family to Sweden, then to Belgium.
Following a campaign by local women who raised funds to pay for his ticket, he returned home after a year.
"After that gesture, I couldn't really say no. And also, I am myself determined to help fight these atrocities, this violence," he told the BBC.
Since returning to DR Congo, Dr Mukwege has lived at his hospital, under the permanent protection of UN peacekeepers.
He has received the UN Human Rights Prize, been named among TIME magazine's 100 most influential people and bagged the Nobel Peace Prize in 2018.
Dr Mukwege told the Nobel committee he was in the operating theatre when the news of the prize came through.
Crowds gathered at the hospital, cheering and ululating to celebrate.
Although he is new to politics, Dr Mukwege has often advocated on the world stage for peace in DR Congo.
Just last year, he called for United Nations sanctions against Rwanda for its alleged support of the M23 rebel movement in eastern DR Congo, whose resurgence has led to bloody clashes and displaced hundreds of thousands. Rwanda denies the accusations.
But despite his track record, Dr Mukwege lacks the nationwide political networks that some of the other presidential candidates enjoy. Analysts have therefore questioned the doctor's ability to disrupt the status quo, calling him a "stranger".
However, he is celebrated in DR Congo as a prominent gynaecologist and philanthropist who has a sense of local politics. The idea of running for president came from him supporters, who contributed money, albeit a modest 160 million Congolese francs ($64,000; £53,000), which won't go far in a country the size of Western Europe..
The trailblazing doctor will be hoping his reputation and humanitarian acts sway the country's voters, who are desperate for good governance after more than a century of exploitation by a succession of rulers dating back to colonial times.
DISCLAIMER: The Views, Comments, Opinions, Contributions and Statements made by Readers and Contributors on this platform do not necessarily represent the views or policy of Multimedia Group Limited.
Visit Our Social Media for More
About Author