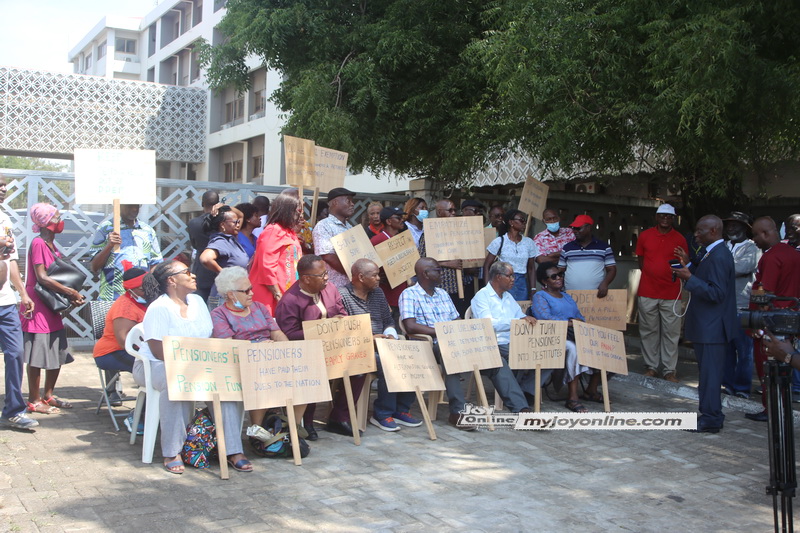 Members of the Pensioner Bondholders Forum are urging the government to fulfil its promise pay them their matured coupons and prinncipals.
According to the bondholders, failure to do so will result in a possible breach of trust.
This follows an appeal by the Deputy Minister for Finance, Abena Osei-Asare to the group to suspend its picketing the Ministry.
The Atiwa East MP had said that the Ministry was engaging the Bank of Ghana (BoG) to pay them, hence the need for the pensioners to exercise patience with the government. But four days after this appeal, Convener of the group, Dr. Adu Anane Antwi says the pensioners are yet to receive payment.
"The coupons haven't started coming in and we are hoping that today, tomorrow that should be done. If they have given the instructions then today and tomorrow we should see it reflecting in the accounts of people.
"If the government fails again then the results, government will not like. I don't think for the third time government will do that, but if they do then there is nothing again that they can say to us and we have to ensure that payments are made before they say anything to us."
Touching on the arranged meeting with the Finance Ministry on Thursday, Dr. Adu Anane Antwi said a breach in trust on the part of government will result in the group taking a different stance or approach when dealing with authorities.
"When we go for negotiations on Thursday and the payments haven't been made by Wednesday then we will take another stance at that meeting.
"They should do what they have promised," he stressed.
Meanwhile, the Pensioner Bondholders Forum has advised government to seek funding from the Treasury Bills market to settle their matured investments.
Government promised to pay the bondholders who were exempted from the Domestic Debt Exchange Programme (DDEP), but the Finance Ministry has failed to make the settlement.
DISCLAIMER: The Views, Comments, Opinions, Contributions and Statements made by Readers and Contributors on this platform do not necessarily represent the views or policies of Homebase Television Ltd.
Visit Our Social Media for More
About Author