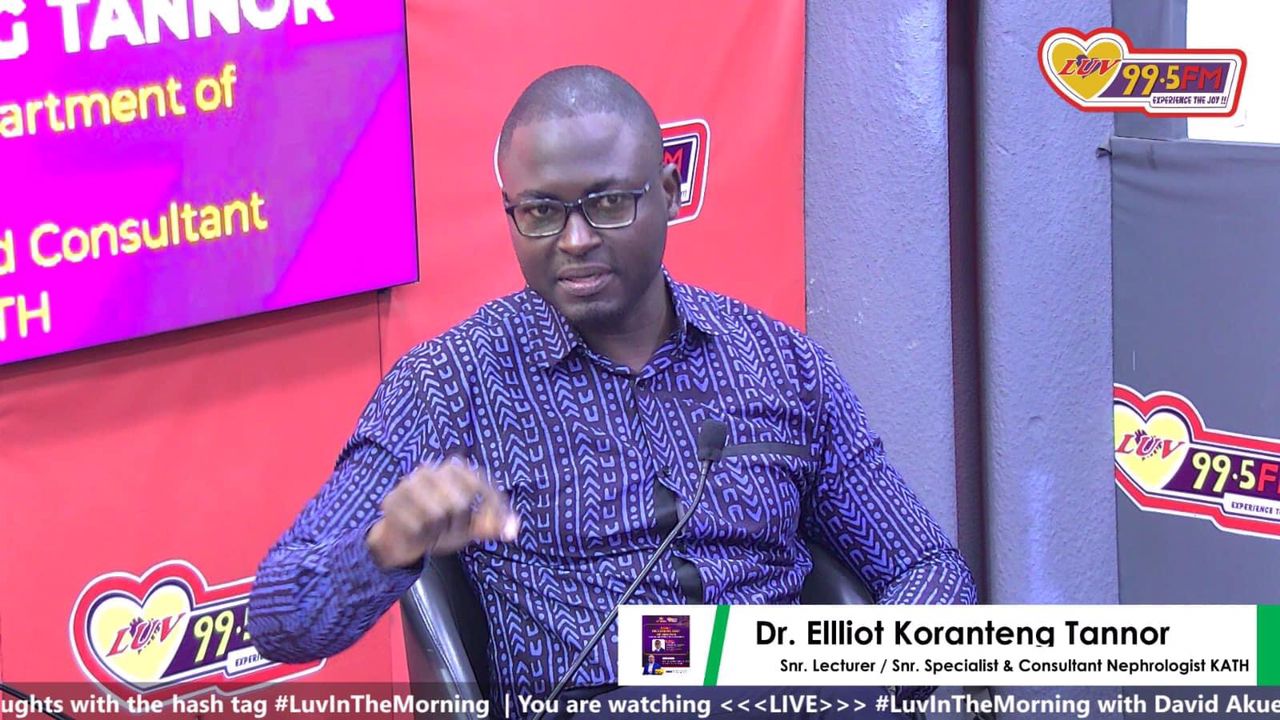 The past weeks have witnessed a public outcry over the increase in the cost of dialysis – a regular medical treatment for persons with kidney failure in Ghana.
It follows reports of increased cost of dialysis per session for those with kidney conditions by over 100% at the Korle Bu Teaching Hospital.
The cost of dialysis per session at the hospital was increased from GH₵ 380.00 to GH₵ 765.42.
While some health facilities are yet to adjust their costs, regular dialysis is a headache for many who are unable to afford it resulting in the death of many patients.
In the wake of the skyrocketing cost of dialysis, nephrologists are expressing concern about the staggering sedentary lifestyle and abuse of some medications by Ghanaians, predisposing them to chronic kidney diseases.
Although progenies of persons with kidney diseases are highly predisposed to suffering similar fates, some unhealthy lifestyles contribute to chronic kidney diseases.
Speaking with David Akuettey on Luv FM, Consultant Nephrologist at the Komfo Anokye Teaching Hospital, Dr. Elliot Koranteng Tannor, said a significant number of people are acutely losing their kidneys to excessive intake of painkillers and alcohol.
"Typically, when people visit the doctor, the chances are that he or she will write a pain killer for you for five or seven days. Some people after this get addicted because they feel they still experience the pain. People should find out what the real cause of the pain is and solve it rather than being on painkillers," he said.
Chronic kidney disease (CKD) is a type of kidney disease in which the kidney gradually loses its functions over a period of months to years.
In Ghana, the CKD prevalence is comparable at 13.3% in adults. Some symptoms of the disease include; leg swells, tiredness, vomiting and loss of appetite.
A worrying trend accounting for the increasing cases of kidney disease in Ghana is the influx of unregulated herbal concoctions sold to the public, especially as aphrodisiacs.
"Aphrodisiacs may serve their purposes but afterward these medications are cleared by the kidneys. If people keep on with that it keeps harming the kidneys by decreasing their strength," Dr. Koranteng Tannor added.
At least one would need GH₵6,000 every month for dialysis, but this can be avoided by following this advice.
The United States National Institute of Diabetes and Digestive and Kidney Diseases suggests the following practices to have healthy kidneys.
1) Eating healthily
Tips for making healthy food choices
· Cook with a mix of spices instead of salt.
· Choose veggie toppings such as spinach, broccoli, and peppers for your pizza.
· Try baking or broiling meat, chicken, and fish instead of frying.
· Serve foods without gravy or added fats.
· Try to choose foods with little or no added sugar.
· Gradually work your way down from whole milk to 2 percent milk until you're drinking and cooking with fat-free (skim) or low-fat milk and milk products.
· Eat foods made from whole grains—such as whole wheat, brown rice, oats, and whole-grain corn—every day. Use whole-grain bread for toast and sandwiches; substitute brown rice for white rice for home-cooked meals and when dining out.
· Read food labels. Choose foods low in saturated fats, trans fats, cholesterol, salt (sodium), and added sugars.
· Slow down at snack time. Eating a bag of low-fat popcorn takes longer than eating a slice of cake. Peel and eat an orange instead of drinking orange juice.
2) Make physical activity part of your routine
Be active for 30 minutes or more on most days. Add more activity to your life with these
3) Aim for a healthy weight
If you are overweight or have obesity, work with your healthcare provider or dietitian to create a realistic weight-loss plan.
4) Get enough sleep
Aim for 7 to 8 hours of sleep each night. If you have trouble sleeping, take steps to improve your sleep habits
5) Stop smoking
If you smoke or use other tobacco products, stop.
6) Limit alcohol intake
Drinking too much alcohol can increase your blood pressure and add extra calories, which can lead to weight gain. Limit yourself to one drink per day if you are a woman and two drinks per day if you are a man. One drink is:
· 12 ounces of beer
· 5 ounces of wine
· 1.5 ounces of liquor
7) Explore stress-reducing activities
Learning how to manage stress, relax, and cope with problems can improve emotional and physical health. Physical activity can help reduce stress, as can mind and body practices such as meditation.
8) Manage diabetes, high blood pressure, and heart disease
If you have diabetes, high blood pressure, or heart disease, the best way to protect your kidneys is by abiding by a medical prescription.
Dr. Koranteng Tannor believes hypertensive and diabetic patients can still survive with healthy kidneys if they keep a healthy lifestyle.
"You can have hypertension and diabetes but your kidneys can last you your lifetime. People must take in more fruits and vegetables. We must commit to this. Avoid medications if you don't know what they are going to do to other organs," he said.
DISCLAIMER: The Views, Comments, Opinions, Contributions and Statements made by Readers and Contributors on this platform do not necessarily represent the views or policy of Multimedia Group Limited.
Visit Our Social Media for More
About Author