Caveat :Pay Your Dues And Filling Fees, Southern Zone!!!!
---
The National Democratic Congress has fingered a threatening act which has warranted a caveat to its southern zone(Cental, Greater Accra, Oti and Volta Region) after appreciating the smooth running of elections in the northern and middle zones. A press release sighted by Homebase TV and signed by the general secretary indicates that members of its southern zone aren't paying dues and filling fees through the appropriate payment platforms .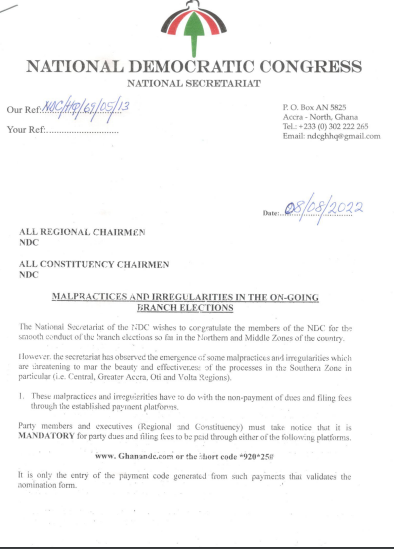 The party terms this act as malpractices and irregularities that will mar the beauty of the party's effectiveness in the southern zone. He made emphasis on the mandatory platforms to be used by both executives and party members, which are www.Ghanandc.com and *920*25#. The general secretary made it clear that payment through these platforms validates a nomination form.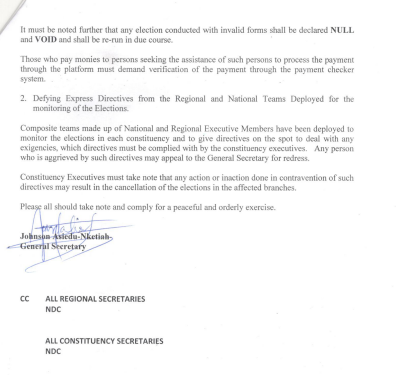 Mr. Johnson  Aseidu-Nketiah made it clear that any election conducted with invalid forms will be declared null and void, which will demand a re-run of the same election. He also cautioned individuals who seek assistance with the usage of the app to request verification codes from the various individuals who assisted them with the process.
The press release also factored measures taken  in place to ensure smooth running of the elections which consisted of specific executives deployed to ensure that there will be a peaceful election. He also hint on the cancellation of results in the wake of chaotic moment by any executive or aspirant and this press statement was issues yesterday 8th August  2022.
Read Also:
Source: Rose Twum Marfo||hbtvghana