On 6 August, 2020, the Inspector General of Police, Mr. James Oppong-Boanuh together with some members of the Police Management Board (POMAB) visited the Northern Regional Police Headquarters to assess the operational readiness of the command.
The IGP and POMAB members were satisfied that the command was prepared for security towards the impending general elections and other police operations. He however assured of certain support from the national headquarters to strengthen the already commendable preparedness of the Command.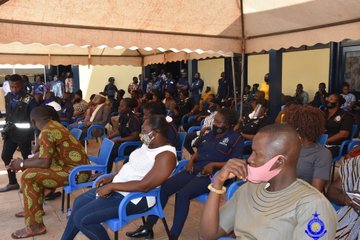 Read also: Timely Hepatitis Shot Will Keep Child Safe And Healthy
The Northern Regional Police Commander COP Mr. Timothy Yoosa Bonga expressed gratitude to the timely and periodic visit of the IGP to the Region. He further laid down some challenges of the region, which the IGP assured to address.
At a durbar of Police Officers, personnel made suggestions and asked questions, which the IGP and POMAB members took turns to address.
Before the durbar, there were simulation exercises by the Command to showcase how they will handle some possible election crisis, should they arise. The IGP applauded the officers for their alertness and promised to lead the Police to work the extra mile to ensure violent free Elections this year.