We Are Not Ready To Form Alliance With Different Political Parties – Osofo Kyiriabosom Denies Allegations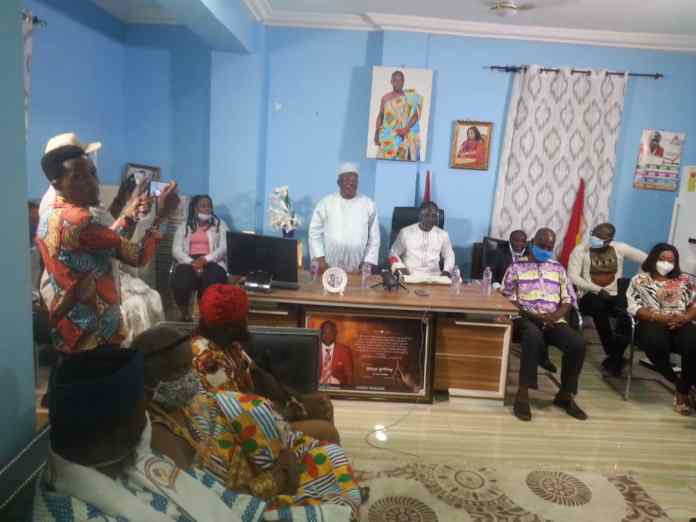 We Are Not Ready To Form Alliance With Different Political Parties – Osofo Kyiriabosom Denies Allegations
Flagbearer of the Ghana Union Movement (GUM), Reverend Christian Kwabena Andrews popularly known as Osofo Kyiriabosom has rooted out the widespread allegations to the effect that the GUM has the intention to form an alliance with different political parties ahead of the December 2020 general elections.
According to Osofo Kyiriabosom who doubles as the Founder and General Overseer of Life Assembly Worship Centre, there is no way that the GUM as the independent certified political party would form a coalition with any other political party.
He stressed that "we are strongly preparing to independently contest the Presidential 2020 general election to wrestle the political seat from the government of the Patriotic Party (NPP) led by President Nana Addo Dankwa Akufo-Addo who has completely failed Ghanaians and has also drawn back economic fortunes of this country.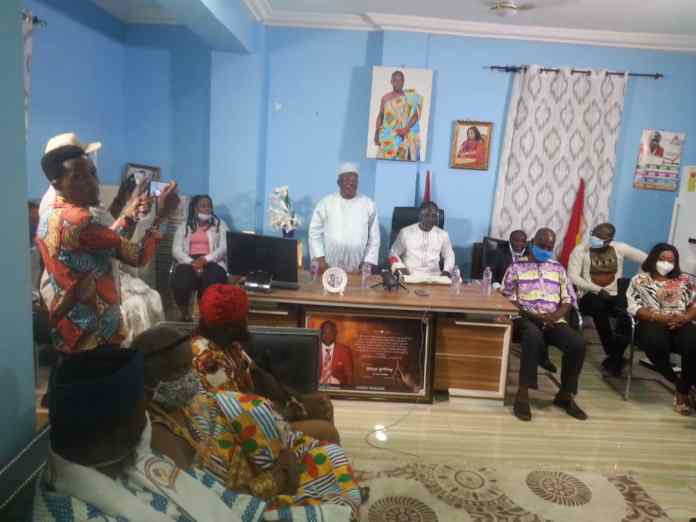 "We are not going or ready to form an alliance to different political parties because we know that by the grace of God the GUM would surely win the Presidential election in 2020 since the eligible Ghanaian voters are generally fed up with the lies, deception and accumulated failures of the ruling New Patriotic Party and the National Democratic Congress (NDC)," Osofo Kyiriabosom stated.
Rev Andrews who is also the Founder of GUM made a reference to GUM 2020 mini manifest, titled: "a New Ghana," and stated that Ghana's political leaders, after Dr. Kwame Nkrumah, have exposed the country to poverty, underdevelopment, insecurity, impunity, selfishness, nepotism, winner takes all, over-borrowing, corruption, deceit and filth.
After critically following and assessing governments in the fourth republic till now, he pointed out that these and many other negative attributes were the identifiable hallmarks of Ghana.
"With all our natural and human resources that we have, the result is the hardship we face today," he said, as successive governments, including those in authority today, always promise Ghanaians a better life to win their hearts and votes but "the result is always a regrettable story."
Osofo Kyiriabosom maintained that what we need now is a change, a total change, a better change of mind and government for a 'New Ghana'
He pointed out that the 2020 mini-manifesto of GUM highlights several thematic areas that promise to turnaround Ghana's economic, political, and social structure in a new Ghana it seeks to build.
According to the manifesto, it will be a new Ghana with unity and peace, industrialization, free ports, employment for all, strict monitoring and punishment for corruption.
A new Ghana with all-inclusive government, hope for generations unborn, transparency, accountability, massive development, and justice for all.
"These positive attributes are what my government shall give to the good people of Ghana and my government shall never relent to ensuring that Ghanaians get what they deserve," Rev Andrews said. "That is, a good life with the development of our country and prosperity."
The party's manifesto address key areas of policies and its vision, but the Flagbearer, popularly known as Osofo Kyiriabosom, indicated that not everything could be captured in this single document.
And added, "Ghana deserves better and I make a solemn promise to Ghanaians that a vote for the Ghana Union Movement and a vote for Christian Kwabena Andrews in 2020 elections is a vote for a Better Change. Believe in the Lord and believe in me for a new Ghana."
The man of God made these foregoing statement when he was speaking to some senior journalists and supporters and members of GUM on Tuesday, July 2020 in Accra to officially unveil the son of the former Organising Secretary for the Convention People's Party (CPP), Alhaji Abu Grant Lukman as his running mate for the 2020 general election which will be held on December 7th, with a promise to run an all-inclusive government if elected the President of the Republic of Ghana.
According to Osofo Kyiriabosom, he has widely consulted the National Council of the Elders and national executives committee of the GUM before arriving on his decision to choose Mr. Lukman who is a Muslim as his running mate for the 2020 election.
He pointed the unveiling of the running mate has attested to the fact that the Ghana Union Movement has taken another step to show their seriousness at contesting the 2020 Elections.
He stated that his reason also premised on the grounds that Mr. Lukman who is an experienced and seasoned Nurse, farmer and trader who has what it takes or technical know-how to partner him to win the Presidential election in 2020 to build a new, prosperous and disciplined Ghana under his leadership, and therefore calls on Ghanaians to believe in him for the task.
He maintained that said the party's campaign for the 2020 general election would hinge primarily on industrialization and job creation for the youth in the country.
Ghana after independence in 1957 was hailed as a rich West African nation, fast-developing, the peaceful and shining star of Africa under the leadership of Osagyefo Dr. Kwame Nkrumah until his overthrow in 1966 by the coup plotters.
Though successive governments have made some steady progress in stabilizing Ghana's political landscape, experts believe that not much had been done in building a vibrant economy and transforming the economic lives of the people, leaving majority staggering in abject poverty and deprivation.
The man of God stated that the GUM's campaign for the 2020 general election would hinge primarily on industrialization and job creation.
"We are coming to continue the great dream of Dr. Nkrumah that has been abandoned for many years. We have good plans and good policies for a better future and it is a plan to make Ghana prosper and be great again," he stressed.
To promote industrialization, he noted that a GUM government would operate a duty-free port to facilitate trade for the local business community.
He said the party would also ensure that there was free power for local businesses to thrive.
"I want to assure all Ghanaians that the high cost of doing business at the port will be a thing of the past because there will be free port under a GUM government. Also, electricity is essential to the growth of businesses so I will ensure that power is free for local businesses while expatriates will pay the appropriate rates for the power they consume," he stressed.
On the education, the GUM flag-bearer said if the party was elected into office, there would be an immediate review of the current educational system to be centered on technical and vocational education and training (TVET) as a means to produce the human resource with the expertise to ensure sustainable development.
READ
Francis Owusu-Akyaw Salutes all workers On May Day.
According to him, the current syllabi for basic, second-cycle as well as tertiary institutions had failed to prepare students to have the technical ability or critical thinking skills to address nagging development challenges.
Rev. Andrew stated that there would be an overhaul in the education architecture to eliminate the use of examination to measure the intellect of students.
"I want to stress here that the emphasis will be on skills acquisition instead of merely passing the examination. In fact, certificates will not be the basis for appointment under a GUM government," he said.
Rev. Andrew said it was worrying that although Ghana had been blessed with abundant natural resources including gold, diamond, bauxite, and manganese, those resources had been poorly managed by successive leaders.
On the issue general welfare of Ghanaians, GUM flag-bearer said the party had a policy in place to provide monthly allowances for all persons who retire at age 60 to make life easier for them.
He also said a lifeline would be given to prisoners to be reunited with their families "when the GUM wins the election and forms a government."
"People who are in prison, except those who committed murder, will be taken out and made to do community service for six months under supervision, after which they will be supported to start life afresh," he said.
He added that the GUM would prioritize community service over custodial sentences for convicts.
For his part, the National Chairman of GUM who doubles as the former Managing Director of Metro Mass Transit Transport (MMT), Dr. Maxwell Kofi Awuku, noted that the Ghanaians should believe in the GUM saying that a vote for the Ghana Union Movement and a vote for Christian Kwabena Andrews in 2020 elections is a vote for a Better Change.
He promised that they would deliver on all their promises if voted into power.
Source: Freeman KORYEKPOR AWLESU