The wholly-owned, Ghanaian carrier Goldstar Airline and the government of Liberia has signed partnership to revive the National Airline of the country.
This partnership followed after Goldstar Air, honoured President George Manneh Oppong Weah of Liberia on Thursday, October 1, 2020, by naming one of its aircrafts in honour of his 54th birthday.
"The management of Goldstar Air affirmed that they would cooperate with the government of Liberia to revive the National airline of the country which will create more Jobs for the youth here and also benefit the continent of Africa."

Goldstar Air, Government Of Liberia Signs Strategic Partnership To Revive National Airline
In fulfilling their promises, Goldstar signed partnership with the Liberian President, which "will provide the aviation community in Liberia the opportunity to share and disseminate vital industry information to strengthen and improve the air industry and also link it to the national development which will create jobs for the youth".
"Some of the jobs which the youth will benefit are Pilots, Ground Service Crew, Service person in maintenance, Cabin crew, Counter Agents, Travel Agents, Tour Operators, Country Managers, Stations Managers, Accountants, flight dispatch, Drivers, Marketing Personnel, Air Marshalls, Cargo Agents, Catering Services, Hoteliers, Fuel Suppliers etc".
Advertisement. Scroll to continue reading.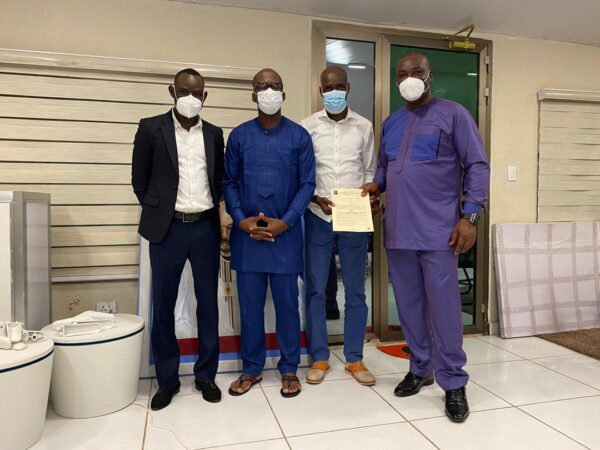 Read also: Work Hard With Passion And Ethusiasm- National Best Teacher To Teachers
Advertisement. Scroll to continue reading.
"The New National carrier of the Republic of Liberia has been named and branded as LONE STAR AIR (Wings Of Liberia) and will initially be flying to eleven West African destinations from Monrovia, namely Accra, Abuja, Lagos, Abidjan, Freetown, Banjul, Conakry, Dakar, Ouagadougou, Bissau and Sao Tome."
According to the press statement, "His Excellency's aviation ambition is to upgrade the Monrovia Airport by building a Maintenance base (MRO) which will ensure safety and airworthiness of all aircrafts by international standards and also a Cargo Village which will maintain a cost effective inbound and outbound flow of cargo and third party logistic service provider (E-Station Cargo) with a dedicated transportation chain that will implement and control the efficient flow and storage of goods, service to meet customer's requirements".
Goldstar Air Management Services as part of the joint venture with the country's government will ensure that the right goods, in the right quantities, in the right condition are delivered to the right place at the right time for the right cost, taking into account that our primary focus as a trend-setting airline will be to focus on top quality, short turnaround time and promoting highly competitive prices and ensuring excellent customer service.