The Ghana Armed Forces have re-activated Operation Halt II to flush out illegal miners from some major river bodies and forest reserves in Ashanti, Eastern, Western, and Western North Regions.
The initiative which had support from the Navy and Air Force have so far cleared a total of two hundred and thirty (230) platforms and three hundred and sixty-five (365) Changfan machines covering a total distance of two hundred and sixty-seven (267) kilometres stretch of the rivers Pra and Offin and their tributaries.
Read Also: President Commissions 36.5 Million Dollars Hospital In The Tain District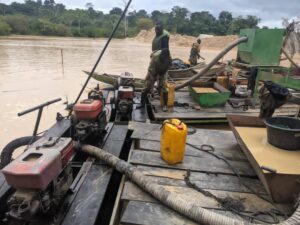 In a press release issued by the Ghana Armed Forces on September 27, 2021, a total of one hundred and ten (110) platforms and one hundred and eighty-five (185) Changfan machines have been destroyed on river Offin, covering a distance of approximately one hundred and fourteen (114) kilometres.
The Ghana Armed Forces wish to advise all persons engaged in illegal mining, especially along the country's river bodies and our forest reserves, to desist from these criminal activities which are seriously destroying our environment or risk being severely dealt with according to the laws of the nation.
Read the full press statement below:
flushing out illegal mining at various rivers bodies
Source: hbtvghana.com/ Amos Ekow Coffie