An oil and gas company, Yinson Production West Africa in collaboration with the Ahanta West Directorate of Education, has launched the Yinson Girls' Education programme to strengthen and increase the interest of female students in STEM education and eliminate period poverty.
The programme is estimated to positively impact approximately 750 female students from upper primary and junior high school levels in the Ahanta West Municipality of the Western Region this year.
According to a 2023 report by Action Aid UK, Period poverty is a global issue affecting those who do not have access to safe, hygienic menstrual products they need, or who are unable to manage their periods with dignity, sometimes due to community stigma and sanctions. Studies show that 1 in 10 girls in Africa miss school because they do not have access to menstrual products, or because there are no safe, private toilets to use at school.
The same report indicated that some girls miss as much as 20% of their school year, and some drop out of school altogether. There are also serious health risks if menstruation is managed in a hygienic manner.
For this reason, Yinson Ghana's Corporate Social Responsibility Coordinator, Mr Edward Mensah, said Yinson is committed to improving the lives of people in its host communities, and that the programme was in line with Yinson's mission of promoting quality education and effective learning in its communities.
He again pointed out that aside from education, good health, well-being and gender equality, there are some of the UN Sustainable Development Goals that Yinson is aligned with, "and these are the main drivers for initiating this programme."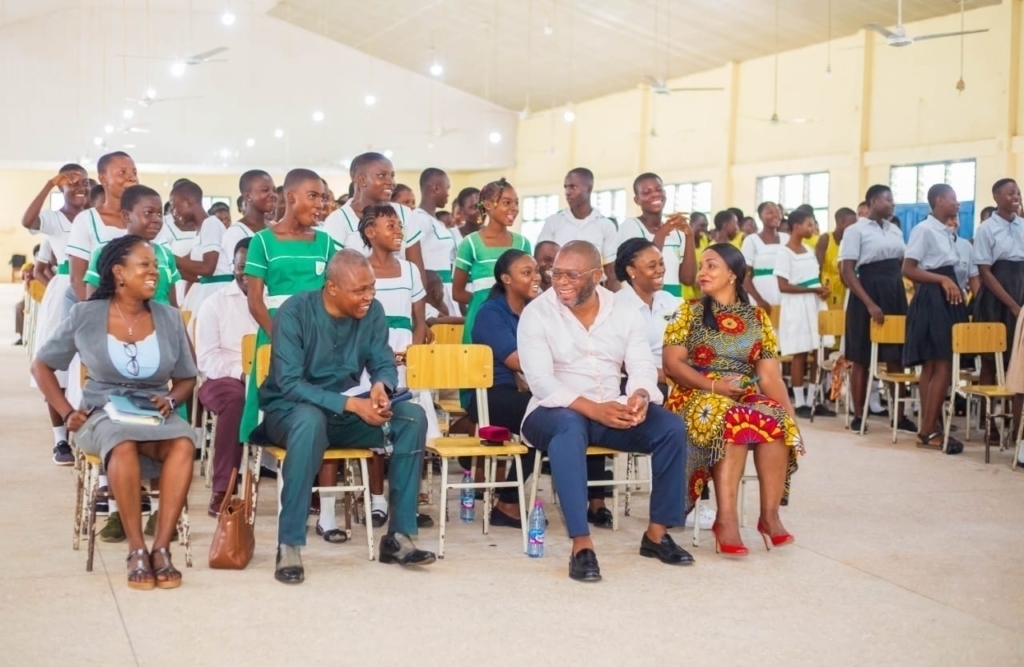 He encouraged female students to take advantage of the programme to enable them to have a more focused academic regime to excel in their studies. He said Yinson would organize a programme to promote STEM studies for female students later in the year.
The maiden edition of the programme would run for a week amid health talks.
The 300 hundred girls who attended the launch each went home with a pack of sanitary pads, while some 450 packs would be distributed in the Municipality within the week.
Girls Education Coordinator in the Ahanta West Municipality, Ernestina Kangah, spoke about how limited menstruation knowledge, lack of proper facilities and low support for female students has led to high absenteeism, poor academic performance, and early dropout, leading to other social vices among girls, and impeding their quest for a better future.
The Community Relations Officer of the Petroleum Commission, Sakyiwaa Darko, advised the girls to stay away from early sexual behaviours and see menstruation as a sign of progression in any girl's life which was critical.
She encouraged parents and community members to help eliminate the misconceptions about menstruation and support the girl child to properly go through that cycle.
A Public Health Nurse and Adolescent Mentor at the Ahanta West Municipal Health Directorate, Ms. Amen Morrison had a very lively interaction with the girls on Menstrual Hygiene.
She talked about some misconceptions such as early delivery to halt pain associated with menses, and the claim that two to three days of menstrual flow indicates the presence of a disease.
She encouraged the girls to dispel such rumors and seek advice on any issues bothering them at the nearest health facility.
The Municipal Director of Education, Mr George Effah, said girls' education was at the heart of the Ghana Education Service, and for that matter, the Ministry of Education would keep on supporting and collaborating with any institution that has the interest of girls at heart.
He emphasized the pivotal role girls and women play in the socio-economic development of a nation, saying "Dr. Kweggyir Aggrey of blessed memory once said, "If you educate a man, you educate an individual, but if you educate a woman, you educate a whole nation."
He described the intervention as a key step to eliminating all hurdles that impede girls'education.
The Municipal Education Director said good menstrual health and hygiene practices could prevent infections, reduce body odors, and help the girls stay comfortable during their periods in school.
DISCLAIMER: The Views, Comments, Opinions, Contributions and Statements made by Readers and Contributors on this platform do not necessarily represent the views or policies of Homebase Television Ltd.
Visit Our Social Media for More
About Author