A non-governmental organisation, Amenuveve Incorporated in the Afadzato South District of the Volta Region has launched a reusable sanitary towel product, Volta Pads.
The initiative is aimed at ending period poverty in the district, promoting menstrual hygiene, curbing teenage pregnancy, and protecting the environment.
The sanitary towel which is produced with degradable materials by locally trained seamstresses would help curb the high incidents of urinary tract infection in the district.
Period poverty is predominant in rural communities in Ghana, with vulnerable female teenagers being the most affected.
These girls resort to unhygienic means by using clothes and other materials during menstruation, which results in infection among other health conditions.
Some would have to trade themselves to get money to buy sanitary towels for use. This often leads to teenage pregnancy and school dropout.
Noticing the ravaging effects of period poverty Amenuveve Inc designed and produced reusable pads for vulnerable young females in Woadze in the Afadzato South District of the Volta Region.
Christened Volta Pads, it is produced using degradable materials and could be used for one and a half years.
The Business Manager of Volta Pads, Gloria Afele, said the journey towards producing reusable sanitary towels began in 2020 with the support of the New York University's Stern School of Business.
"In 2020, Volta Pads was designed to help manage their [women] periods in a more dignified and sustainable way, to help keep girls in school and to also serve as a source of income to the women who produce these pads", she said.
She detailed the project was spearheaded by Prof. Rachel Kowal and Prof. Hans Taparia who are both Clinical Professors in the Business and Society Program at the NYU Stern School of Business.
She indicated that Volta Pads produced with degradable materials was the first reusable sanitary towel to be certified by the Ghana Standards Authority.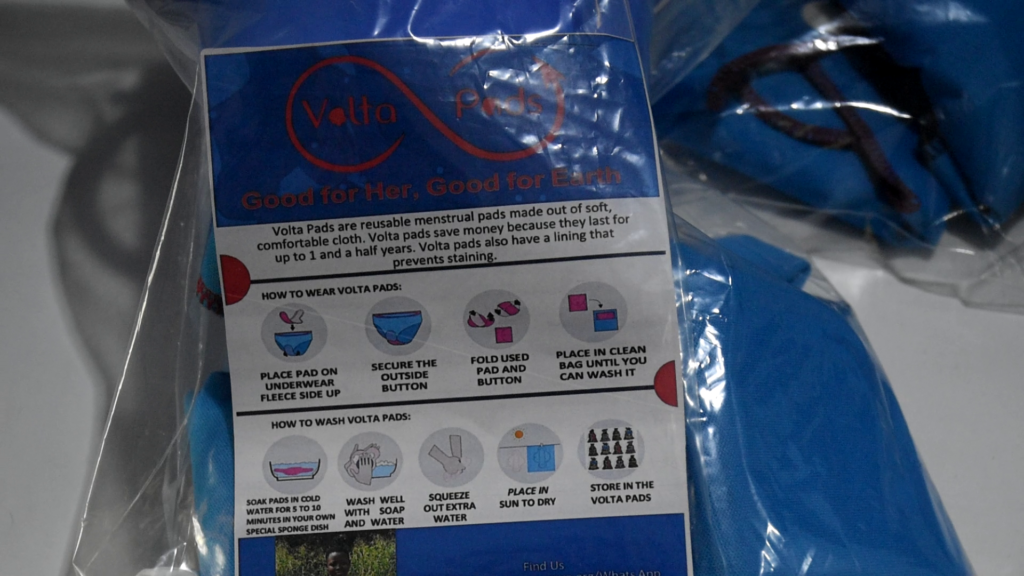 "Volta Pads is a waterproof pad, made purely of cloth and no chemicals and this can last a girl up to a year and a half", she added.
Prof. Rachel Kowal said she initiated the project in honour of her mum who "wanted the best for underprivileged females" adding the Amenuveve Incorporated Business Center was built in memory of her late mum, Illene Burack.
Prof. Hans Taparia said the initiative is geared towards individual economic independence and community development.
He, therefore, implored the community to embrace and support the project to ensure they enjoy the benefits.
"My request to all of you is to get involved. If you want to work for this business, get in touch. If you know someone who wanted to work for this business, get involved because this business is for this community. You own and you operate it", he explained.
The Afadzato South District Director of Health, Christopher Mbabil, said urinary tract infections have been ranked among the top 10 prevalence diseases within the last 3 years in the district.
He lamented the health implications of the infections which he attributed to poor menstrual hygiene among females and lauded the initiative by Amenuveve Incorporated.
"We know that usually in the future women can encounter infertility and so with the help of these pads [Volta Pads] what it will do is that it will help reduce or eliminate such things in the future", he said.
He, however, entreated females to inculcate best hygiene practices when using the reusable pads and desist from sharing the same pad to avoid contamination and infection.
The Agortime Ziope Member of Parliament, Charles Agbeve, was appreciative of efforts to remove the barriers which prevent young girls from accessing education to desired levels.
He recommended Amenuveve Incorporated for producing Volta Pads to ensure females do not drop out of school, promote their well-being and protect the environment.
Volta Pads are available on the market aiming to contribute improve menstrual hygiene among young females, especially in rural communities.
DISCLAIMER: The Views, Comments, Opinions, Contributions and Statements made by Readers and Contributors on this platform do not necessarily represent the views or policies of Homebase Television Ltd.
Visit Our Social Media for More
About Author