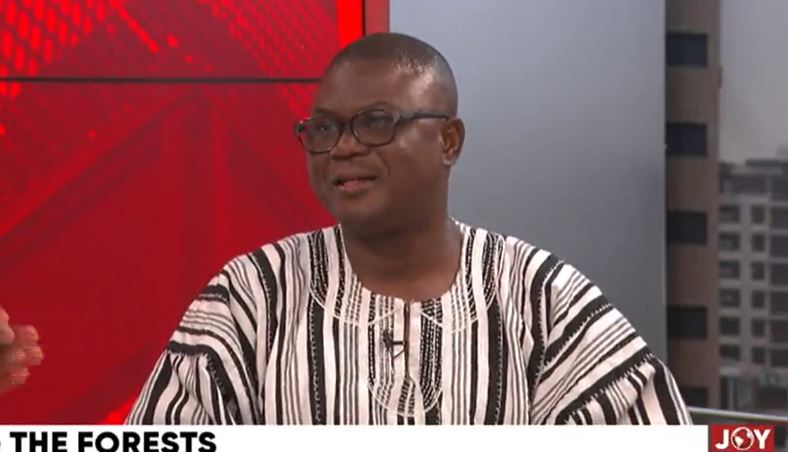 The National Coordinator of Landscape Restoration and Small Scale Mining Project has said that there is nothing wrong with exploiting natural resources in the country.
Dr John Kingsley Krugu noted that the sustainable exploitation of these resources is beneficial to the country.
"There is nothing wrong with the exploitation of natural resources in the country," he said.
Speaking in an interview on JoyNews' The Probe on Sunday, he pointed out that the main concern of the Forestry Commission has to do with activities that lead to the depletion of these resources.
He described such practices as unacceptable because they create problems for future generations.
"As long as measures are put in place to not destroy and the President determines that it is in the best interest of the people of Ghana .. and so as when there is a determination that this is in the best interest and we can still preserve the area for future generation, there is nothing wrong with that [exploiting natural resources]," he said.
His comments come in the wake of concerns raised over government's efforts to mine bauxite in the Atewa Forest.
The Founder and Coordinator of Eco-conscious Citizens, Awula Serwah who spoke on the same programme advised the government to abandon the decision to allow the mining of bauxite in the Atewa Forest Reserve.
This, she noted, is because of the effects the venture will have on the environment.
"We have been told that not only will it contaminate the source of water for about 5 million Ghanaians, but will also destroy the ecosystem and kill endangered plants and animal species."
She went on to say that, if the country is serious about forest preservation, then the Achimota Forest reserve will not be declassified.
Sharing his thoughts on community mining, Dr Krugu said, "it should not be seen as part of the problem" but rather a solution.
He explained that mining in Africa should be considered as a solution to unemployment because, after agriculture, it is the second economic activity that engages young people.
Dr Krugu added that if community mining is seen as a problem "then you will have a bigger problem. You have to begin to see it as an opportunity."
"Government's community mining initiative is to say that, let us look at this issue of illegal mining from a positive perspective. If young people go there to get something and are able to take care of their families; it is a good thing.
"Can we get them under the supervision of the Minerals Commission and the Environmental Protection Agency, so that they can do the right thing? That is what community mining seeks to do," he said.
DISCLAIMER: The Views, Comments, Opinions, Contributions and Statements made by Readers and Contributors on this platform do not necessarily represent the views or policies of Homebase Television Ltd.
Visit Our Social Media for More
About Author