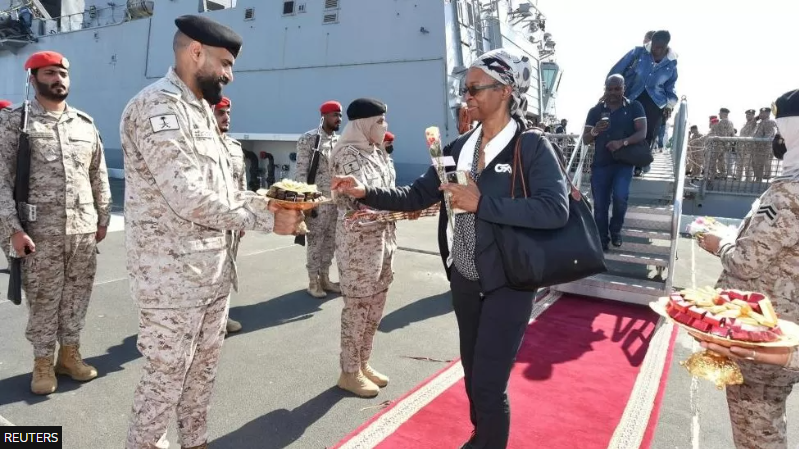 Saudi Arabia welcomed evacuees at Jeddah Sea Port with sweets and roses on Saturday
The US military has evacuated American diplomats and their families from Khartoum, President Joe Biden has said.
The operation was "fast and clean", a US official said.
Fewer than 100 people were reportedly evacuated early on Sunday, when three Chinook helicopters landed near the US embassy to collect them.
The French ministry of foreign affairs announced it was also beginning to evacuate its citizens and diplomatic staff from the country.
However, both Sudan's regular army and its opponents – a paramilitary force called the Rapid Support Forces (RSF) – have said that the evacuation convoy was fired at after leaving the French embassy and had to turn back. They blamed each other for the attack.
One French national was reportedly injured and French authorities have not yet commented.
Fierce violence erupted last week in Khartoum between two opposing armies.
The power struggle between Sudan's regular army and the RSF has seen heavy bombardment in the capital city, with hundreds killed and thousands more injured.
"Today, on my orders, the United States military conducted an operation to extract US government personnel from Khartoum," Mr Biden said in a statement.
In a call with reporters after the mission, Lt Gen Douglas Sims said more than 100 US troops from the Navy Seals and Army Special Forces flew from Djibouti to Ethiopia and then into Sudan, and were on the ground for less than an hour.
Although there is no sign of a formal ceasefire, it does appear that the paramilitary group, the RSF, agreed not to shoot at the American helicopters during their mission.
Mr Biden thanked Djibouti, Ethiopia and Saudi Arabia, saying they had been "critical to the success of our operation", and he warmly praised the US embassy staff and military.
The US embassy in Khartoum is now closed, and a tweet on its official feed says it is not safe enough for the government to evacuate private US citizens.
It was the second evacuation of foreign citizens since violence erupted in Sudan's capital last week.
On Saturday, more than 150 citizens, diplomats and international officials were evacuated by sea to the Saudi Arabian port of Jeddah. They were mostly citizens of Gulf countries, as well as Egypt, Pakistan and Canada.
Biden urges ceasefire
Reuters news agency quotes US officials as saying a few diplomats from other countries were also evacuated in the US operation, and the US aircraft did not come under fire.
Khartoum airport has been repeatedly targeted by shelling and gunfire, making evacuation flights from there impossible.
Mr Biden's statement said: "I am receiving regular reports from my team on their ongoing work to assist Americans in Sudan, to the extent possible."
He condemned the fighting, saying the rival armies "must implement an immediate and unconditional ceasefire, allow unhindered humanitarian access, and respect the will of the people of Sudan".
The UK says it is considering ways to evacuate its staff. A hotline has been set up for those who need urgent help, and UK citizens in Sudan are being urged to tell the Foreign Office where they are.
Any UK evacuation is expected to be very limited and focus on diplomatic staff – not comparable to the mass evacuation from Afghanistan in 2021.
Meanwhile the Canadian government has told its citizens in Sudan to "shelter in a safe place", keep their phones charged, doors and windows locked and "consider leaving the country if there's a safe means to do so".
There have been desperate calls for help from many foreign students – from Africa, Asia and the Middle East – who are also stuck in Khartoum, a city of some 6 million people.
Heavy fighting broke out in Khartoum on 15 April.
At the heart of it is a power struggle between forces loyal to Sudanese army chief Abdel Fatteh al-Burhan and the rival RSF.
The near-constant shooting and bombing in Khartoum and elsewhere has cut electricity and safe access to food and water for much of the population.
Several ceasefires that had seemingly been agreed by both sides were ignored, including a three-day pause to mark the Muslim holiday of Eid al-Fitr, which started on Friday.
The World Health Organization says the fighting has killed more than 400 people and injured thousands. But the death toll is believed to be much higher as people struggle to reach hospitals.
UK citizens stranded and frustrated
UK Prime Minister Rishi Sunak chaired an emergency government Cobra meeting on Saturday to assess the Sudan crisis and more talks are expected on Sunday.
Foreign Secretary James Cleverly has cut short a Pacific tour and is returning to London.
Some UK nationals trapped in Sudan have voiced frustration and anxiety over the absence of an airlift.
Briton Iman Abu Garga, visiting Khartoum, said she had registered herself and her two children, as instructed, "and since then – nothing".
"We have no idea about timescale or timeframe. We have no idea what it's going to look like. Are we going to be airlifted out of Khartoum airport? Are we going to have to go by road? It's just utterly frustrating that there is no human contact whatsoever," she complained.
Another British citizen in Khartoum told the BBC she felt "completely abandoned" by the UK government, saying she had not been given "much information at all" about possible evacuation plans.
On Saturday a Sudanese army statement said Gen Burhan had agreed to facilitate and secure foreigners' evacuation "in the coming hours".
It said British, US, French and Chinese nationals and diplomats would be evacuated by air on board military transport planes from Khartoum.
The UK government said it was "doing everything possible to support British nationals and diplomatic staff in Khartoum".
Along with Khartoum, the western region of Darfur, where the RSF first emerged, has also been badly affected by the fighting.
The UN has warned that up to 20,000 people – mostly women and children – have fled Sudan to seek safety in Chad, across the border from Darfur.
DISCLAIMER: The Views, Comments, Opinions, Contributions and Statements made by Readers and Contributors on this platform do not necessarily represent the views or policies of Homebase Television Ltd.
Visit Our Social Media for More
About Author