Ghanaian photographer Paul Ninson, has had the world beaming with emotions after he shared his touching life and photography journey on Humans of New York, a page on Facebook.
The photographer who has defied all odd to make an impact was hit hard by life after he, at age 20, impregnated a 19-year-old and became a young father. He taught himself photography to raise funds to support his daughter even though there were very few resources available for him.
Paul Ninson got the opportunity to study in America for a year. Looking back at how frustrating it was for him to find any photography book or hub to join when he decided to be a Photographer, Paul Ninson took it upon himself to build one upon his return to Ghana.
Advertisement. Scroll to continue reading.
He has collected over 30,000 photography books – enough to build the largest photo library in Africa, which is exactly what he intends to do. Some of these books are en route to Ghana via ship.
Paul shared his story on the page to solicit funds and support to make his dream a reality. The first day the story was shared, $750,000 was raised and within a few more hours, the target, which was $1,000,000 was exceeded.
Chief News Editor at the United Nations Headquarters in New York and former presidential staffer, Ben Dotsei Malor showed immense interest in the project and used his platform to ask for land for the project.
In response, Member of Parliament for Ningo-Prampram, Sam George also took interest in the story and has pledged to donate two acres of land to Paul Ninson within the Ningo-Prampram constituency for the project.
In a post sighted on his Facebook, Sam George wrote,'' As MP for Ningo-Prampram, I would be excited to have a library like you have dreamt of in my constituency. The effect on young people would be phenomenal. The potential on the local economy is not lost on me.''
Advertisement. Scroll to continue reading.
#FixTheCountry Convenor, Oliver Baker- Vormawor also joined the long stream of donors for the project and in a post sighted on his Facebook page, is willing to offer the project five acres of land in Akuse, two hours' drive from Accra.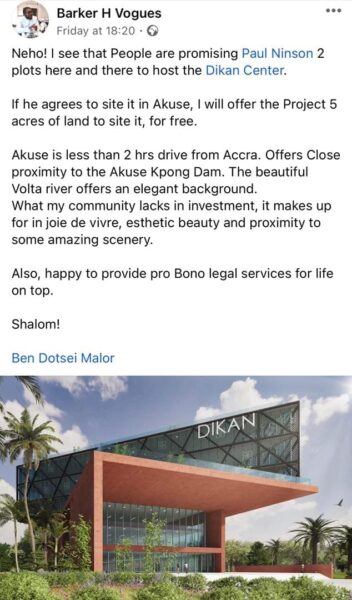 Paul Ninson intends to name the centre 'Dikan', which means 'To take the lead' in Akan.
Source: 3news