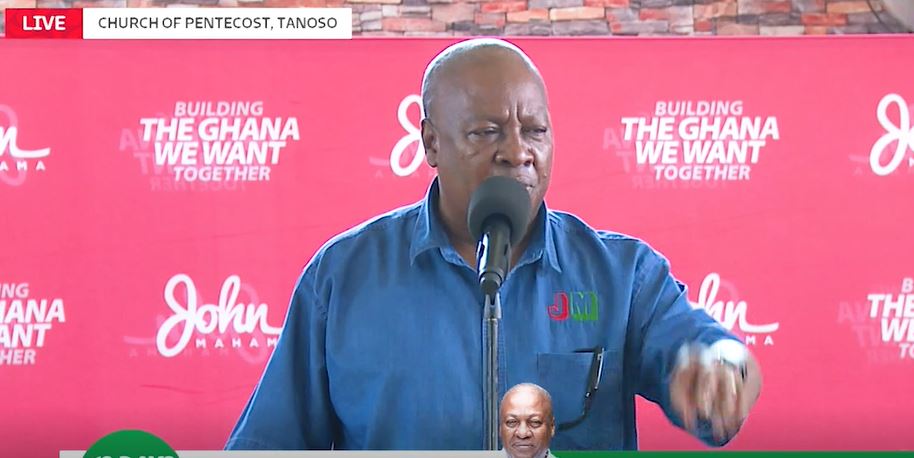 Former President John Dramani Mahama has called for the resignation of the Minister for Health after he openly admitted that the National Health Insurance Scheme (NHIS) has failed.
Kwaku Agyemang Manu says the Scheme is no longer working, admitting that he no longer uses the service and prefers to pay for his medical treatment.
According to him, treatment given NHIS card holders at the various facilities is below par, complaining bitterly that patients who are unable to pay are being denied access to medical services.
Responding to the Minister's admission of failure, the former president said Mr. Agyemang Manu must resign.
"He himself has admitted that he has failed. He has not been able to grow the NHIS and he says it has failed… he has no business being the minister for health. He should resign",
Mr. Mahama said to wild applause at a meeting with branch and constituency executives of his party, the National Democratic Congress (NDC) in Sefwi Adobokrom, in the Bia East Constituency.
Providing some more detail, Mr. Mahama said NHIS card are being turned away from most health facilities because government is not paying their claims.
"Health facilities have not been paid since last year for services provided to card holders. How do you expect them to continue treating them", he asked?
Many have questioned the Minister's public complain instead of taking responsibility to make the Scheme functional. A social media commentator, sharing her thoughts on the minister's statement said, "he appears to be talking like an outsider who is merely observing the situation without any ability to effect change within the system".
If the NHIS is not functioning as it was before, who should take responsibility, Mr. Mahama continued, restating his position that Mr. Kwaku Agyeman Manu must resign.
"It is unacceptable for a Minister to act as a passive observer on the side line. The collapse of the Scheme occurred during his tenure and under his leadership. Accepting that the system is not working should be accompanied by a resignation."
DISCLAIMER: The Views, Comments, Opinions, Contributions and Statements made by Readers and Contributors on this platform do not necessarily represent the views or policies of Homebase Television Ltd.
Visit Our Social Media for More
About Author