Real Madrid have filed a complaint with Spanish hate crime prosecutors over the racist abuse suffered by Vinicius Junior in their 1-0 defeat at Valencia on Sunday.
The LaLiga match at Mestalla was stopped during the second half after the Brazil international identified a fan in the crowd behind the Valencia goal as having racially abused him.
After discussions between Vinicius, referee Ricardo de Burgos Bengoetxea and Madrid coach Carlo Ancelotti, the game continued, with fans being warned over the stadium's public address system about racist abuse, in accordance with UEFA's anti-racism protocol.
Vinicius was later sent off in added time after a clash with Valencia substitute Hugo Duro, before a further confrontation with the Valencia bench.
"Real Madrid expresses its outright rejection and condemns the events that occurred yesterday involving our player Vinícius Junior," Madrid said in a statement on Monday.
"These events constitute a direct attack on the coexistence model of our social and democratic state of law.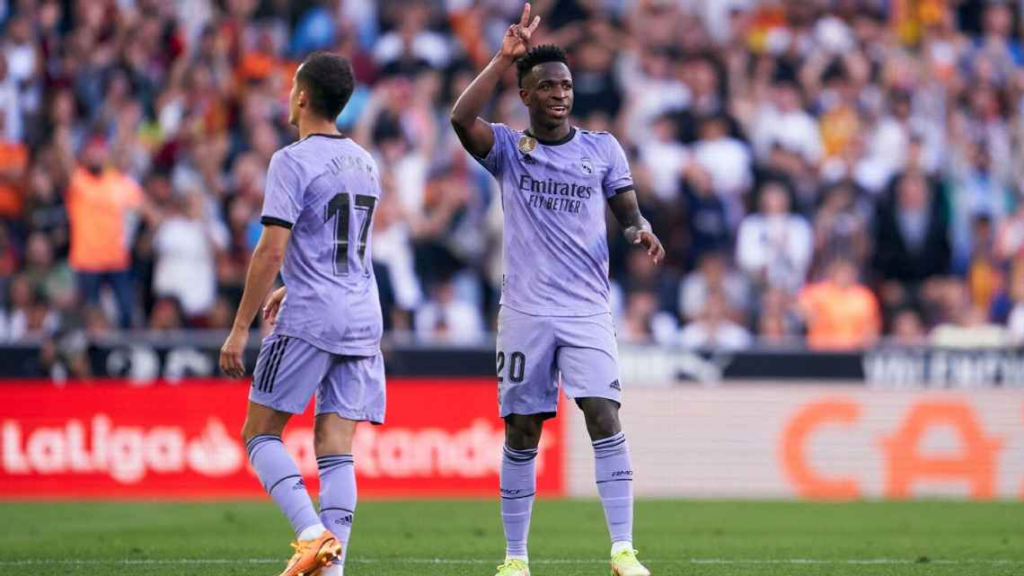 "Real Madrid considers that such attacks also constitute a hate crime, and therefore it has filed the relevant complaint with the state prosecutor's office, specifically the prosecutor's office against hate crimes and discrimination, so that the facts can be investigated and responsibilities determined."
In social media posts after Sunday's game, Vinicius said that "racism is normal in LaLiga" and claimed that "in Brazil, Spain is known as a country of racists" following a series of incidents in which he has been racially abused by fans.
Spain has a problem with racism, head of the national football federation RFEF Luis Rubiales said on Monday, calling for sanctions and punishment for the fans involved.
"This has gone beyond football and this is not the first time," Rubiales said. "This is an educational problem in our country, of racism, and while we have one fan or any group of fans insulting players because of their sexual orientation or the color of their skin, then we have a serious problem that stains an entire team, all fans and this entire country."
Sources told ESPN that Vinicius's representatives had raised the possibility of leaving Real Madrid over the racist abuse he has suffered, and although the player is not currently considering leaving the club, he is "at the limit" due to his frustration over LaLiga's handling of the issue.
LaLiga president Javier Tebas responded to Vinicius' criticism in a Twitter exchange.
"Neither Spain nor LaLiga are racist," Tebas said. "It is very unfair to say that. At LaLiga we denounce and tackle racism with all the toughness within our powers.
"This season, racist insults have been reported nine times. Eight of them have been for insults against Vini. We always identify these maniacs and file a complaint with the relevant bodies. It doesn't matter how few they are, we are always relentless."
Vinicius' management agency, TFM, further criticised LaLiga on Monday, comparing what happened to Vinicius at Mestalla with the murder of George Floyd, who was killed by a police officer in May 2020, sparking a wave of protests against police brutality.
"Three years after the world was shocked by a video with George Floyd being brutally immobilized, today, the whole world saw an event in which Vinicius Junior was restrained in a cowardly, violent and unacceptable way during a discussion," TFM said in an Instagram post.
"This is just another reflection of what has been seen throughout this LaLiga season, in which it became clear to the world that in entire Spain, they do not accept the role of a young black man, who do not accept that the most decisive and relevant athlete in LaLiga is a young black man.
"The LaLiga veiled consent to all this discrimination was for months a message to all Spanish people, that it doesn't want to have the best, if they are black."
The 22-year-old Vinicius has been subjected to repeated racist abuse since moving to Spain five years ago.
"You are not alone. We are with you and we support you," Paris Saint-Germain striker Kylian Mbappé wrote on Instagram.
Mbappé was also hit by racist and hateful comments on social networks following France's loss to Argentina in the World Cup final last year.
"Full solidarity to Vinicius," FIFA president Gianni Infantino said. "There is no place for racism in football or in society and FIFA stands by all players who have found themselves in such a situation. Events during the match between Valencia and Real Madrid show that this needs to be the case."
Brazilian politicians including President Luiz Inácio Lula da Silva, players and clubs have come out to support Vinícius and criticize racism in the Spanish league.
The first trial against a fan accused of racial abuse in Spanish professional football is expected to happen at some point this year in a case involving Athletic Bilbao forward Iñaki Williams, who was insulted by an Espanyol supporter in a match in 2020.
The Spanish league has made nine similar formal complaints for racist abuse against Vinicius over the last two seasons, but most of the cases have been shelved by prosecutors. Another complaint was expected to be made after an investigation into what happened in Valencia was completed.
Fans have been fined and banned from stadiums for their abuse, but so far only a Mallorca fan may end up going on trial for allegedly racially insulting the Brazilian during a game.
Tebas criticised Vinicius for attacking the league, saying the player didn't show up for talks on the subject of racism that he had requested himself.
Information from The Associated Press was used in this report.
DISCLAIMER: The Views, Comments, Opinions, Contributions and Statements made by Readers and Contributors on this platform do not necessarily represent the views or policies of Homebase Television Ltd.
Visit Our Social Media for More
About Author