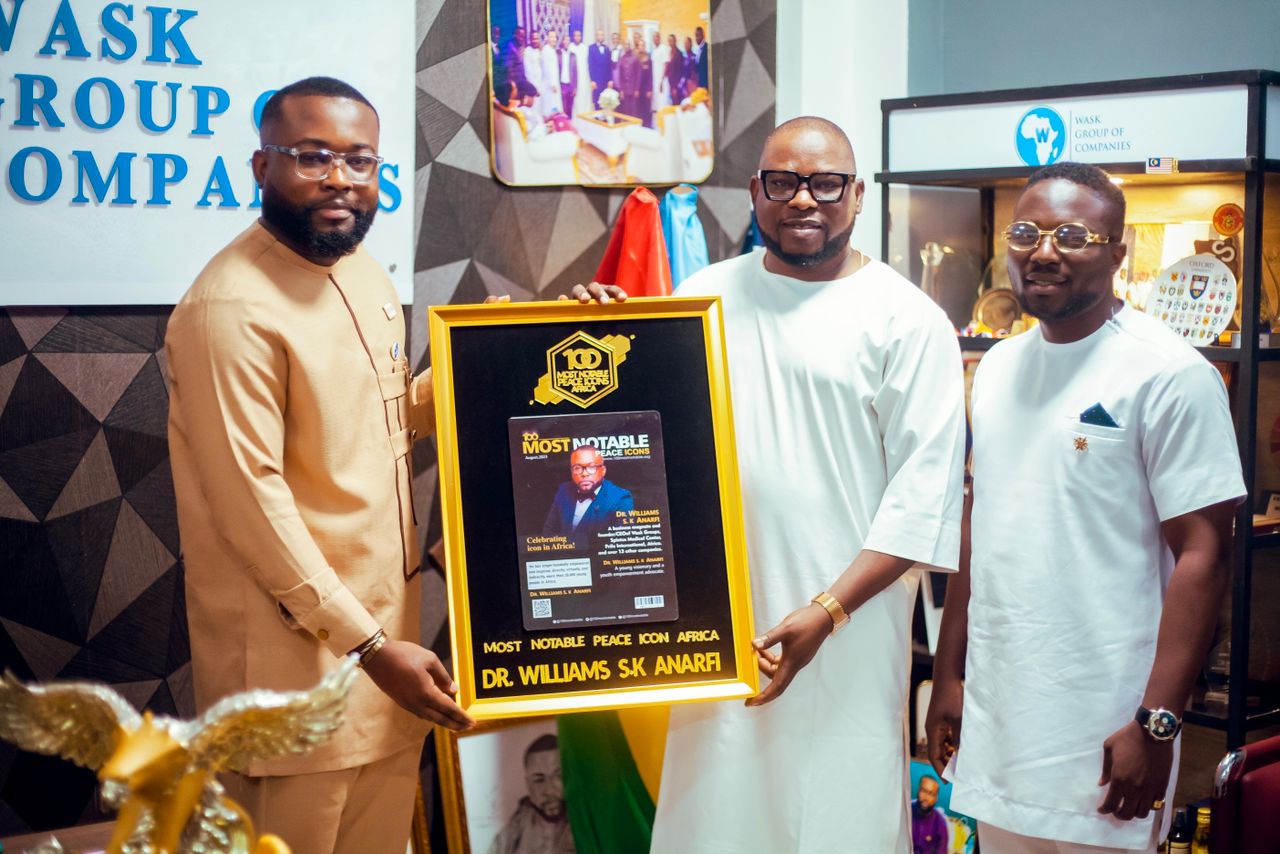 In a world often marred by conflict and discord, there emerge luminaries whose unwavering dedication to peace serves as a beacon of hope. Dr Williams Anarfi, the founder of WASK Group Spintex Medical Center, Prife International Africa, has been bestowed with the prestigious title of 'Most Notable Peace Icon.'
This accolade commemorates Dr Anarfi's exceptional contributions to conflict resolution, diplomacy, and the pursuit of a harmonious global community. His consistent commitment to peacebuilding, conflict resolution, and youth empowerment resonates deeply with this honor.
Dr Anarfi's impact is immeasurable; he has directly and indirectly inspired over 20,000 young people across Africa. His work extends beyond borders, emphasizing unity, dialogue, and common ground in conflict zones. His diplomatic prowess has facilitated peaceful resolutions in regions plagued by strife.
Moreover, Dr Anarfi's commitment to education has empowered countless individuals to become advocates for peace. His contributions to academia, research, and policy-making have expanded our understanding of conflict dynamics and strategies for sustainable peace.
One of the Ambassadors of the scheme who came from Nigeria to present the award, Amb Kinsley Amafibe, lauded Dr Anarfi for his immense contribution in youth development and spearheading initiatives like poverty elevation programs as well as propagating for peace and unity among Africans.
Accepting the 'Most Notable Peace Icon' award, Dr Anarfi expressed, "I firmly believe in the power of dialogue, understanding, and collaboration as instruments of lasting peace. This recognition underscores the importance of our collective efforts to build a more peaceful and just world."
This award celebrates individuals dedicated to creating a better world through peacebuilding, diplomacy, and conflict resolution. Dr Anarfi joins the ranks of distinguished figures like Former President Goodluck Jonathan, Tony Elumelu, Pastor Chris, Akon, Mohamed Salah, and Femi Otedola, all champions of peace and nonviolence.
Speaking about Dr Anarfi's new milestone, one of his business partners, Mr. Benjamin Amusah also commended him for his good work and prayed for more of these for Dr Anarfi, he said, "He deserves this award and many others. He is transforming lives and creating stronger platforms for young people who are ready to excel. It is in that light that has earned him this prestigious award"
Dr Anarfi's legacy extends to mentoring the next generation of peace ambassadors, ensuring a brighter future. His commitment to Africa's advancement has been evident throughout his career, inspiring a new generation of leaders.
Dr Williams S.K Anarfi boasts extensive experience in strategic innovation, business strategy, SME advisory services, and project financing. He has made remarkable contributions to businesses such as Vida Divina LLC., Total Life Changes, and TRAMO Ghana, specializing in waste management, plastics recycling, biogas digesters, and waste sensitization training.
Additionally, he excels in agriculture input distribution, food processing, real estate, and transportation maintenance products. His commitment to reducing housing deficits is evident in his real estate endeavours and the Golden City project in Ghana's Ashanti region.
Dr Anarfi's dedication to the needy is exemplified through initiatives like the WASK Family Foundation and the 10k project, which supports young entrepreneurs. His philanthropic efforts touch widows, widowers, orphans, street children, and the less privileged.
His remarkable journey includes awards such as Innovator Award 2013, Best Network Marketer of the Year 2018, and Best Global Business Growth Influencer. He has been recognized by institutions like the Academic Union, Oxford UK, and the International Corporation of Social Partnership (Europe Business Assembly).
As a health practitioner, he established WASK Health Services, promoting health through vaccinations and medical equipment. He is the founder of Spintex Medical Center, a state-of-the-art hospital in Accra, Ghana.
Dr Anarfi's commitment to sustainable progress and his unwavering dedication has rightfully earned him the title of 'Most Notable Peace Icon.' His legacy will inspire generations to come, promising a harmonious future for all.
DISCLAIMER: The Views, Comments, Opinions, Contributions and Statements made by Readers and Contributors on this platform do not necessarily represent the views or policy of Multimedia Group Limited.
Visit Our Social Media for More
About Author