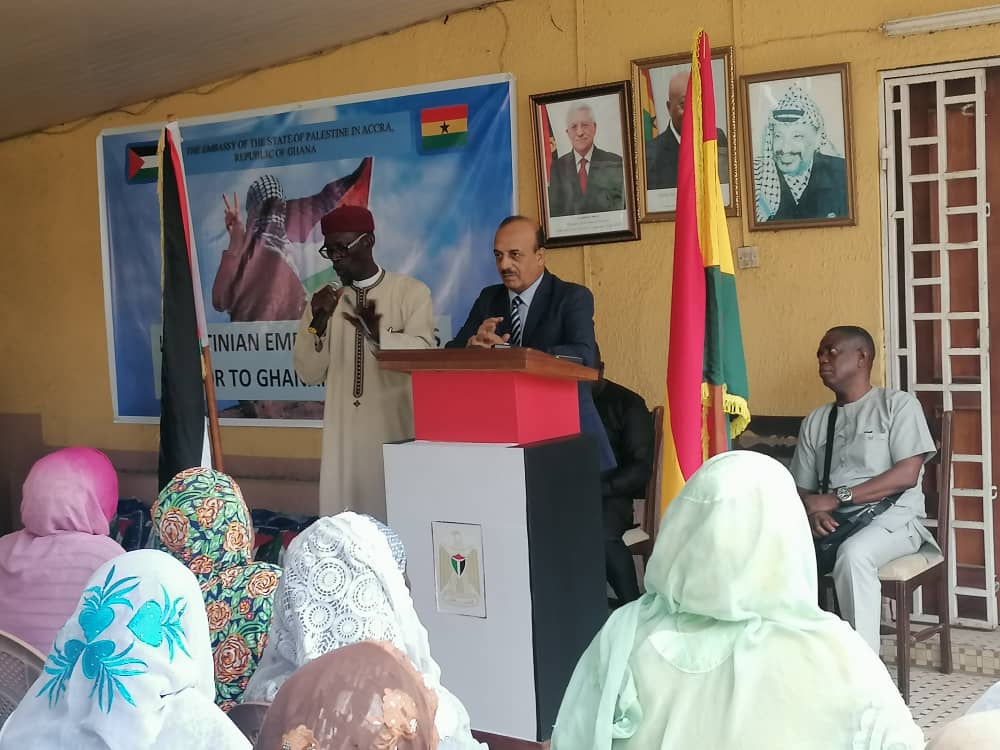 The Palestinian Embassy in Ghana has donated food to more than 600 Muslim women and children in Accra in support of their Ramadan.
The donation of 25kg rice to each recipient was a token of love that the Palestinian Embassy demonstrated.
Ambassador Ahmed Al-Khalil thanked the women who honoured the invitation for their show of love and concern for the Embassy.
He said despite the fasting mood, they still were able to move from their homes to honour his invitation at the Embassy for the token.
The Managing Editor of Pan-African Television, Mr Kwesi Pratt was a guest at the ceremony. He said the essence of the gift was to facilitate the ongoing peaceful relations between the Embassy and the people of Ghana.
Mr Pratt urged the Muslim community to use the fasting season to pray for the peace of the world in the ongoing global turmoil.
The spokesperson of the National Chief Imam, Shaik Arimiyawu Shaibu called for the creation of a medium to facilitate communication and relations between the Embassy and the Muslim community in Ghana and to reiterate the essence of fasting to deepen the relationship between Allah and His servants.
He said aside from the abstinence from food and water, Muslims were reminded during this fasting period of their duty to share the little that they had with those who do not have.
Pastor Isaac Mensah of Grace Gate Global Ministry admonished the Muslim community undergoing the 30 days fasting period to be steadfast and generous to all in the society.
He narrated from the Bible, which was translated to the gathering by Shaik Arimiyaw in the Hausa language, the story of how Jesus Christ (Annabi Issah, A. S) lamented ill-treatment from his followers when he visited them in an image of a naked-poor person looking for help in the form of clothes, food, and shelter, and was rejected and mistreated.
The General Secretary of Pan-African Writers Association (PAWA), Dr Wale Adikran was also available to help in the success of the programme.
The Ambassador also donated a PA system to a mosque and indicated that at any time, he was willing to honour same request from the Church as well.
He emphasised on world peace and the need for all the different groups of the world to live together as one. The Ambassador had earlier invited 200 orphans to his residence on his birthday to entertain them in solidarity.
He thanked Ghanaians and their leaders for the peaceful atmosphere created in times of global turbulence, and assured his commitment to continue to advocate peace in Palestine and everlasting peace in Ghana and the rest of the world.
DISCLAIMER: The Views, Comments, Opinions, Contributions and Statements made by Readers and Contributors on this platform do not necessarily represent the views or policies of Homebase Television Ltd.
Visit Our Social Media for More
About Author