Government will on Thursday, June 11 hold a forum on the Covid-19 pandemic and the importance of President Nana Addo Dankwa Akufo-Addo's vision of Ghana Beyond Aid.
A statement issued in Accra on Tuesday and signed by Deputy Information Minister Pius Enam-Hadzide said the forum forms part of government's broader strategy to capitalize on the opportunities presented by the Covid-19 to boost local capacity.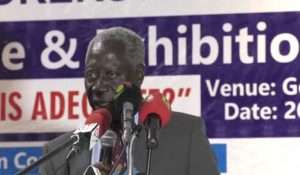 It will be themed: 'COVID-19 and our march towards Ghana Beyond Aid; Turning Adversity into Opportunity'.
Yaw Boateng Gyan demands review of President's powers
The statement said: "The forum aims at stepping up public education about the virus and at the same time mobilizing the vast majority of Ghanaians towards achieving the President's Ghana Beyond Aid agenda."
The Forum will be under the chairmanship of the Senior Minister, Yaw Osafo Marfo, and will be addressed by the Archbishop of Cape Coast, Archbishop Charles Palmer-Buckle, renowned economist Kwame Pianim, the President of Association of Ghana Industries (AGI), Dr. Yaw Adu Gyamfi, the Chief Executive Officer of EXIM Ghana, Lawrence Agyinsam and the President of the National Union of Ghana Students, Isaac Jay Hyde.
The forum will be televised live on all major television, radio and online platforms in Ghana.