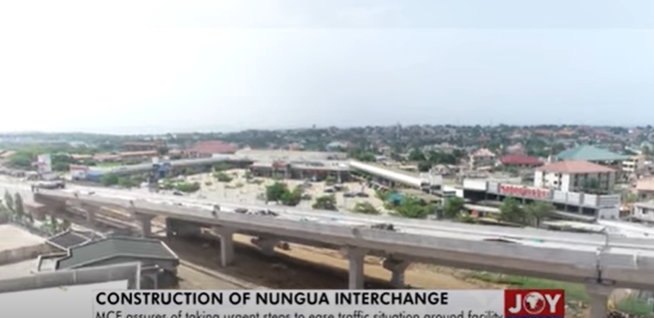 The view from above is exhilarating. Long, intersecting bridges flying over the fleets of cars on the ground. But the project has stalled and the impact has been dire.
Until February 2023, persons traveling from Ashaiman, Tema beach road and Spintex road through the construction site of the Nungua interchange towards Accra central, were filled with hope and joy in anticipation of a great relief from the notorious traffic which has since time immemorial characterized the intersection at Nungua Barrier.
It has been one of the major road projects in Accra which has seen continuous progress. When asphalt works were done on certain critical portion of the stretch, it promised to be a smooth, traffic-free fast drive from any destination headed towards the central business district. The joy of commuters have been short-lived.
[embedded content]
The construction buzz that had characterized the site at the beginning of the project has died down, with no construction workers or machinery on site, and the project left uncompleted.
Now what was to be the panacea to the heavy traffic that had been typical of the Nungua Barrier stretch has instead created new problems for commuters.
The road beneath the uncompleted interchange is untarred, very dusty and undulating, and when it rains, water collects in huge pond-like puddles making the traffic situation even worse and wreaking havoc to vehicles.
[embedded content]
As a major urban road linking the harbor city to the central business district, this route is the only alternative to the Tema Motorway. It is typical, therefore, to see heavy duty trucks, container-bearing articulated trucks, cargo trucks, tipper trucks, commercial busses, cabs, as well as private vehicles all resorting to this route to reach their destinations.
Thus, it is life threatening for other road users to be driving beside or behind these container-bearing trucks, squeezing their way through the narrow-potholes-ridden stretch due to the slow pace of work.
A greater part of the auxiliary link leading towards Sakumono has also been eaten away by flood waters eroding deep into the preparatory ground works done so far on the road and inundating the lower part of passing vehicles further causing worry for drivers.
[embedded content]
The Municipal Chief Executive of the Krowor Muncipality, Joshua Bortey, speaking to JoyNews' Emefa Atiamoah-Eli, acknowledged the inconvenience of the road users while assuring he is taking urgent steps to ease their frustration particularly regarding the area right beneath the interchange where a pool of water is always collected as a result of recent downpours.
Vice President, Dr. Mahamudu Bawumia cut sod for the construction in 2021. Information available to JoyNews indicates that the project was initially scheduled for commissioning in April 2023.
Well, with the absence of construction equipment and contractors on site, the April deadline is obviously not feasible.
DISCLAIMER: The Views, Comments, Opinions, Contributions and Statements made by Readers and Contributors on this platform do not necessarily represent the views or policies of Homebase Television Ltd.
Visit Our Social Media for More