Hundreds of residents of Ntunkumso in the Ashanti region have benefited from a free medical examination organised by WeLearn Ghana.
The exercise saw residents take turns at the community centre to enquire and seek medical assistance on the myriads of morbidities they suffered.
The health screening targeted pregnant women, infants, children, and the aged providing them with crucial medical tests and treatments.
The event aimed at addressing health concerns prevalent in the community including hypertension, diabetes, malaria, eye conditions, and treatable ailments like colds, catarrh, and body pains.
The exercise follows a collaboration between WeLearn Ghana and the Effiduase Health Directorate to assist with healthcare delivery in the area.
Ntunkumso, like many rural areas in Ghana, has long struggled with limited access to quality healthcare.
Participants in need of urgent medication were provided with at no fee, ensuring that no financial barriers hindered their access to essential treatments.
Free consultation services were made available, allowing individuals to seek expert advice and guidance on how to manage their health conditions.
Already, about 1,300 lives have be impacted through the initiative fostering hope and well-being within the community.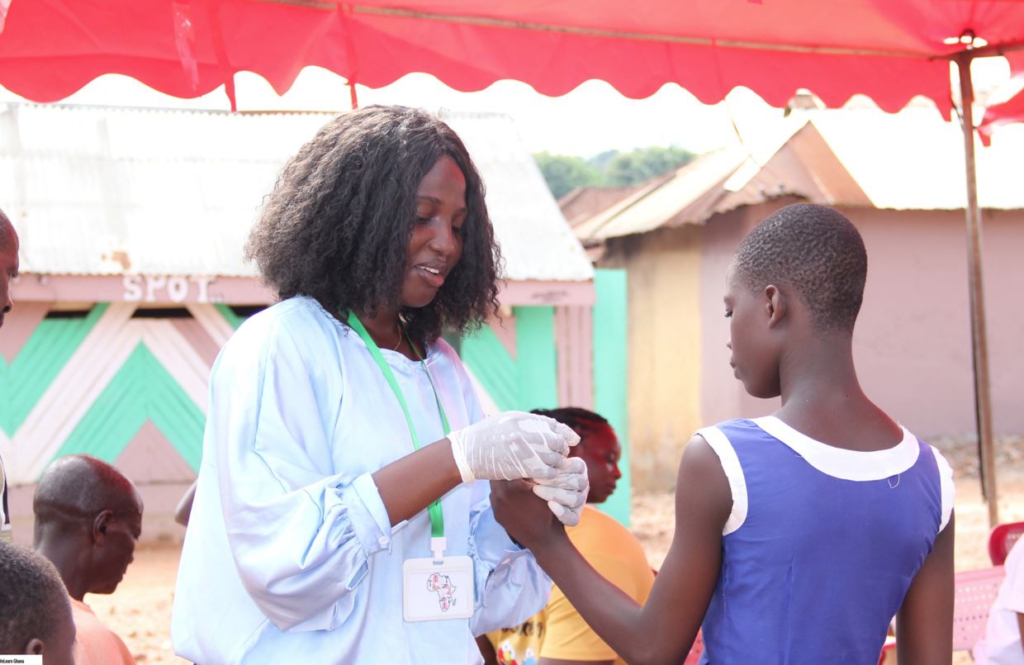 A beneficiary, Juliana, is grateful the exercise catered for herself and her unborn child, assuring her of healthy delivery.
"I cannot thank WeLearn Ghana enough for organising this health screening in our community. As a pregnant woman, I was worried about my health and the well-being of my unborn child. The tests conducted and the free medication provided have given me peace of mind and assurance that I am receiving the necessary care. This initiative has made a significant difference in my life," she said.
An elderly resident, Samuel says the exercise came as a relief while he expressed his satisfaction.
"Being an elderly person in Ntunkumso comes with its own health challenges. The health screening event organized by WeLearn Ghana was a blessing for people like me. I had the opportunity to get my blood pressure and other vital signs checked. The fact that they provided free medication and consultation services was a huge relief. This initiative shows that our community is not forgotten and that there are people who genuinely care about our well-being," he said.
WeLearn Ghana is a non-governmental organisation primarily focused on harnessing education and innovative initiatives to enhance living standards of Ghanaians.
"The success of this initiative highlights the transformative power of collaborative efforts in overcoming healthcare challenges. WeLearn Ghana's partnership with local organisations, businesses, and healthcare providers demonstrates the importance of community involvement in creating sustainable solutions. By uniting for a common cause, these stakeholders have paved the way for a healthier, more vibrant Ntunkumso," CEO of WeLearn Ghana, Ms. Jochebed Ama Sika said.
The exercise was in partnership with Rees Hotel, Voltic Cool, Meatman, Sags Pharmacy, Primetime Pharmacy, Kinapharma, Dzata Cement, and Yentumi Boitey Eye Specialist Hospital.
DISCLAIMER: The Views, Comments, Opinions, Contributions and Statements made by Readers and Contributors on this platform do not necessarily represent the views or policies of Homebase Television Ltd.
Visit Our Social Media for More
About Author