According to the Guinness Book of Records, Sultan Moulay Ismail ibn Sharif fathered more children than any other man in recorded history.
Sultan Moulay ibn Sharif, the most powerful ruler of the Moroccan Alaouite dynasty, died in 1727. He acceded the throne in 1672, which means that his time was almost contemporary to the baroque period in Europe. The sultan's extravagances exceeded even those of the European baroque rulers such as Louis XIV.
According to the Guinness Book of World Records, Moulay Ismael, with four wives and at least 500 concubines, sired an estimated 1042 children (they recently raised their estimate from 888).
That feat is even more incredible when one notes that Moulay Ismael, demonstrating just how deep his cruelty went, ordered that all the female infants of his concubines be smothered when they were born by their midwives.
He was fiercely protective of his four wives and 500 concubines. Whenever a tribe surrendered to Moulay Ismail, the leader was forced to offer his most beautiful daughter to the sultan as a gift.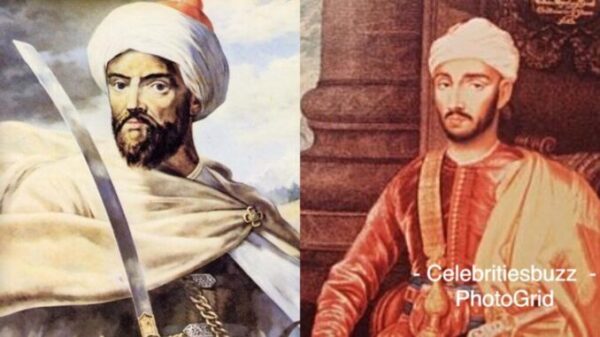 The women were treated like Ismail's favourite toys. Each concubine was granted a personal eunuch, a castrated male slave, and an odalisque, or female attendant.
The lake-like Bassin de l'Agdal in Meknès served as an emergency source of water in times of war and a pool for his concubines in times of peace.
Men who merely glanced at one of his wives or concubines were punished by death. It's said that men who encountered the sultan's women laid facing the ground, so as to avoid any accusation of having looked upon them.
If any of Ismail's harem were suspected of adultery, they were severely punished or put to death. The women were either strangled by the sultan himself or had their breasts cut off or teeth extracted.
READ
SHOCKER: PHOTO of "Jesus Christ" Discovered in Cut Tree Branch Sparks Online Controversy -[PHOTOS]
The sultan died in Meknes, Morocco. The current king of Morocco is his descendant.
Interesting Facts About Sultan Moulay Ismail ibn Sharif:
Over the past year, Ismail Ibn Sharif has had the most page views in the 

Arabic Wikipedia edition

 with 88,464 views, followed by 

English (83,592)

 and 

French (44,718)

. In terms of yearly growth of page views the top 3 Wikipedia editions are 

Portuguese (4,173.33%)

, 

Asturian (105.45%)

, and 

Scots (97.99%)

Among politicians, Ismail Ibn Sharif ranks 1,605 out of 14,801. Before him are Magnentius, Alexios II Komnenos, Vladimir II Monomakh, Antonio López de Santa Anna, Lazar Kaganovich, and Maria Amalia of Naples and Sicily. After him are Theodosius III, Prince Marko, Axel Oxenstierna, Louis Joseph, Dauphin of France, Chilperic II, and Ernest Augustus, Elector of Brunswick-Lüneburg.
Among people born in Morocco, Ismail Ibn Sharif ranks 9 out of 110. Before him are Abdelaziz Bouteflika (1937), Tariq ibn Ziyad (670), Hassan II of Morocco (1929), Just Fontaine (1933), Abd el-Krim (1882), and Mohammed V of Morocco (1909). After he is Mohammed VI of Morocco (1963), Alain Badiou (1937), Yusuf ibn Tashfin (1009), Michel Galabru (1922), Abu Yusuf Yaqub al-Mansur (1160), and Nathalie Delon (1941).
He also had an astoundingly large prison that mostly held Christians. The Habs Qara (Prison of Christian Slaves) was a large subterranean prison beneath the city of Meknès. At its height, it held an estimated 60,000 prisoners, 40,000 of them believed to have been Christian sailors captured at sea by Barbary pirates. The Christians were used as slave labour to build the city during the day and were shackled to the prison walls in the evening and forced to sleep standing up.
He had 500 concubines, which no one else could even look at. He was fiercely protective of his four wives and 500 concubines. Whenever a tribe surrendered to Moulay Ismail, the leader was forced to offer his most beautiful daughter to the sultan as a gift. The women were treated like Ismail's favourite toys. Each concubine was granted a personal eunuch, a castrated male slave, and an odalisque, or female attendant.
Ismail was a sex addict — and fathered more children than anyone else in history. Ismail was well-known for siring hundreds of children. According to the Guinness Book of World Records, he fathered 888 children — the highest number of offspring for anyone throughout history that can be verified.
Ismail proposed to Princess Marie Anne de Bourbon but was rejected. Ismail sent his ambassador with a marriage proposal to Marie Anne de Bourbon, the eldest legitimized daughter of the king and his mistress Louise de La Vallière, but she declined. Thankfully, it didn't lead to an international incident. –Duke
Read Also:
Watch The Documentary Below: