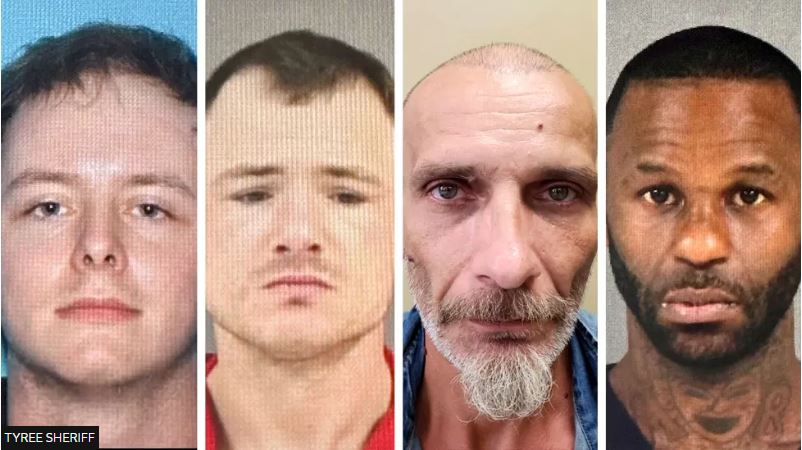 From left to right: Dylan Arrington, Corey Harrison, Jerry Raynes and Casey Grayson
Police are hunting for four inmates who escaped a Mississippi jail, including one now believed to have killed a man while on the run.
The suspects were found missing during a routine headcount at the Raymond Detention Center near Jackson on Sunday, according to authorities.
One of the suspects, 22-year-old Dylan Arrington, is now believed to have murdered a man and stolen his truck.
At least one of the suspects is believed to have fled to Texas.
In addition to Dylan Arrington, the suspects have been identified as 51-year-old Jerry Raynes, and Casey Grayson and Corey Harrison, both 22. Mr Raynes has a long history of escaping from jail facilities, including the Raymond Detention Center in 2021, according to local authorities.
The men were in custody on a variety of charges, primarily related to thefts. Mr Arrington was in custody on firearm and auto theft charges.
Residents of the area have been told to be on the look-out for the suspects as local, state and federal police conduct their manhunt.
In a Facebook post, authorities in nearby Leake County asked residents to be "extremely cautious", keep their doors locked and avoid having keys or weapons in parked vehicles.
At a news conference earlier this week, Hinds County Sheriff Tyree Jones said that after the four were found missing on Sunday, jail authorities discovered two "breaches" in the building, including one on the jail's roof.
Authorities now believe that the suspects escaped to the jail's roof on Saturday and left the facility at various times.
In a statement on Monday, Jackson Police Chief James Davis said that Mr Harrington is now the prime suspect in the death of local man Anthony Watts, 61.
Mr Watts was shot and killed around 7 pm local time on Monday after pulling over to help a man – now believed to be Mr Arrington – who had crashed a motorcycle. He was found dead at the scene and his vehicle, a red truck, remains missing.
Another suspect is believed to have stolen a government public works vehicle which was later found near Houston, Texas.
In July, a federal judge seized control of the Raymond Detention Center, citing "severely deficient" conditions and a "stunning array" of assaults and deaths among detainees.
A public safety consultant was appointed as a "receiver" by the judge in October, with 120 days to devise a plan to improve conditions.
The judge's order was stayed by an appeals court in December after local officials asked for the move to be reconsidered.
DISCLAIMER: The Views, Comments, Opinions, Contributions and Statements made by Readers and Contributors on this platform do not necessarily represent the views or policies of Homebase Television Ltd.
Visit Our Social Media for More
About Author