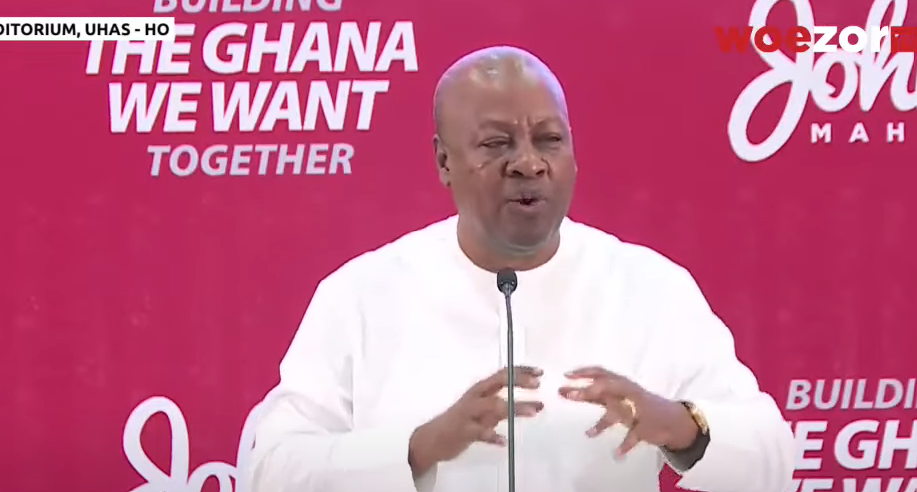 Former President John Mahama has criticised the New Patriotic Party (NPP) over how the economy is being managed after touting that they had 'the men'.
According to him, the NPP lacks the credibility to be trusted to turn around the economy.
During the 2012 and 2016 electoral campaigns, the then-presidential candidate Akufo-Addo that his team had the human resource to develop Ghana.
But, speaking to delegates during his visit to Kpone Katamanso on Friday, Mr Mahama stated that the NDC has come to the conclusion that this is not the case.
"In 2016, our colleagues, the NPP told a lot of lies about us. They labeled us as incompetent and they came with a lot of big and sweet promises to the people of Ghana and use that to persuade people that there will be a better government than we were.
"And so the people of Ghana tried them by voting for them. They said they should try them, 'try me and see'. And that was a mistake the people of Ghana made because we have come to realise that after all, we have the men, we have the men. They were station boys, they don't know anything,'" Mr Mahama said.
According to former President Mahama, the ministers who served during his administration performed better than the current administration.
Mr Mahama commented on the power purchase agreement, noting that the NDC had been chastised by the NPP for signing too many power purchase agreements.
As a result, he questioned why the government is adding to the power purchase agreement if there are so many.
"Just last week, they signed another power purchase agreements were signed to many power purchase agreements. Why are you signing another one today?"
He went on to say that the government promise of one district, one factory – one village, one dam was a hoax to sway Ghanaians' votes. This, he explained, is because the factories are currently not operational.
"Recently, I was watching a documentary on Joy and most of those factories are not even working," he added.
He also described as troubling the findings of a recent US State Department report on human rights violations in Ghana.
"The US Human Rights Report has come out and it makes it very bad reading, human rights abuses, corruption, torture, so many things, discrimination, everything go and read that report."
According to him, when he assumes office, his government "will set up a governance Advisory Council. And that governance advisory council would include civil society organizations, religious leaders, chiefs, and ordinary grassroots people.
And every year, that council will release a report on the state of human rights corruption and everything in Ghana."
DISCLAIMER: The Views, Comments, Opinions, Contributions and Statements made by Readers and Contributors on this platform do not necessarily represent the views or policies of Homebase Television Ltd.
Visit Our Social Media for More