Richard Hlomador, Founder and CEO of K-NET (3rd from right), and his team at CABSAT 2023 in Dubai
Ghanaian broadcasting technology and IoT/telecom infrastructure giant, K-NET is making Ghana proud again showcasing its bespoke teleport technology at the just opened CABSAT 2023 event in Dubai.
The three-day event, slated for May 16 to 18, 2023 is the only dedicated event that attracts over 14,000 industry professionals and organisations from the digital, content integration, broadcasting and media market in the MEASA region over the last 28 years.
K-NET built, owns and operates a world-class Satellite Teleport located in Accra. The Teleport, which is a satellite operator agnostic, has multiple Earth Station Antennae (ESA), Radio Frequency Transmitters (RFT) and multiple VSAT hubs which are fully integrated for various service delivery on any satellite.
On the back of that bespoke infrastructure, K-NET offers VSAT Hub Lease (HNO & VNO) Services, VSAT Managed Services, Space Tracking Station services, Earth Station Antenna Lease, 24/7 Global NOC with TAC assistance.
The company also built and currently operates Ghana's state-backed Digital Terrestrial Transmission (DTT) infrastructure, the Multimedia Direct-To-Home (DTH) platform, and an Over-The-Top (OTT) technology, with which it offers broadcasting services via the internet in Ghana and in parts of Africa.
At CASBAT 2023, K-NET is collaborating with Nextgen Media to showcase solutions designed to revolutionalize the world of media and broadcasting.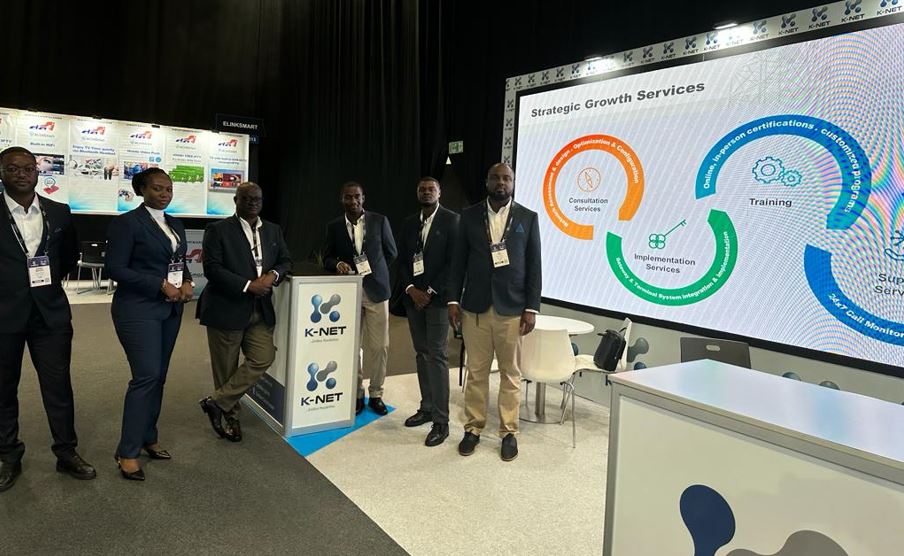 The two have joined forces to bring cutting-edge innovations and unparalleled content delivery across Africa via Ghana to the globe.
As leaders in their respective fields, K-NET and Nextgen Media remain committed to enhancing the way Africans experience television and digital media.
Founder and CEO of K-NET, Richard Hlormador has been telling Techfocus24 that the currently, French broadcasting giant, Canal+ is a client for whom they provide uplink services to Africa, explaining that "we pick all their feed/content from France via SRT or Zixi to our teleport station in Ghana and distribute to the rest of Africa through satellite."
He said at CASBAT 2023, therefore, K-NET's target groups are companies like Canal+, DSTV and others who have viewers in Africa and want the best and most cost-effective platforms to reach them with high-quality viewing experience.
"We are also targeting satellite operators whose satellites work both in Africa and in Europe and are looking for teleport operators in Africa to help them reach their target audience on the continent," he said. "We are typically a teleport operator and we can receive their content through fibre on Zixi or SRT and distribute across Africa."
According to the K-NET boss, the company also has bespoke outdoor broadcast infrastructure fitted with the technology to pick live feed from anywhere in Africa and distribute to the entire continent.
He explained that the K-NET outdoor broadcasting (OB) van does not need to move to the location of an event to do a live broadcast because it can sit in Ghana and pick the live feed of any event like a football match, music concert, awards event from anywhere in Africa and distribute to the rest of the continent in real-time.
"Our OB van does not to need to move to your country for a live broadcast – the cameras can be in any country where the event is taking place – we only pick the live feed via satellite and send it to wherever the client wants us to send the feed," he said.
According to Richard Hlomador, K-NET has invested heavily in the two key internationally approved protocols for transmitting very high-quality video content via the internet – Zixi and SRT to ensure that the quality of pictures they deliver to the final consumer is not compromised in anyway.
He is confident that the state-of-the-art infrastructure and bespoke broadcasting technology that K-NET brings to CABSAT puts it in a position to attract media and broadcasting giants across the globe and put Ghana yet again on the world map.
DISCLAIMER: The Views, Comments, Opinions, Contributions and Statements made by Readers and Contributors on this platform do not necessarily represent the views or policies of Homebase Television Ltd.
Visit Our Social Media for More