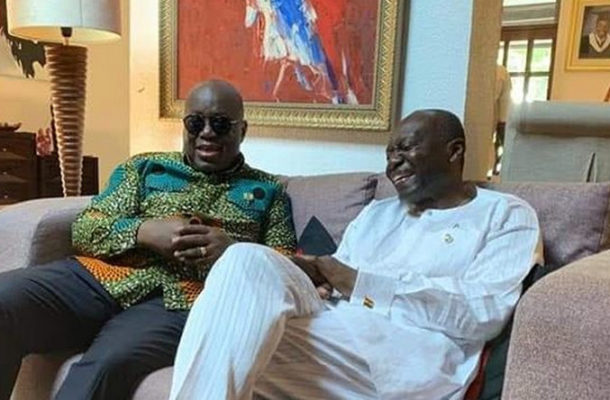 The MP for Tamale Central, Ibrahim Murtala Muhammed, is skeptical that President Akufo-Addo will terminate the appointment of the Finance Minister since Ghana has successfully brokered a deal with the International Monetary Fund (IMF).
The President in 2022 had promised to let go of Ken Ofori-Atta once government had finalised a deal with the Fund.
However, now that this feat has been achieved, Mr Muhammed on Joy FM's Newsnite said he will be very surprised if the President sticks to his words.
"As a matter of fact, I will be shocked if the President fires the minister. And I did indicate on your programme at the time that Mr Ken Ofori-Atta was and is still stronger than even the President," he told host Blessed Sogah on Monday.
In November 2022, some 98 NPP MPs demanded the immediate removal of the Finance Minister accusing him of economic mismanagement.
They went ahead to petition the President to either remove him or face a boycott in Parliament.
However, after a meeting, they acceded to President Akufo-Addo's appeal to allow the Finance Minister, Ken Ofori-Atta, and Minister of State at the Finance Ministry, Charles Adu Boahen, to stay in office till after the IMF negotiation is done.
Mr Murtala who is of the view that the Finance Minister is a powerful persona said there is no way President Akufo-Addo will fire him.
He insisted that if Mr Ofori-Atta will leave office, then it will be on his own terms not because he has been fired.
"Mr Ofori-Atta can only leave office on his own term, and not on the terms of the appointing authority, the man wouldn't go.
"Isn't it strange that everyone thinks the man will be made to go when he was the only minister, in the Fourth Republic, whose ministerial position was waiting for him even when he was unfortunately indisposed?"
Meanwhile, the MP for Subin constituency, Eugene Boakye Antwi, says the New Patriotic Party MPs who called for the dismissal of the Finance Minister in 2022 are waiting to hear from President Akufo-Addo on the way forward.
Speaking on Joy FM's Top Story, Mr Antwi said that only the President has the executive powers to dismiss Mr Ofori-Atta and thus their job as MPs was to expose the shortcomings of the minister and why he should longer occupy his office.
"So far as we are concerned, we have demonstrated to the entire country, and the whole world that this is our decision or difficulty with the continued stay of Ken Ofori-Atta. We are waiting for the Majority Leader to come either convene a meeting or for the president to convene a meeting with the majority caucus and tell us the way forward," the Subin MP noted.
DISCLAIMER: The Views, Comments, Opinions, Contributions and Statements made by Readers and Contributors on this platform do not necessarily represent the views or policies of Homebase Television Ltd.
Visit Our Social Media for More
About Author