I Never Thought NPP Would Lose 2008 Election – Kufuor
Views: 44
Read Time:
2 Minute, 16 Second
Former President John Agyekum Kufuor says he never believed the New Patriotic Party (NPP) would lose the 2008 general elections to the National Democratic Congress (NDC).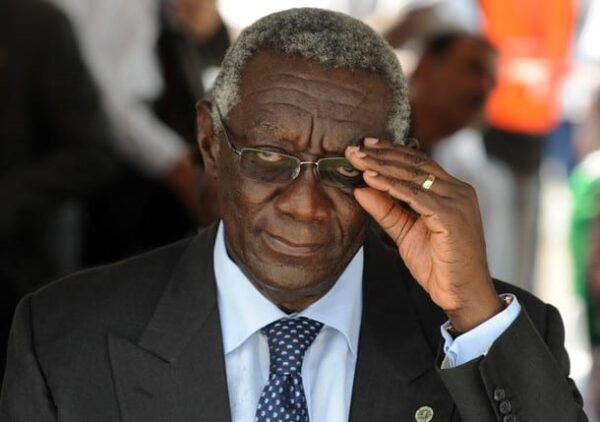 Mr Kufuor in the run-up to the 2008 election was succeeded by Akufo-Addo as the NPP flagbearer but was beaten by NDC's John Evans Atta Mills to the presidency.
Mr Kufuor who was speaking with Kweku Sekyi Addo on Asaase Radio on September 6, 2020, said many things accounted for their defeat because he never expected the NPP to lose.
"Democracy is not rationality, if it was then it should have been a walkover for my party in 2008. If I tell you I ever thought NPP would lose 2008 then I am lying. It was until the last stage that things started happening and I couldn't understand. Our Finance Minister then, Baah-Wiredu passed on and that hit me. Then the financial crunch was coming in, late payment of teachers and a very vibrant opposition barking at us. Even with all this Akufo-Addo led the first round and it should have been a done deal. Then there was a second-round which I believe if democracy was common sense we should have won but we lost. It was not a rejection by Ghanaians but so many things came to play.
Read also: Who Authorized For The Payment Of The Ghc5 Million From The GNPC – Hon Sam George
John Agyekum Kufuor served as the President of Ghana from 7 January 2001 to 7 January 2009.
The 2008 and elections were one of the most keenly contested elections in Ghana.
Turnout on election day December 7 was very high. Since few votes were expected for other candidates than those of the two largest parties, a first-round victory for Akufo-Addo or Mills was seen as possible, but Nduom stated he wished to "surprise" the other parties by gaining enough votes to force a run-off between the two others. With 40% of the vote counted, Akufo-Addo was leading with 49.5% to Mills's 47.6%. While Mills pulled ahead afterwards, Akufo-Addo again led by a slim margin with over 70% of the votes counted.
The second round was rerun on 28 December 2008 but due to logistics problems, the Tain District alone had its run-off election on 2 January 2009 due to problems with distributing ballots. Following the voting on 28 December, Mills led by a slim margin, causing the Election Commission to state it would not announce Mills as the winner until after the election rerun in Tain. Mills was eventually declared the winner.