There is a 66% chance that the annual average near-surface global temperature will be more than 1.5°C above pre-industrial levels for at least one year between 2023 and 2027.
There is a 98% chance that at least one of the next five years, and the entire five-year period, will be the warmest on record.
According to a new World Meteorological Organization (WMO) update, global temperatures are expected to reach record highs in the next five years, driven by heat-trapping greenhouse gases and a naturally occurring El Niño phenomenon.
There is only a 32% chance that the five-year mean will exceed the 1.5°C threshold, according to the Global Annual to Decadal Climate Update produced by the United Kingdom's Met Office, the WMO lead centre for such predictions.
The chance of temporarily exceeding 1.5°C has risen steadily since 2015, when it was close to zero. For the years between 2017 and 2021, there was a 10% chance of exceedance.
Prof. Petteri Taalas, Secretary-General of the World Meteorological Organization, stated that the report does not imply that the world would permanently surpass the 1.5°C limit stipulated in the Paris Agreement, which refers to long-term warming over many years.
"However, WMO is sounding the alarm that we will breach the 1.5°C level on a temporary basis with increasing frequency," he indicated.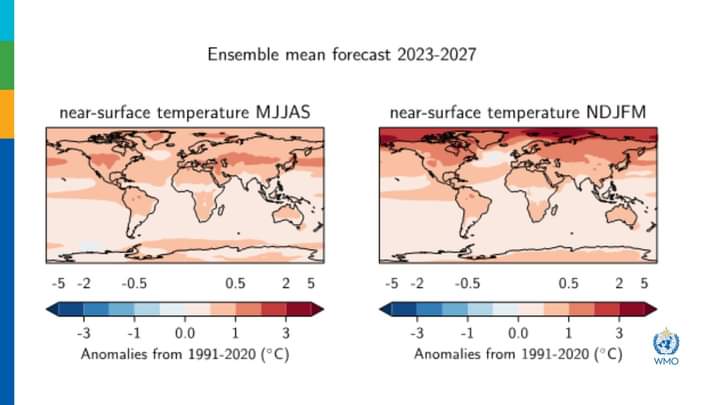 According to Prof Taalas, a rising El Niño is expected to develop in the next months, combining with human-caused climate change to push global temperatures into unknown territory.
"This will have far-reaching repercussions for health, food security, water management and the environment. We need to be prepared," said Prof. Taalas.
"Global mean temperatures are predicted to continue increasing, moving us further and further away from the climate we are used to," said Dr Leon Hermanson, a Met Office expert scientist who led the report.
The new study was released ahead of the World Meteorological Congress which comes off from 22 May to 2 June to explore how to improve weather and climate services to aid in climate change adaptation.
Priorities for consideration in Congress include the ongoing Early Warnings for All initiative, which aims to safeguard people from increasing severe weather, and a new Greenhouse Gas Monitoring Infrastructure, which will help inform climate mitigation efforts.
The Global Annual to Decadal Update is part of a portfolio of WMO climate products that aim to inform policymakers, including the flagship State of the Global Climate. At the UN Climate Change Conference, COP28, in December, WMO will submit its preliminary statement on the State of the Global Climate in 2023.
This year, 11 different institutes contributed 145 ensemble members to the projections, which begin at the end of 2022. Forecast skill is estimated using retrospective forecasts, or hindcasts, covering the period 1960-2018.
HUMAN-INDUCED GREENHOUSE GASES
According to the World Meteorological Organization, human-induced greenhouse gases are causing more ocean heating and acidification, melting sea ice and glaciers, rising sea levels, and more extreme weather.
The Paris Agreement establishes long-term goals to guide all nations in significantly reducing global greenhouse gas emissions in order to limit the global temperature increase this century to 2 °C while pursuing efforts to limit the increase even further to 1.5 °C, in order to avoid or reduce adverse impacts and related losses and damages.
According to the Intergovernmental Panel on Climate Change, climate-related threats to natural and human systems are higher at 1.5 degrees Celsius than at 2 degrees Celsius.
Forecasts of global mean temperature have great confidence since hindcasts show very high skill in all measures.
WMO said, forecasts presented are designed to provide guidance to Regional Climate Centres (RCCs), Regional Climate Outlook Forums (RCOFs), and National Meteorological and Hydrological Services (NMHSs).
"It does not constitute an official forecast for any region or nation, but RCCs, RCOFs and NMHSs are encouraged to appropriately interpret and develop value-added forecasts from this Climate Update."
BACKGROUND
The average global temperature in 2022 was approximately 1.15°C higher than the 1850-1900 average. Over much of the last three years, the cooling influence of La Niña conditions temporarily restrained the longer-term warming trend.
However, La Niña ended in March 2023, and an El Niño is expected to form in the future months.
Between 2023 and 2027, the annual mean global near-surface temperature is expected to be 1.1°C to 1.8°C higher than the 1850-1900 average. This is chosen as a baseline since it occurred before greenhouse gas emissions from human and industrial activities.
At least one of the next five years has a 98% chance of breaking the temperature record established in 2016, when there was an abnormally strong El Niño.
The likelihood that the five-year mean for 2023-2027 will be higher than the previous five years is also 98%.
The Arctic is warming at an alarming rate. When averaged over the next five northern hemisphere extended winters, the temperature anomaly is expected to be more than three times that of the global mean anomaly.
Predicted precipitation patterns for the May to September 2023-2027 average, compared to the 1991-2020 average, indicate higher rainfall in the Sahel, northern Europe, Alaska, and northern Siberia, and decreased rainfall across the Amazon and parts of Australia for this season.
DISCLAIMER: The Views, Comments, Opinions, Contributions and Statements made by Readers and Contributors on this platform do not necessarily represent the views or policies of Homebase Television Ltd.
Visit Our Social Media for More