Excitement fills the air as Ghana's long-awaited International Monetary Fund (IMF) bailout gets the green light.
The first $600 million of the $3 billion International Monetary Fund Extended Credit Facility (ECF) has been received by the Bank of Ghana. The funds will be used for the balance of payment and budget support, as well as to stabilize the foreign exchange rate and control inflation.
Another tranche of funds is expected to be disbursed by June 2023 when IMF Mission will visit Ghana to review the country's program considerations. Another review is scheduled for December 2023 before the final disbursement.
All funds will be directly deposited into the Bank of Ghana's account to support Ghana's balance of payments requirements. Ghana will receive a total of approximately $3 billion over a three-year period through the IMF program.
The whole program is like having a watchful 'big brother' to ensure we do our homework and overcome our debt troubles.
But amidst the buzz, there's a nagging question: Is this deal all rainbows and sunshine? A pot of gold at the end of the rainbow? Experts suggest this may not be so.
Spicing Up Tax and Fuel Measures in Ghana
The IMF has a recipe for boosting revenue in Ghana: ditch tax exemptions, tweak fuel levies, and turn up income taxes.
But the CEO of the Chamber of Commerce, Mark Badu-Aboagye, isn't buying it. He warns that these IMF suggestions would add fuel to the fire, worsening the struggles of already suffering businesses.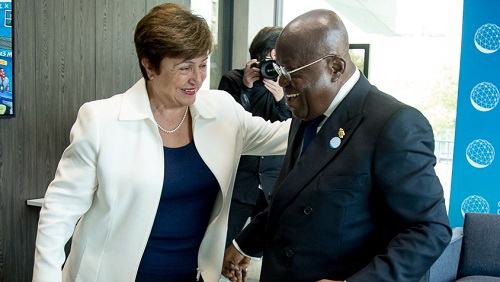 Professor Godfred Bokpin has a flavorful prediction. He cautions that the IMF's approval of Ghana's bailout request could result in a sneaky tax hike. It might not come as a brand-new tax, but rather as a spicy blend of revisions to existing measures. Brace yourself for more taxes, as the goal is to increase the tax-to-GDP ratio.
The Opposition's concerns
The Minority in parliament advises Ghanaians to buckle up for a bumpy ride and the inevitable shocks that come with the Bretton Woods institution's bailout. "Get ready for the full impact of this IMF deal, which will surely hit Ghanaians hard, especially the youth. It's not all doom and gloom, but a reality that will soon be evident to us all," warns Cassiel Ato Forson, the Minority Leader in Parliament.
Tamale South's Member of Parliament, Haruna Iddrisu, has also expressed concern about certain aspects of the agreement between the Government of Ghana and the IMF. He finds the deal overly ambitious, considering the conditions it entails.
He believes it will restrict the fiscal space available to a future government, highlighting a potential administration led by John Mahama and the NDC.
The IMF demands careful monitoring of debt issuance by state-owned enterprises (SOEs) and public special purpose vehicles (SPVs), limited and closely monitored collateralized debt issuance, strict limitations on non-concessional borrowing, and timely debt payments.
Overall, Haruna Iddrisu's concerns revolve around the potential negative impact and challenges that the IMF agreement's ambitious nature and stringent conditions may pose to future administrations in managing Ghana's debt effectively.
But wait. How did we get here?
The IMF sounded the alarm as our debt soared, reaching distress levels. The COVID-19 pandemic and Russia's invasion of Ukraine only added fuel to the fire. By the end of 2022, our public debt hit a whopping 88.1% of GDP, with almost half owed externally and the rest domestically.
Realizing the gravity of the situation, the Ministry of Finance cried out for help, declaring our debt unsustainable. In July 2022, we turned to the IMF, seeking their assistance. After much negotiation, a Staff-level Agreement was reached, and a clever domestic debt exchange program (DDEP) was launched.
Despite some hiccups, we managed to restructure our domestic debt with an impressive 85% participation rate according to the Ministry of Finance.
However, the IMF warned that the debt exchange carried risks that could impact our financial stability. Exchange rates, credit concerns, and liquidity risks loomed large, demanding our attention and mitigation efforts.
But the story doesn't end there! Ghana's official creditors were called upon to offer financing assurances before the IMF's Executive Board could give their stamp of approval to the Extended Credit Facility. After what felt like an eternity of waiting, countless meetings, and slow progress, the bilateral creditors finally stepped up and formed a creditor committee.
Finally, on May 17, 2023, the long-awaited moment arrived—Ghana's loan was approved! On May 19, 2023, the first tranche of cash landed into Ghana's account. It's undoubtedly a victory for our nation, but it's important to acknowledge that it came with sacrifices and tough choices.
Tightening up expenditure controls: A conditionality
The IMF announced that Ghana is taking steps to manage its expenses and prevent arrears from piling up.
To ensure that only approved projects receive procurement approvals and contracts, Ghana will fully integrate public procurement with the Ghana Integrated Financial Management Information System (GIFMIS).
To enforce the Public Financial Management Act, stronger measures will be taken, including penalties for entities exceeding their spending limits.
GIFMIS will be integrated with other systems like the human resources information system (HRMIS), the bank clearing system (GHIPSS), and the GRA's tax portals.
GIFMIS-linked accounts will have automatic bank reconciliation (ABR) functionality, and the chart of accounts will be standardized if necessary.
The Fiscal Affairs Department will provide technical support to Ghana in developing a commitment control strategy to prevent arrears, which will be approved by the Cabinet before June 2023.
All central government expenditure will be integrated into the budget planning and accounting systems.
Statutory funds like GETFund, Road Fund, and District Assemblies Common Fund are now reporting their budgets in Hyperion at a detailed level to fully utilize GIFMIS functionalities. Hyperion is a financial management software that streamlines financial consolidation, reporting, and compliance.
These measures are expected to strengthen Ghana's fiscal space.
Revamping Bank of Ghana
The Bank of Ghana Act will undergo a vibrant transformation to enhance its autonomy and reduce the government's control. Aligned with the prescribed conditions, the revisions will establish a more independent Central Bank, diminishing the government's overpowering influence.
In accordance with the recommendations, the amended Central Bank Act will impose stricter limits on monetary financing. It will introduce robust mechanisms for monitoring and enforcing compliance, as well as provide a clear definition of emergency situations that may temporarily necessitate the lifting of these limits.
To pave the way for these changes, the Bank of Ghana (BoG) and the Ministry of Finance have signed a Memorandum of Understanding (MoU) as a prerequisite action, aiming to eliminate monetary financing during the program. Furthermore, an ongoing updated Safeguards Assessment will offer valuable insights for shaping the modifications to the BoG Act.
The International Monetary Fund (IMF) has also emphasized the need to review the government's gold purchase and gold-for-oil programs, acknowledging the potential risks they pose to the Central Bank. The IMF has urged the Bank of Ghana and the government to assess the impact of debt restructuring on the bank's balance sheet and develop strategies for recapitalization, with technical assistance from the Fund.
Another $900 million treat
Ghana's finance ministry is making significant progress in negotiations with the World Bank for a whopping $900 million budget support. Dr. Mohammed Amin Adam, the Minister of State, revealed that the funds will be disbursed over the next three years alongside the $3 billion support from the International Monetary Fund (IMF).
"We wasted no time and began engaging with the World Bank once we applied for the IMF program. I'm thrilled to share that we're in the final stages of negotiation," said Dr. Adam during an interview on JoyNews' PM Express Business Edition.
The World Bank's $900 million budget support will be provided in equal installments of $300 million per year for the next three years, aligning with the IMF's disbursement schedule.
Due to Ghana's unsustainable and distressing debt levels, the country will be unable to access international capital markets for budget support for at least three years. However, the World Bank has stepped in to lend a helping hand. In addition to the budget support, the World Bank has committed $250 million to Ghana's Financial Stability Fund, which was established to bolster the local banking sector after a debt restructuring program.
"We're also in discussions with the African Development Bank, aiming to secure an additional $100 million for the Financial Stability Fund. We hope that other development partners will join us in strengthening our economy, not only through budget support but also by fortifying the domestic banking sector," Dr. Adam expressed.
With these encouraging developments, Ghana is set to receive a substantial financial boost, ensuring stability and growth for its economy.
External creditors: 'Sakora' or fade haircut?
Ghana's Finance Minister, Ken Ofori-Atta, is uncertain about how much debt relief the country will receive from external creditors as part of its $3 billion loan program with the IMF. Ofori-Atta mentioned in a press conference that Ghana is currently in talks with its commercial creditors, who hold over $14 billion of its external debt, to reach a restructuring agreement aligned with the IMF program.
"We're just starting discussions with our commercial and external creditors, so it's hard to say exactly how much debt will be forgiven or what the final outcome will be," said Ofori-Atta.
However, he expressed optimism about the cordial nature of the discussions and hoped for a mutually beneficial resolution based on the IMF's signals.
A total of $22 billion of Ghana's external debt will undergo debt treatment. During the 2023 IMF-World Bank spring meetings, the Finance Minister revealed that $1.6 billion of debt belonging to nonresidents who purchased domestic bonds has already been restructured. Out of the $22 billion, $14.6 billion is owed to commercial creditors, including Eurobond creditors, while $5.4 billion is owed to bilateral creditors, with significant involvement from China and the Paris Club.
DISCLAIMER: The Views, Comments, Opinions, Contributions and Statements made by Readers and Contributors on this platform do not necessarily represent the views or policies of Homebase Television Ltd.
Visit Our Social Media for More
About Author