General Nguema laid out his vision for Gabon after being sworn in as interim president
Selling mobile phone accessories in a small open-air shop in Gabon's capital Libreville, Doles Gabriel sees coup leader General Brice Oligui Ngeuma as a Moses-like figure who has unshackled the nation from the chains of his former boss – President Ali Bongo.
"Moses was educated in the house of Pharaoh, but God appointed him to liberate the people of Egypt from slavery. This is what is happening in the house of Bongo," the 23-year-old said.
Her comments reflected the joy – and hopes – of many people who had lived under the Bongo dynasty. With an iron fist, the family ruled oil-rich Gabon for all but seven years since it won its independence from France in 1960.
Omar Bongo became president in 1967, remaining at the helm until his death in 2009. His son, Ali Bongo, succeeded him, until Gen Ngeuma toppled him last month.
The 48-year-old general had been, as Ms Gabriel put it, "part of the house". He was born in the south-eastern province of Haut-Ogooué, a stronghold of the Bongo family. Some even say that he is the ousted president's cousin, and that he had engineered a "palace coup" to retain the power of the Bongo family.
Gen Nguema had been extremely close to Omar Bongo, and Ali Bongo – after initially sidelining him – appointed him the head of the elite Republican Guard, in charge of his own security.
But shortly after Mr Bongo was announced the winner of last month's disputed elections, Gen Nguema seized power from the man he was supposed to protect.
At the time, he said Mr Bongo should not have stood for re-election.
"Everyone talks about this but no-one takes responsibility. So the army decided to turn the page," he was quoted as saying.
Most people I spoke to on the streets of Libreville appear to have confidence in the general-turned interim president.
A huge crowd cheered him at his inauguration, while soldiers arranged their weapons on the ground in a show of force.
"He said he is going to conduct elections and we hope that by God's grace, if he has the fear of God, he will conduct a credible election," said Hellen Paul Mongala, who had gone to witness the general's inauguration.
However, the ceremony was boycotted by leading opposition presidential candidate Ondo Ossa, who maintained that Mr Bongo stole the election from him and he should, therefore, have been sworn in as president instead.
Some opposition members have serious doubts about the coup, but are scared to express their views freely.
They point out that although Gen Nguema has released from prison some high-profile pro-democracy activists and trade unionists, he has not yet indicated when civilian rule will be restored.
Their greatest fear is that he plans to hang on to power – and Gabon would be back to square one.
Gen Nguema has so far taken a conciliatory approach towards the deposed president, saying he is free to go abroad.
This is in contrast with Niger further north, where President Mohamed Bazoum has been held captive – with his wife and son – by the junta that overthrew him just a month before the military takeover in Gabon.
But Mr Bongo has up to now rejected the offer to go abroad, preferring to remain at his private residence in Libreville – something that the junta's newly-appointed Prime Minister Raymond Ndong Sima confirmed to me when I met him at his office.
"He has no plans to leave now. I think he'll wait a bit. He's probably interested in what happens next," Mr Sima said, adding that there was "no restriction on his freedom".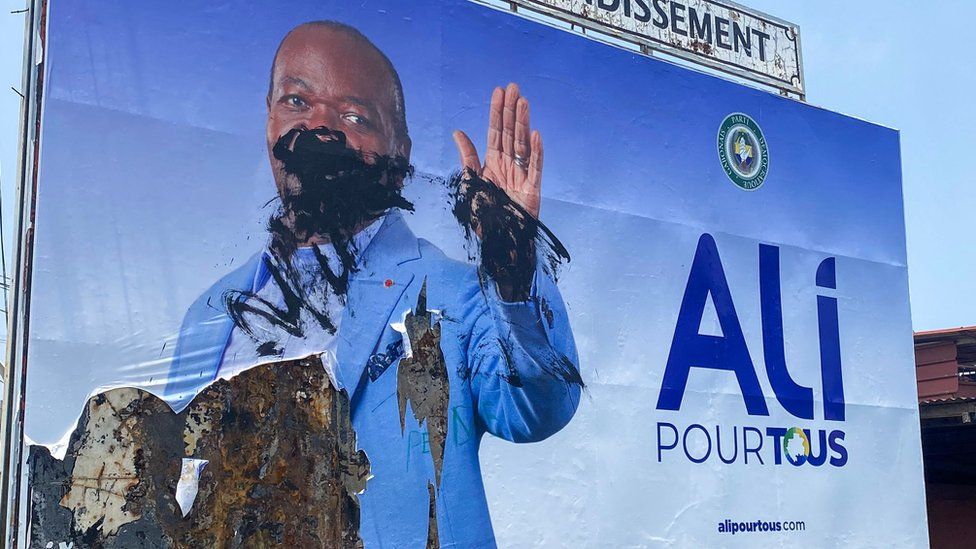 Many people in Gabon have been clamouring for Gen Nguema to ensure that Mr Bongo is charged with corruption, alleging that the ousted president – and his family – have enriched themselves at the expense of the nation during their decades in power. They deny the allegation.
Mr Sima gave conflicting signals on whether Mr Bongo would be charged.
"I think what is interesting for people is not to open the case. I don't think it would be viable to open a case at this moment," he told the BBC's Newshour programme last week.
When I asked him whether Mr Bongo's his former ministers would be prosecuted, he replied: "I think so. The new authorities have already announced that they will prosecute all those involved in corruption or money laundering processes. This is a strong signal. We saw people arrested."
So far the military has arrested three people close to the Bongos on different charges, including financial embezzlement, trafficking marijuana, and forging the ex-president's signature when he had suffered a stroke.
Yann Ngoulou, the chief of staff to Mr Bongo's eldest son, Nourredine Bongo, was publicly humiliated, paraded on state television, along with a stash of cash. He denied any wrongdoing, and said the money belonged to him.
Mr Sima said that former First Lady Sylvia Valentin Bongo – a French national – was also being investigated.
"She is being questioned for the moment and must explain herself," he said, without giving details of the allegations against her.
Gabon is an oil-rich country, but one third of its 2.4 million people live below the poverty line, according to the United Nations.
Libreville-based financial analyst and opposition politician Jean Gaspard said the country had a lot of potential but bad policies had impoverished the nation.
"Foreign companies that extract oil in the country don't employ Gabonese experts but bring in expats. It's only the oil and timber sectors that are developed. The other sectors are not," he said.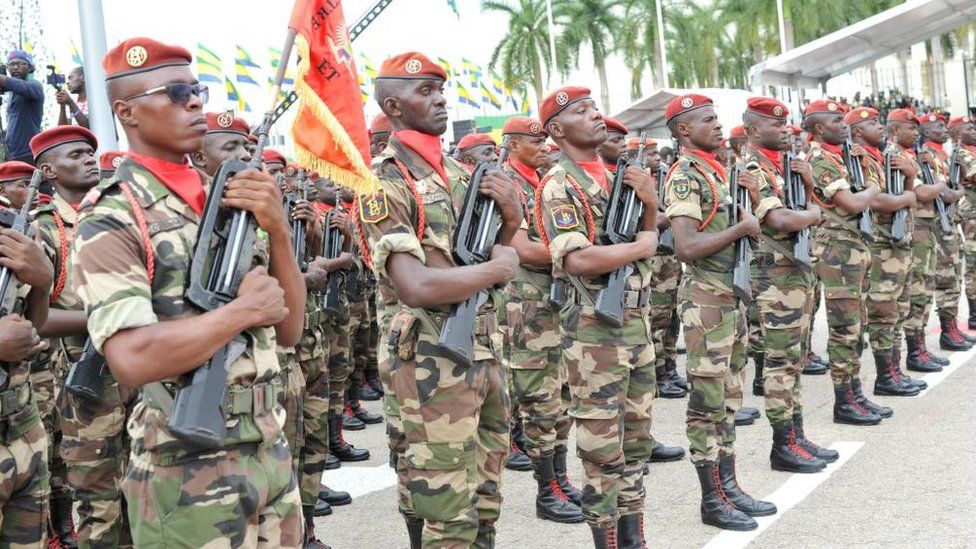 Gabon has always maintained strong ties with its former colonial power, France, with its influence most visible in the coastal city of Port Gentil, the centre of the country's oil and timber industries.
A lot of French nationals live there, and even own restaurants and bars. Anti-French feelings are strong in the city, with some French-owned businesses torched in 2009.
This led to Mr Bongo banning anti-French protests. The junta has not yet indicated whether it will lift the ban.
Unlike in Niger, another former French colony, no such protests have taken place since the coup, but a leading anti-French activist in Port Gentil, Kevin Moukadi, said he wanted "the French to get out of Gabon".
"We would like to get support from other foreign powers. We don't want the French any more. They must leave our country so that we can be free," he told me.
The military juntas that have seized power in Niger, as well as in Mali and Burkina Faso, have been hostile towards France, accusing it of continuing to pull the strings long after independence, but Mr Sima said that Gabon would not follow their example.
The junta will keep its close relationship with France as it was a major investor in Gabon, while it will also strengthen ties with other countries in order to boost the economy, Mr Sima said.
"In the past, we didn't have many relations with… Asian countries, but today the Chinese have become new partners," he added.
But Mr Sima made it clear that he valued relations with France the most, saying that "it is a country which has colonised ours and it is a country with which relations are much older so it makes sense that these are stronger relationships".
His comments will come as huge relief to France, which has seen its influence declining in its former African colonies in recent years.
But to retain the confidence of the population, the junta will have to improve living conditions – and fulfil its promise to hold credible elections.
Mr Sima is optimistic that change will take place.
"The process that is happening is calm and soothing. Everything happens peacefully. There is no mess. We want a positive outlook towards the future," he said.
DISCLAIMER: The Views, Comments, Opinions, Contributions and Statements made by Readers and Contributors on this platform do not necessarily represent the views or policy of Multimedia Group Limited.
Visit Our Social Media for More
About Author