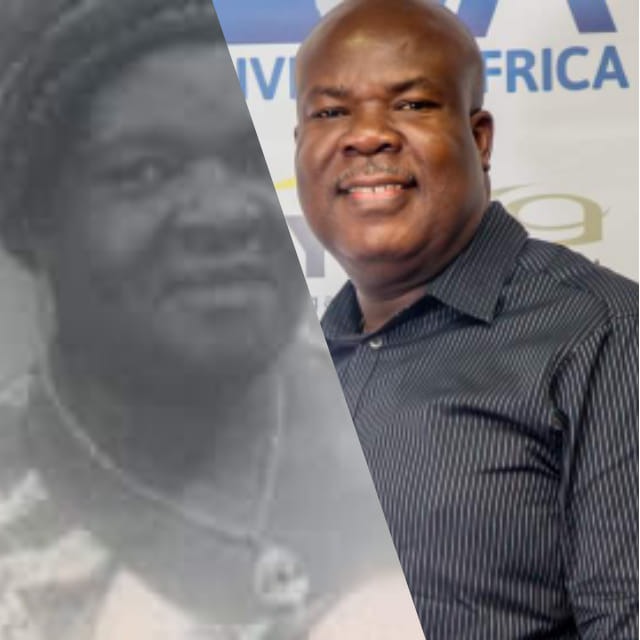 This year's Mother's Day, which was marked on May 14, 2023, brought back memories of the good times I had with my mother. We called her Maa- Florence Akaawa Koppoe was her official name. She hailed from James Town Ngleshi in Accra.
Cognizant of the unfamiliar nature of her surname and the high tendency for it to be misspelt, she quickly spelt it out each time anyone asked for her full name- K-O-P-P-O-E, she will state, stretching her neck in the process to peep, in order to ensure that the spelling is correct.
I dare say I had the closest relationship with her among my siblings, because I am the last born. Last Baby you may describe me. I used to sing the chorus of a then popular Ga song – "Esɛɛ baafo ee"- it will not last forever" each time she complained about my regular demand for extra food and coins to buy things to, as we say in Ga, "jie midãã"- desert. I had a sweet tooth, you know. But I dare not anymore, for obvious reasons.
Unfortunately, she died in 1997 when I was about graduating from journalism school. Therefore, she did not get the opportunity to benefit from the fruits of her labour. Besides, she did not live to see her beautiful and handsome grandchildren that I begot. Sob, sob, sob. I miss her so much.
But the caring mum that that she was, Auntie Akaawa, as she was fondly called by friends and relations, handed over the baton to others who, on the occasion Mother's Day 2023, I wish to use this piece to appreciate for holding the fort so well.
My second mum
As fate would have it, Maa met and developed a liking for my wife -Dede before she passed. I knew this because my Maa was never hypocritical in any of her dealings with us or others. So, once she said to me, "Your wife loves water like you do", I knew Dede had won her heart.
In Bubuashie where we lived and its environs, water hardly flowed in our taps then. So bad was the situation that we could go weeks without water. Thus, on occasions when the taps flowed, we fetched enough to fill every cup in the house. Despite being an occasional visitor, Dede did not hesitate to join the water fetching task each time she happened to be around. And she did it with so much joy like I did, hence that remark from my mother.
With this maternal blessing and my own assessment of Dede, one thing led to another and we got married in October, 1999.
Since then, now Mrs. Joy Awula Dede Ayettey has played the dual role of a wife and mother. This notwithstanding, each time it is Mother's Day and she wants me to celebrate her, I point out to her that she should not forget that I don't have a mother. She is only a surrogate. Thus, Maa Florence is the only person I can celebrate on that auspicious occasion. There is no doubt however, that she has played the substitute role really well. Thanks mama Dede.
My third mum
Mrs. Jacqueline Dako-Mante (Nee Asante-Danso) became my first mother-figure when I began my career as a journalist. We met at Radio Gold as colleagues but left as a 'mother and son.' She singled me out of the team for a special working relationship. I was producer for the only show she hosted on the radio station- Golden Child.
Jackie mentored me in radio production and guided me in the art of news gathering and reporting having had lots of experience from GBC. Till date, we are in touch and attend each other's personal events. Thank you, Jackie.
My fourth mum
My next mum is Mrs. Ruth Naa Aku Gyang (Nee Allotey). The moment she got to know that my late dad was a Nurse-Anesthetist cum Medical Assistant, she took a special liking for me. That's when I assumed duty as the Public Relations Officer of the Nursing and Midwifery Council of Ghana where she was the Registrar and Chief Executive Officer.
'Gogoe papa' became my name once she got to know that I had welcomed a baby girl barely one year after assuming office. Mrs. Gyang ensured that I travelled to New Delhi, comfortably when I secured an Indian Government- sponsored training programme. This was in spite of the fact that I was only 18 months old on the job. Not even the criticism by the worried observers could change her mind about the trip. Just like with my biological Maa, there were a few tricky situations but overall, she mothered me well. There is one advice that she gave me that has proven so beneficial – "Don't build a huge house with many rooms because of your children. They will leave you and your wife in that house. Build something modest and invest in rental units elsewhere if you have the wherewithal. Your children can use these buildings if they want, if not you can rent them out."
And when Mrs. Gyang turned 80 last year, I was there to display my dancing skills to her shock. When I launched my books in the same year, she was there as one of the special guests. Auntie Aku, "Mii da boshi"- Thanks.
My fifth mum
Auntie Vero is how my children call my fifth mum. That's because they have also got the opportunity to benefit from the relationship. To the extent that we occasionally spend Christmas at her home. And when they are there, they eat till they cannot any more. Rev. Veronica Darko did not only take over from Mrs. Ruth Gyang as Registrar, she assumed the motherly disposition towards me as well. She took it a notch higher even.
Which boss will share her favourite fish- huge tilapia that she bought with her salary, with a subordinate? This question was answered years later when she met my wife and the latter took the opportunity to thank her for all the support accorded me. Auntie Vero remarked, "as for Mr. Ayettey, we met as colleagues, but we have ended up as family."
Our bond was so strong that it drew the envy of some staff. However, she was not perturbed. During her tenure as Registrar, I got the opportunity to further my education – Bachelor of Public Administration at GIMPA and a trip to Johannesburg South Africa to attend a conference hosted by the African Public Relations Associations (APRA). In addition, she graciously granted me the permission to pursue my Master of Public Affairs degree at the University of Ghana. And she loved my writing skills. Actually, she never had enough. Always saying- 'Mr. Ayettey ŋmaa' – write. Auntie Vero, 'Oyiwaladoŋŋ'- Thank you.
My sixth mum
Mrs. Felicia Koshie Dagadu was Deputy Registrar (Examination) at the Nursing and Midwifery Council when I assumed duty as the PRO. Indeed, at the time, she was the one who welcomed and saw to my orientation and onboarding, because Mrs. Gyang and Rev. Darko had travelled outside the country.
There is this question she asked me during our first interaction- Can you work with women? Out of ignorance, I boldly answered, why not? Like our elders say, what the elderly sees sitting, even if a child climbs the tallest iroko tree, he/she will not see. Later events made her question clearer. Consequently, I went to her and said "now I understand your question."
Besides, she gave me very constructive feedback on my work. When she lost her dad, I was at the funeral with my wife. This gesture she reciprocated when I launched my books last year. Mrs. Dagadu, "Shidaa ji onɔ"- I am grateful.
My seventh mum
The renowned Madam Esther Cobbah takes all the credit for my current professional outlook as regards communication. She took me in at Stratcomm Africa and groomed me into a Lead Communication Consultant. Now, what seemed to me as an overbearing attitude towards me then, has turned out to be a very valuable mentoring process.
I was surprised when a mutual friend remarked after I had conducted a training session recently that, "you surely have been trained by Esther Cobbah."
At the personal level, Auntie Esther is so warm. I never left her home without sandwiches- enough for me and my children. Of course, that is after a marathon meeting that centered on clients' deliverables. We worked hard and played hard as she is wont to say. Auntie Amba Numaba, "Me daase ai" – Thanks.
My eighth mum
I always feel indebted to Ms. Gillian Baaba Heathcote for something she did for me that only a mother would do. One day, I will let you in on this. Suffice it to say that she has always got my back.
We met at Stratcomm, worked as colleagues and are still working together. Mama G, as I call her, is my go-to person for tips on crisis communication. She is the only General without a military background. Thank you, my boss.
It's time to go
This piece cannot end without acknowledging the roles played by my sisters- Drucilla, Paulina, Eva and Nina. Even while my mum was alive, they took turns in various ways at different times in my life to mother me.
Drucilla and Paulina made me really enjoy my 'Last Baby' status through pampering. Eva particularly took over the payment of my daily stipend while I was at Accra High School. Nina and her husband supported greatly during my enrollment into the Ghana Institute of Journalism.
Evidently, the support, encouragement and the pieces of advice from these mother- figures while my Maa has been away, have brought me this far. There is no discounting the fact that the grace of God played a pivotal role in all of these.
Thank you, all you mums my mother left me with.
Zdravo- That's goodbye in Serbian.
Let God Lead! Follow Him directly, not through any human.
The writer is the author of two books whose contents share knowledge on how anyone desirous of writing like him can do so. Eric can be reached via email [email protected] or Tel-0244679575.
DISCLAIMER: The Views, Comments, Opinions, Contributions and Statements made by Readers and Contributors on this platform do not necessarily represent the views or policies of Homebase Television Ltd.
Visit Our Social Media for More
About Author