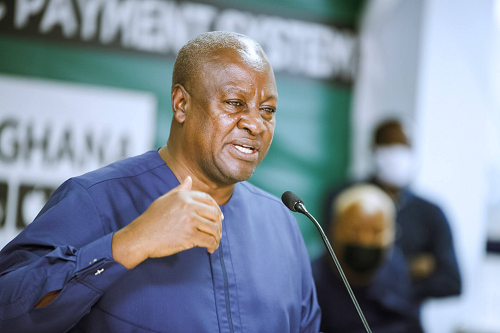 Former President John Mahama has asked the governing New Patriotic Party (NPP) to clearly state its opposition to his promise to scrap the payment of ex-gratia.
According to him, the NPP and its members cannot play hide and seek with his promise and thus must explicitly disclose its support or opposition to same for the Ghanaian people to know.
Mr Mahama said the scrapping of the ex-gratia is an issue that is of utmost importance to the citizenry and any party or presidential candidate should let their views on it known.
Delivering the keynote address at a programme organised on Wednesday, March 22 on the theme, "Financing political campaigns in Ghana we want: A case for more transparent and broad-based citizen participation." Mr Mahama said he will do whatever he can to scrap the payment to the Executive and also persuade the other arms or government to do same.
"Let me state once again that I will scrap the payment of ex-gratia to members of the Executive and persuade other arms of government to accept same.
"Let those who oppose the scrapping of ex-gratia state so explicitly instead of moving in meandering contours in a failed attempt to trivialize this important promise."
Mr Mahama also reassured that the country can be governed with 60 ministers and deputy ministers.
Mr Mahama said this ensures the efficient use of the country's limited resources for the betterment of all Ghanaians.
According to him, this will ensure that the disparities in privileges enjoyed by these political officeholders would be minimised.
"We plan to take up and conclude the constitution review process that started under President John Evans Atta Mills. The reforms will include a review of the controversial Article 71.
"I still believe that in this crisis period, Ghana can be managed with not more than 60 ministers.
"And to cut down on the number of officeholders and remove the disparities in privileges and emoluments."
DISCLAIMER: The Views, Comments, Opinions, Contributions and Statements made by Readers and Contributors on this platform do not necessarily represent the views or policies of Homebase Television Ltd.
Visit Our Social Media for More
About Author