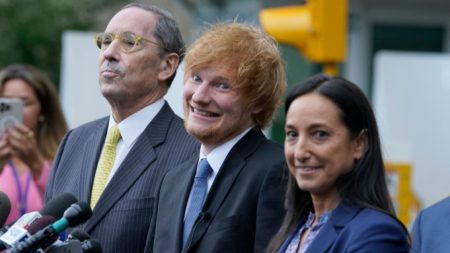 What might have felt like double jeopardy has turned into a double win for Ed Sheeran, as the pop superstar prevailed in yet a second copyright infringement lawsuit filed over the song "Thinking Out Loud."
The same judge who oversaw the previous case dismissed this additional suit on Tuesday before it ever got to trial.
This like-minded lawsuit had been filed by Structured Asset Sales LLC, another party with an interest in the 1973 Marvin Gaye hit "Let's Get It On," similarly contendingg that Sheeran's 2014 smash infringed on the previous song's copyright.
The company owns part of songwriter Ed Townsend's share of the Gaye tune; it was the heirs of Townsend who filed the previous unsuccessful lawsuit.
The result was much the same, with or without a trial, with the elements shared by the two tunes being judged "common."
In dismissing Structured Asset Sales' suit, U.S. District Judge Louis Stanton wrote, "It is an unassailable reality that the chord progression and harmonic rhythm in 'Let's Get It On' are so commonplace, in isolation and in combination, that to protect their combination would give 'Let's Get It On' an impermissible monopoly over a basic musical building block."
Stanton had previously ruled that the Structured Asset Sales lawsuit should be heard by a jury, but he reversed himself in dismissing it Tuesday, likely influenced by the speed with which a panel of jurors found Sheeran not liable in the previous case, after just a few hours of deliberation on May 4.
Reuters reported that Sheeran is not yet clear of "Thinking Out Loud" court cases, however, as Structured Asset Sales has one more lawsuit still pending the court system over the contested song.
In this third lawsuit, Structured Asset Sales is seeking to have the recordings of "Thinking Out Loud" compared, versus the compositions.
In the case that was just heard by a jury, the two records were not played in court, as the case technically came down to how the songs compared as sheet music — not "feel."
The owner of Structured Asset Sales is investment banker David Pullman, famous for his "Bowie Bonds." He sued Sheeran, Warner Music Group and Sony Music Publishing five years ago, several years after the Townsend heirs filed their separate suit.
Pullman told Reuters that he believes having the recordings of "Let's Get It On" and "Thinking Out Loud" played in court will make the difference for a jury, in this third and (maybe?) final suit: "Their biggest fear, in terms of everything they've filed, has been to prevent the sound recording from coming in," the banker said.
In an interview with Variety earlier this month after the jury's verdict in the previous case, Ilene Farkas, the lead attorney from Pryor Cashman, which handled Sheeran's defence, said, "He is certainly thrilled about the decision.
He feels vindicated, but he feels not only vindicated for himself but for all songwriters.
There have been many, many, many songwriters who reached out to him during this trial in support of what he was doing, and so he felt a tremendous obligation. That's a big weight on your shoulders.
"There were dozens and dozens of strangers who reached out to me, just songwriters and professors of musicology, and just consumers of music who all were in support of Ed and the impact that this case was going to have potentially on songwriting."
Farkas reiterated that Sheeran felt it was important to take these cases to trial if need be, and not give in and quietly settle the cases, as so many songwriters have in past instances. "As he said in his statement, this has to stop. I think he meant those words."
DISCLAIMER: The Views, Comments, Opinions, Contributions and Statements made by Readers and Contributors on this platform do not necessarily represent the views or policies of Homebase Television Ltd.
Visit Our Social Media for More