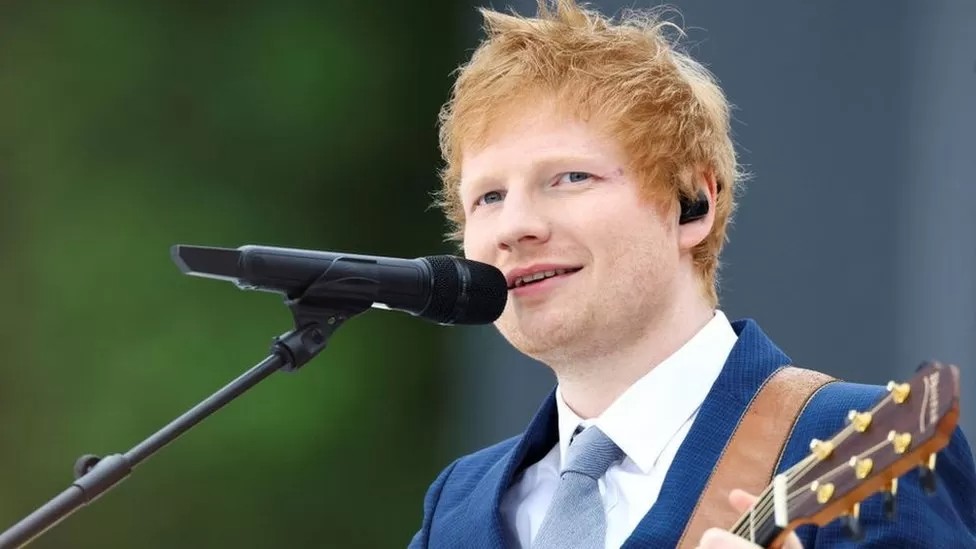 The copyright lawsuit against Ed Sheeran was interrupted in dramatic fashion when the plaintiff in the case, Kathryn Townsend Griffin, collapsed and had to be taken out of court.
The lawsuit against Sheeran alleges that the singer lifted portions of Marvin Gaye's iconic song "Let's Get It On" to use in his song "Thinking Out Loud."
The case was on its second day of testimony when Griffin became ill as one of her expert witnesses, a musicologist, was under cross-examination.
At approximately 4:15 p.m., Griffin — the daughter of "Let's Get It On" co-writer Ed Griffin — began to suffer from a medical emergency, as her eyes closed and her legs buckled. Lawyers from both sides helped to lift her out of the courtroom and into chambers to receive medical attention.
A nurse attended to Griffin, who was transported out of the courthouse in a wheelchair and taken to the hospital. According to her attorneys, Griffin has a pre-existing medical condition which may have caused her collapse.
After the incident, the presiding judge decided to continue with the cross-examination and adjourned for the day at some 45 minutes later.
An eyewitness tells ET, "Ed turned around as she was being carried out and he looked concerned. He looked worried for her."
"The courtroom was in shock. No one was allowed to leave," the eyewitness adds. "It was total chaos when it first happened."
Sheeran previously took the stand to testify on Tuesday, where he defended his song against the allegations.
During his testimony, he addressed a video that had been submitted as evidence, showing him performing a mash-up of "Thinking Out Loud" and "Let's Get It On" at a concert.
"I mash up songs at lots of gigs. Many songs have similar chords. You can go from 'Let It Be' to 'No Woman No Cry' and switch back," Sheeran argued. "And quite frankly, if I'd done what you're accusing me of doing, I'd be quite an idiot to stand on a stage in front of 20,000 people and do that."
DISCLAIMER: The Views, Comments, Opinions, Contributions and Statements made by Readers and Contributors on this platform do not necessarily represent the views or policies of Homebase Television Ltd.
Visit Our Social Media for More
About Author