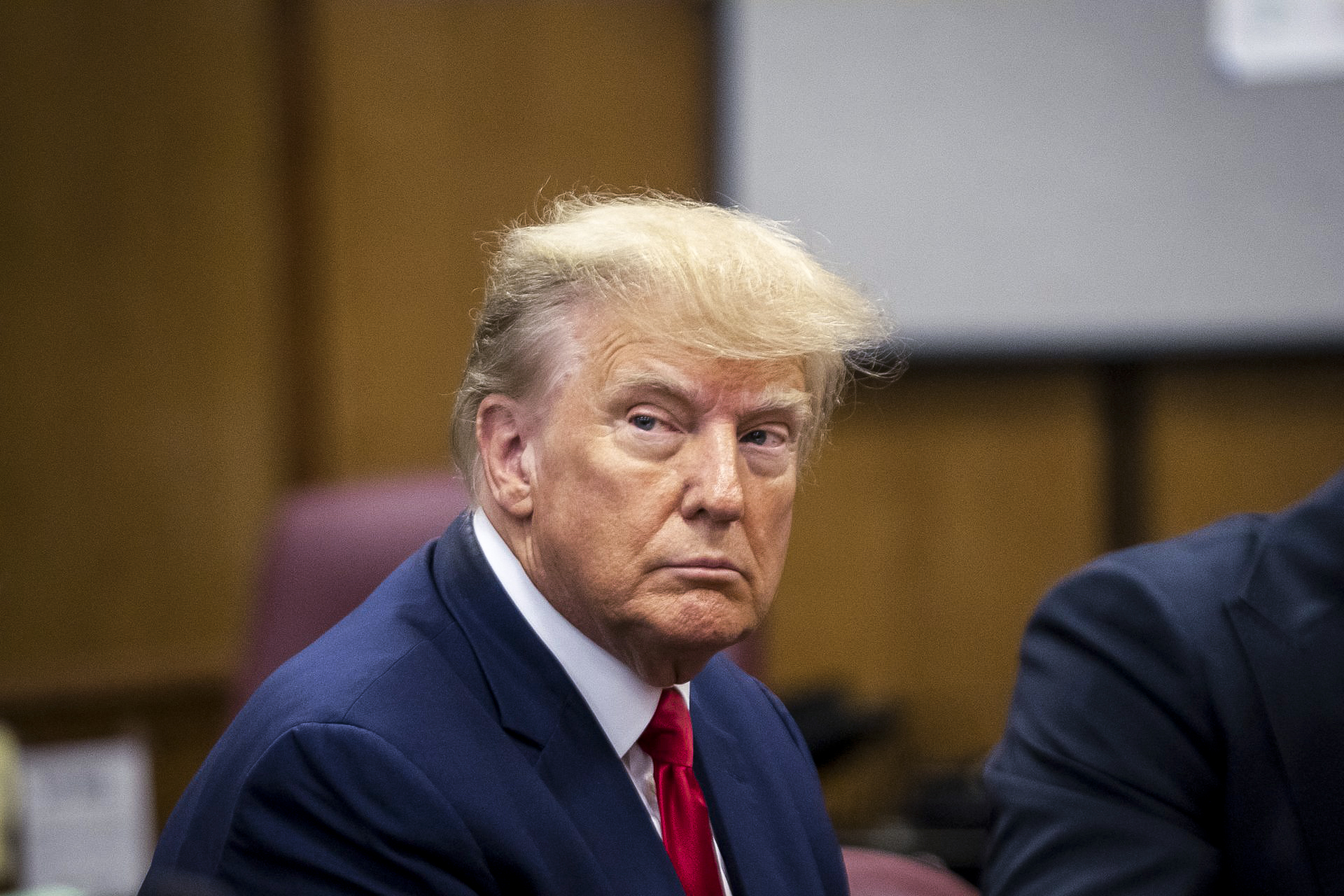 The judge presiding over Donald Trump's civil fraud case issued a limited gag order after the ex-president made "disparaging" remarks about a court clerk.
Mr Trump had attacked Judge Arthur Engoron's clerk in a post on his social media site, Truth Social.
The judge warned of "serious sanctions" if the order was disobeyed.
Mr Trump has repeatedly made personal attacks on the judge and called him "deranged" and a "rogue adjudicator".
But Tuesday's gag order is limited and restricted to public comments against members of court staff.
Mr Trump posted a picture of principal clerk Allison Greenfield with Democratic Senate Majority Leader Chuck Schumer at a campaign event. In the post, he called Ms Greenfield "Schumer's girlfriend" and said that the case against him should be dismissed.
After a court break, Judge Engoron did not mention anyone by name but referenced the social media incident saying that a defendant "posted to a social media account a disparaging, untrue and personally identifying post about a member of my staff".
"Personal attacks on members of my court staff are unacceptable, inappropriate and I will not tolerate them under any circumstances," he said. "Failure to abide by this order will result in serious sanctions," he said.
Justice Engoron said that his statement should be considered a gag order forbidding any posts, emails or public remarks about members of his staff.
The post on Mr Trump's social media site, Truth Social, was removed following the judge's order.
Mr Trump has called the trial a "fraud" and a "scam" and pledged to take the stand in his own defence.
Asked if he would testify in the case, he said: "Yes, I will. At the appropriate time, I will be."
The former president, his two adult sons and the wider Trump Organization are accused of massively inflating the value of their properties by over $2bn (£1.65bn), in order to secure favourable loans.
Attorney General Letitia James is seeking $250m (£207m) and sanctions that could prevent the Trump family from doing business in the state of New York.
None of the defendants will face jail time if convicted, because this is a civil case not a criminal one.
The trial is a bench trial, meaning that the ultimate decision on whether the co-defendants are liable and any damages or penalties rest on Judge Engoron alone, not a jury.
DISCLAIMER: The Views, Comments, Opinions, Contributions and Statements made by Readers and Contributors on this platform do not necessarily represent the views or policy of Multimedia Group Limited.
Visit Our Social Media for More
About Author